A Wedding Video for the Rock n Roll Bride
(yeah, this site isn't very rock n roll, but we have to cater to normal couples too)
Win a WeddingMix Video Package!
Our iPhone app and HD cameras make it easy to capture your entire story.
Pick a theme and personalize online. Then we edit your custom project.
Enjoy the final edit forever. Plus you get all the raw footage!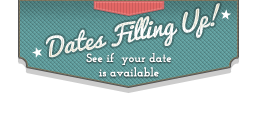 No Need to Wait to See if You Win
If you are a winner, we'll refund your credit card. We have a limited number of cameras available each weekend, so don't wait until the last minute. Plus you get to start using the app immediately.
We'll send you a 10% off coupon code after entering the contest.



Enter to win a $150
WeddingMix Package. Contest ends Dec 18th.
(good for any wedding date)