Marta Segal Block, Wedding Editor of GigMasters.com, knows the difference between real 2014 wedding trends and what's totally made up. And she's not afraid to call 'em as she sees 'em. 
Every year wedding blogs "reveal" the top trends for weddings. As someone who has been writing about weddings for a while now, I've always harbored a secret suspicion that these "trends" were less about what was actually going on at weddings, and more about what wedding editors were tired of seeing and wanted to start seeing!
At GigMasters we recently decided to test that theory and surveyed over 1,000 brides, grooms, and wedding professionals to find out what was really going on with weddings this year.
Social Media
Social media is a great example of the faux wedding trend. Although a lot of blogs and magazines have been saying that the wedding hashtag has come of age, and couples are providing charging stations, we found that to just not be the case.
The majority of couples are neither encouraging nor discouraging social media use during the wedding and reception. About 38% plan to encourage guests to use social media during the wedding, with only 26% of them planning to provide a wedding specific hashtag to facilitate social media use. Only 3% have gone so far as to plan on providing phone charging stations to make social media use even easier at their wedding.
Of course, almost all couples are using social media to help them plan their wedding, with Pinterest being the most popular social media platform.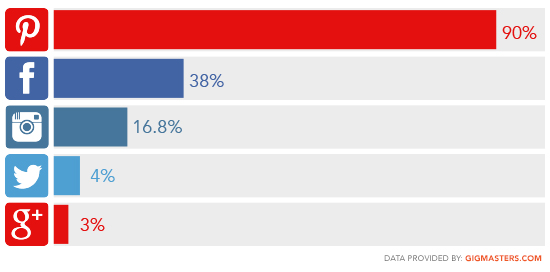 Trends & Traditions
What will people be doing at weddings if not tweeting away? As the chart below shows, while things like the first dance and cake cutting are holding strong, there's a slow trend away from other classic wedding moments, the garter toss especially. Although 58% of respondents said they were doing it, 34% said they hated the idea and would never, ever, ever toss the garter! For a few years, the idea of a brother-sister dance seemed to be gaining popularity, but now very few of our surveyed couples are planning on one.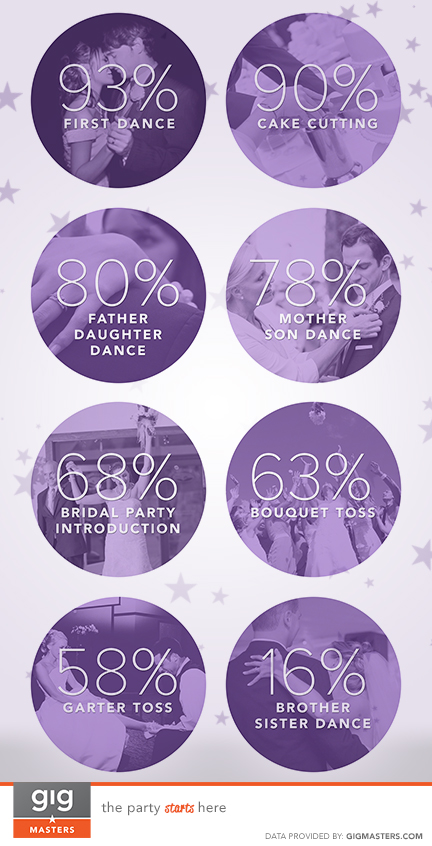 In general, couples seem more interested in wedding events that involve the guests. Photobooths and other interactive forms of entertainment are hot right now. Wedding photographs remain important to couples, almost all of our surveyed couples said they planned on hiring a professional photographer for their ceremony. But, only 28% of couples plan to hire a videographer! (Hmm, seems like a good time to point out how WeddingMix can help you out!)
Want more info on popular wedding colors, themes, and top choices for dances? Download our free e-book with tons of info from our surveys.
About the author: Marta Segal Block is a content marketing consultant and the weddings editor for GigMasters.com, the largest online booking agency for entertainment and other wedding professionals. Check out our wedding section for all your wedding info needs.