Let's see, we have a super sweet lolly bar idea, adorable photo booth idea, and amazing hot air balloon pictures…Sarah and Jason's creative wedding engagement video proves that this cute couple and their loved ones know how to seriously celebrate an engagement!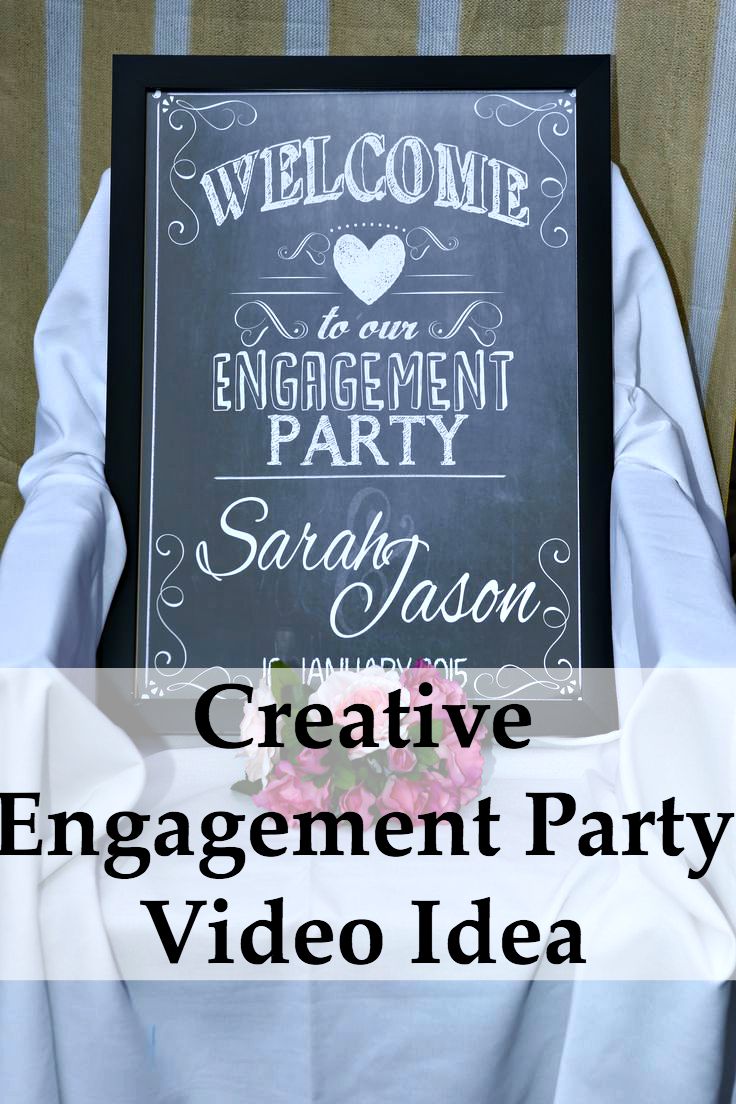 As if this adorable couple could get any cooler, they included lots of priceless photos from previous travels. Check out their highlight video to see adventures in Vietnam, Canada, and their ultra adventurous post-engagement European vacation.
By using the free WeddingMix app, Sarah, Jason, and all their party guests documented their travel adventures and awesome backyard engagement party in Melbourne. We can't wait to see how amazing their wedding day will be!
On their engagement party in Melbourne: 
We held the party in the backyard of Sarah's family home in Melbourne. We decided to have a big engagement party as we had already booked our wedding venue which has a smaller capacity. It was a great opportunity to have a big party with all our family and friends. We hired festoon lighting, DJ equipment, caterers and bar staff, and we had lots of help from our families to set up before the event. Sarah's neighbour is a photographer and set up a fun photo booth to capture everyone as they walked in and then in costume later in the night. The lolly bar was a big hit and the dance-floor was full until 3am.
We also have pictures that are mostly from our travels and amazing times since we have been together. Vietnam, Canada, New York, Hot Air Ballooning for Sarah's 30th Birthday, and some other spots around Australia. We just had 5 weeks in Europe following our engagement. We visited England, France, Germany, Italy, Greece and Turkey. In Turkey we attended the ANZAC Day 100th Year Anniversary. It was a great adventure. We love travel and have already started booking our Caribbean honeymoon.
How did you two meet? What did you first think of him, and what did you think of her?
Jason and I met through mutual friends at a bar when we were only 18 years old. It was a regular spot for our friends to get together the first year out of high school, so we would run into each other all the time. I thought he was smart, good looking and very cheeky. There was a flirtation but nothing eventuated and we went our separate ways. We met again when we were 25 but it wasn't until a few years later that we become a couple. We will be getting married on our 5 year anniversary in March 2016.
When I first met Sarah I thought she was HOT and I really enjoyed being around her. She was adventurous, outgoing and a great cook. All those years past and I still have the same thoughts and feelings. Sarah is the one I just love sharing every moment with.
On the proposal: 
Jason proposed in our first home that we built together after we'd been out for a nice meal. He'd been waiting for the perfect moment to ask for a while, and decided that our home is the most special place for us as a couple. We celebrated with a bottle of Verve Cliquot that night as we called our parents and siblings with the good news. Jason proposed with a simple band and we later designed my engagement ring together with a jeweler family friend. It's the most beautiful ring.
What the moments during your engagement do you want to remember forever?
It's nice to have a memento of our engagement party. It really was a great night. And of course our travels. Really, some of the best moments have been just the two of us lying on the couch and talking about our plans for the future.
How will the WeddingMix app & video service help you capture those moments?
We love the idea of WeddingMix being able to capture every part of our wedding day. Our wedding will take place in a small coastal town over a long weekend and we have family and friends staying with us. It will be lovely to have video memories of all the things that will happen over the weekend. Having multiple cameras means that we'll have footage from lots of different perspectives. I'm really sentimental and am looking forward to having something we can watch together for years to come and show our children. A living memory of everyone we love.
See how we can help you capture and enjoy your big day for a lifetime. Learn more about DIY affordable wedding video at our website or feel free to give us a call at 800-831-1649.
Ariane