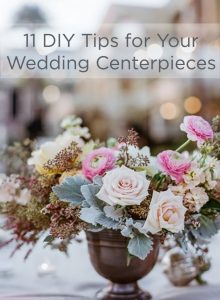 Wedding centerpieces are a beautiful way to set the tone of the space. People love to gush about the decorations at wedding receptions. They are a fun way for the bride and groom to express their unique interests. Centerpieces can add a brilliant pop of style bound to get the guests talking for weeks to come. They are an elegant way to tie in a couple's wedding colors to the decor and unify the tables around the room.
Who doesn't love the smell of flowers? Centerpieces are a romantic way to set the tone of the space. They can be expensive when ordered through a florist, but luckily there are other options for the DIY bride.
Check out some DIY Centerpiece tips:
1 – Take a class!
Some florists are now offering classes at their shops or through a park district.  A class way in advance of your wedding will help you build your confidence – or, you'll decide that you don't have the talent for it or you don't have the time the day before your wedding. It may seem like a big cost to take a class, but it's a lot cheaper if you know what you are doing for your wedding.
2 – Plan a LOT of time to DIY your wedding flowers.
Wedding floral designers are often working on a wedding days in advance, and they have proper cold storage for their flowers.
3 – Plan a LOT of time to set up your DIY wedding flowers at your venue.
Pick a venue that will give you at a minimum, two hours to set up your flowers and decor.  Even better, is a place that gives you all day to do set up.  And those centerpieces that feature cylinders of water with a submerged flower and a floating candle?  Those take a lot of time because you can't do them in advance – you have to fill all of those cylinders with water at the venue.  Usually, at a bathroom sink with too-short faucets.  Be aware that it can take a minimum of ten minutes to finish one cylinder.  Times ten centerpieces?  That's an hour and a half.
4 – Choose easy, sturdy flowers that don't wilt easily, like carnations, roses, mums, and alstromeria.
Flowers like garden roses, peonies, dahlias, gerbera daisies, and hydrangea wilt very easily if they aren't handled with knowledgeable care.
5 -Don't EVER put your wedding flowers in your home refrigerator.
You know how the milk in the fridge freezes sometimes?  Well…
6 – KISS.  Keep It Simple, Silly.
DIY your wedding flowers if you are planning simple mason jar or other small arrangements.  The lush, and very textured (with a lot of different kinds of flowers and foliages) bouquets and arrangements are best left to a professional florist.
7 – Always order more flowers than you think you need.
Order your flowers from a real florist, preferably. They will make sure that your flowers are obtained from a reputable source, and that your flowers are kept cold and hydrated and fed with flower food.  You will need to buy your flowers in a market bunch, in bulk, just like the florist does.
8 – Etiquette tip:  Don't ask a florist for free design tips, unless they offer them.
Time is money, and if you are DIYing your flowers, they need to spend their time working on the weddings where their labor is paid for.  If you want to "pick their brains," you'll need to pay them a professional wage per hour.  This includes choosing how many stems of flowers that you need. If you are DIYing your flowers, YOU need to decide how many flowers to buy.  Do not ask your florist to write you a "recipe" of how many stems for an arrangement or bouquet – unless you pay for their time to do so. Write your own recipe by practicing with a mixed bunch of flowers, and then counting the stems.
9 – Remember that florists are artists, just as all of your wedding professionals are either performance (officiant, dj) or visual artists (floral designer, videographer, photographer, cake baker), or stage managers (planners, coordinators).
Some people are artistically challenged. Are you artistically challenged?  You might decide to hire a pro for some things. Don't feel bad.  But – this is WHY wedding pros get paid top dollar.  It takes natural talent, a lot of education, continuing education to stay up to date, a lot of practice, understanding of logistics, and a business mind to own a wedding business.
10 -If you hire rentals of any type, be prepared to pay a retail price on the rental if one of your guests takes it home.
If your guests take one of the fancy centerpiece container rentals home, you will be paying for it.  Ask the floral designer to design in lift-out containers so that your guests can take the florals only home, and have the dj announce that the "silver containers" should not be taken.
11 – Another budget tip:  consider a small or intimate wedding.
I'm helping couples plan weddings for less than $3,000.  Held in lovely outdoor places, historic buildings, at B&Bs, and sometimes in adventurous ways such as at a whitewater rafting camp.  Sometimes the reception is planned at a local restaurant, or it's brought in by a caterer who drops off the food and we do the food service and clean-up.  And the price includes an officiant, flowers, a photographer and video services!
Contact information:
Monique Wilber
Sierra & Sky
Sierra & Sky specializes in getaway and destination weddings in the Sierra foothills, Sacramento region, and Lake Tahoe and the High Sierra. We are local insiders and we plan and officiate small, green, sustainable weddings for your Sacramento, Lake Tahoe, Placerville and nearby areas weddings. Creative Director Monique Wilber has been in the wedding business for 28 years, creating floral designs, coordinating wedding planning and carefully attending to logistics. She is an experienced speaker, and enjoys officiating at weddings, especially in adventurous locations (whether that is in a Sierra meadow on the Pacific Crest Trail, at a local whitewater rafting camp, or in front of a downtown mural).
Check out this gorgeous farm wedding in St. Leonard and the beautiful flowers the bride chose for her big day. Moments created and captured by couple's loved ones, video crafted by WeddingMix
We chose WeddingMix because we really wanted to capture our special moments, but didn't want to pay an insane amount of money for it! This way, I got great footage (definitely  recommend getting the actual cameras, too,) and I can edit it however I like!  Although unexpected, the best part is that we have SO many photos and videos from the week leading up to the ceremony.  It is fun to look back on everything that went into the wedding itself and all the fun my family had leading up to it."