A big welcome to today's guest blogger, Washington DC Wedding DJ, Jennifer Reitmeyer of MyDeejay.
Choosing your wedding vendors can be pretty overwhelming – virtually every major metropolitan area has dozens, if not a hundred or more, professionals in every wedding service category, from photographers to videographers to DJs and more.
I've noticed that, especially in the DJ world, many companies will resort to some pretty shady practices in an effort to earn your business. And, really, using pressure or scare tactics or telling outright lies to get you to sign on the dotted line isn't really "earning" your business at all. You should choose wedding vendors who are reputable, ethical, and talented, and who make you feel that much more excited about your special day.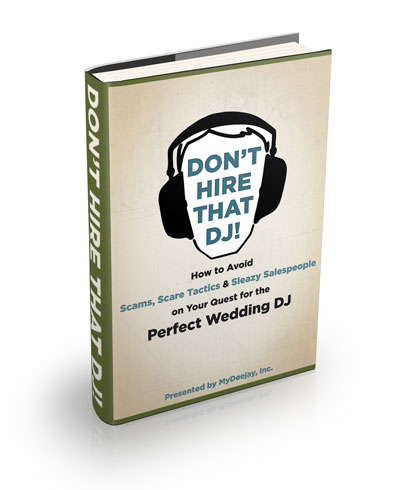 In response to the many DJ companies whose selling is sleazy, my partner Evan and I wrote an eBook called "Don't Hire That DJ!" It blows the cover off the myths and untruths perpetuated by many DJs, and serves as a guide for finding the wedding DJ who is perfect for you.
Here are a few of our tips:
Before you begin your search, decide how important the music is to your vision of your wedding day. Some couples simply don't place a high priority on music, and that's fine. But for those who do, finding the right DJ is all the more essential.
Have an idea in advance of the kinds of music you might like to hear, and what kind of personality you usually click with: high-energy, laid back, or somewhere in the middle). This way, you'll know quickly if a DJ you're considering is a good fit.
Research the companies you're considering by checking out sites like WeddingWire, WeddingBee and other review sites. That will give you a good sense of what the company is really like, from their clients' point of view.
Pay attention to the first impression the company gives you. Is their marketing high-quality? Are they easily accessible – and helpful – via email and telephone? Do they seem genuinely interested in working with you? Do they treat you like an individual?
Find out the price. No, price should not be the primary factor in choosing the DJ. This is more about principle. A company should be willing to commit to a fair pricing structure and explain exactly what that price covers, including any additional charges for extra equipment or overtime. (In spite of what some companies would have you believe, pricing a wedding is not rocket science!)
Next, make sure you're able to meet the specific DJ who would be performing for your wedding, and make sure you understand how the company can guarantee that specific DJ will be there for you. (I've heard horror stories about agencies that book their "top DJs" over and over for the same date, only to pull a fast one on some poor, unsuspecting clients at the last minute!)
Run, don't walk, from companies who try to pressure you by implying that a discount or sale is ending soon, or who tell you that they won't hold your date for at least a week, or who claim a DJ is required to be licensed or pay royalty fees (totally untrue).
Finally, if you're on a budget, please do not fall for the old trick of paying a lower cost in exchange for less client-DJ interaction (some companies actually refuse to let you meet with them in person unless you pay a premium!) or for letting them assign you a DJ a few weeks before your wedding. You'll always be left with a lower-quality DJ than you would have agreed to had you met the DJ before signing the contract.
Remember, the music is one of the most fun parts of the wedding, and hiring a DJ should be enjoyable and stress-free!