You spent the past year designing every detail of your gorgeous wedding… and you want to remember all the details on your 10th anniversary. So you decided to take the plunge and do a DIY wedding video. Storymix just made it whole lot easier – with our WeddingMix iPhone app.
Sure, anyone can take video on an iPhone, but if you want to create an edited wedding video, that's another story. First of all, you get to have the joyful adventure of hunting down all the clips from your friends. They put them on Facebook, but how do you actually get them on your computer? Let's say they email them to you (after you remind them for 6 months). Now the clips are too small for you to edit and have it look good. That's why Storymix is offering our app.
You, your friends, family… everyone can begin shooting video as soon as you place your order. You can even set up a shot list in the app, so they know what scenes are most important to you. All the clips can be uploaded right to your WeddingMix project AND to Facebook.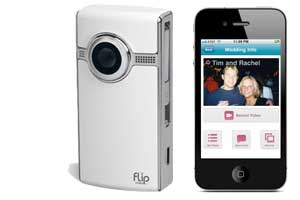 Ok, now here's where it gets cool. You can ALSO get the HD cameras for the wedding (the app is free with any camera package). Why would you want cameras if you already have the app? Because it's much easier to take long clips on a camera. So, if you want your entire first dance, ceremony, toasts, etc. the cameras definitely come in handy. In fact, you can even take a camera on your honeymoon.
After the wedding, everyone uploads their clips and you send back the cameras in our prepaid mailer. All the clips, get added to your storyboard online. Then you get to direct your movie. We do the editing, but you get to be the director. You can tell us which scenes are most important, what titles you'd like, etc. Then Storymix takes care of the hard stuff- the actual editing.
As you'll see in the video below, now you can begin filming your wedding story as soon as you say "Yes, I'll marry you." As soon as you order any of our WeddingMix packages, you can download the app and begin taking video clips to include in your final wedding video. In fact, your fiance can even include the proposal!
Storymix makes it really simple to get the wedding video you want, told through the eyes of those who love you the most. Download the WeddingMix wedding video iPhone app today to try it out for free.
See how we can help you capture and enjoy your big day for a lifetime. Learn more about DIY affordable wedding video at our website or feel free to give us a call at 800-831-1649.
Ariane