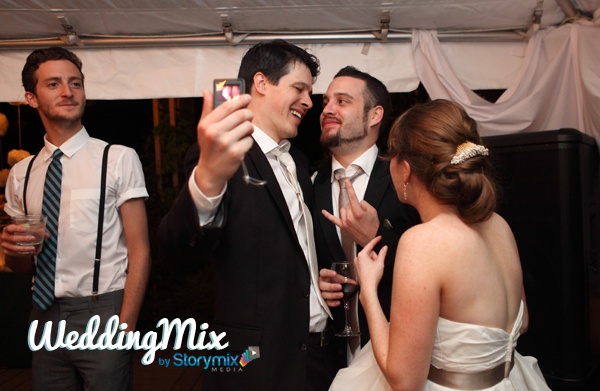 Ever notice that most people hold their phones vertically when filming video? Yet your TV is horizontal. Unless you're planning to watch the whole thing while lying down on a couch, you may want to fix that. We built protection against filming sideways into our wedding video iPhone app. A little overlay pops up letting people know to turn their camera. But what if someone filmed that way when creating a DIY wedding video on their own camera? No worries.
TV producers would rather cut out good content that is unappealing, than deal with sideways video. Having been a bride myself, I know that every scene is important to you. If the only hilarious video of your grandma doing a shot of vodka was filmed sideways, you still want to use it. Here's a little tutorial showing how we fix sideways video at Storymix.
Option 1 is how we treat sideways video and is also what you'll see in TV production. What? You've never seen it on TV? Well there's a good reason for that – it's rarely used because pro's don't film sideways. It's ok if your friends do though, we'll fix it. You'll see this technique used on news shows, when they have no other choice. I've also seen it used on E! when they use paparazzi shots. This is created by rotating the video 90 degrees, zooming in on the lower layer to fill the screen and blurring it quite a bit.
Option 2 screams amateur. This is what you'll see on YouTube. Why do people do this? It's easy. But looks like your uncle did it.
Option 3 was created by taking a still shot of the background and super-blurring it.
Option 4 was created by using the background for the theme of the video (in this case – glass theme). You can use any gradient to create this effect.
Option 5 is what most people assume we would do – zoom in the video to fill the frame. You can immediately see why we never do this – people's heads get cut off or you wind up with a boob shot. Plus it accentuates any shaky camera shots that you may not have noticed otherwise.
Which method do you prefer?