While editing wedding videos over the years, I've seen some pretty awesome bouquet tosses. My own bouquet toss was a bit like a football game, but not because a bridesmaid did a Heisman pose with the bouquet. Oh no, my bouquet toss included a full block and tackle. Would have made a great video moment from my wedding!
Background
I did not have one of those fancy bouquets you preserve and save for years. As we've established, we spent our wedding budget on the bar band and booze. My bouquet was just what I envisioned, a bunch of daisies tied together with ribbon.
Oh, but that part of my DIY extravaganza was not without it's own drama. A month before the wedding, I drove by the florist to discover that they were closed. not closed for the day. Gone! I scrambled to find another florist willing to take on a DIY client.
I did find one at the last minute and she even tied the flowers together for me!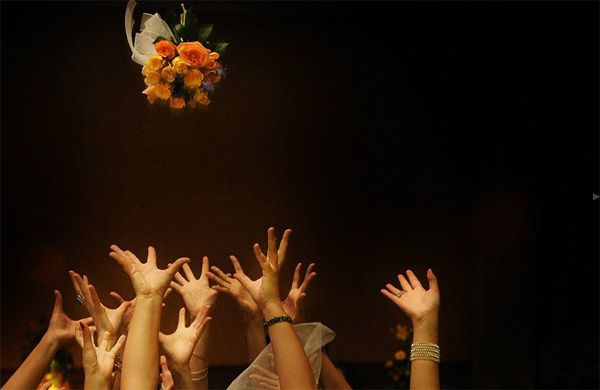 Touchdown!
We had this toss set up for months. My cousin was going to catch it. That's the way it had to be. She earned her dues as one of the bridesmaids, plus she's the own I got all liquored up and forced to make my wedding cake. She earned it! On top of it, we had set her up with Mr. Storymix's best friend. They were going to get married someday. It was destiny. She had to catch the bouquet.
But no, Mr. Storymix's cousin had other plans. His girlfriend was going to catch the bouquet. He promised her.
So as everyone yelled "1, 2, 3…" I sent my daisy, ribbon, bouquet flying across the dancefloor. And I turn around to see his cousin do a block/tackle on my cousin as his girlfriend swoops in and catches the bouquet!
What?
What what?
And don't you wish I had that on video???