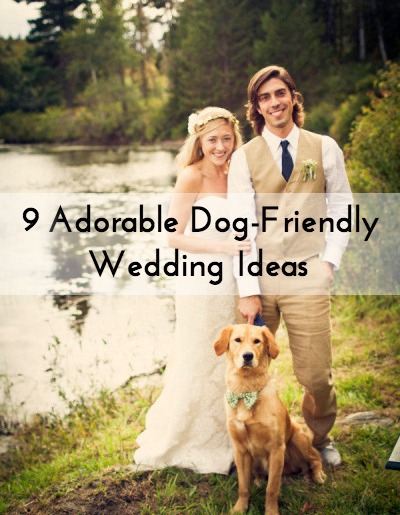 Make sure your dog can celebrate your big day with you! Get ready to roll over for these awesome dog wedding ideas and too-cute-for-words photos! From engagement photos with your pup, doggy ring bearers, and fido-focused vows, there are so many ways you can personalize your wedding by including your best furry friend.
Of course, you're going to want to capture all the canine shenanigans (think: your dog, dressed in a tux, playing with the flower girl) through guest photos and videos. After all, what could be better than including your dog in your wedding video??
1. The Pooch Proposal
Your dog is one of the biggest parts of your life, so why not let him or her help you ask one of the biggest questions of your life? You can customize a collar, or tie a ring to the one you've already got for a nice surprise from your furry friend. Or enlist the help of your sweetheart's dog to pop the question. Who could say no to that sweet face?
2. Include Your Dog in your Engagement or Wedding Photos
What better way to let your dog join in on the wedding fun than by incorporating Fido into your engagement or wedding photos? There's really no better way to up the "awww" factor.
3. The Four-Legged Flower Girl or Ring Bearer
If your dog is well behaved enough to be trusted to walk down the aisle during the ceremony, why not let him or her help keep the festivities going by acting as flower girl or ring bearer. If your dog is a little more on the feisty side, maybe have the human flower girl or ring bearer walk down holding Fido's leash.
4. Include Your Pup in the Wedding Party
Watch how this couple has their "flower dogs" walk down the aisle, and even include it in their personalized WeddingMix video!
If you're not worried about being the cutest in your wedding party, why not let your dog be a groomsman or a bridesmaid? Assuming your dog is well behaved in big group settings, this could be the perfect way to show your friends how important your dog is to you.
5. Invite Your Dog to the Reception 
Let's face it: not all dogs have the mental patience to sit through a wedding ceremony without insisting at some point on being the center of attention. Instead of inviting the calamity that might result from your dog attending the ceremony, just let Fido be the life of the party at the reception! Be sure to check that the venue is pet friendly, and don't leave the cake within your dog's reach without making sure to assign someone as Fido's supervisor.
6. Let your guests invite their dogs
If your guest list is jam-packed with dog lovers, then what better way to help spread the joy of your special day than letting them bring their dogs too? As with the previous entry, you'll definitely want to make sure you're not leaving any hazards within reach of these four-legged wedding guests, and that your venue is alright with your extra invitees. It might not be a bad idea to establish some basic ground rules as well regarding canine nuptial etiquette.
7. Mention Your Dog in Your Vows
To have and to hold. In sickness and in health. That's all been done before! Why not vow to alternate vet visits and evenly split clean-up duty?
8. Doggy Décor
A great way to add a touch of canine whimsy to your reception (assuming Fido can't attend) is to incorporate your dog into the decorations. How about dog wedding ideas in the form of pup-themed cake toppers or centerpieces?
9. Fido Photo Booth
One of the most fun aspects of weddings these days is a photo booth at the reception. If you're worried about keeping your dog out of trouble, but still want to have him or her at your reception, why not let your wedding guests pose with your pup for an added personal touch?
This post comes from Giselle from Doggyloot, where they think dogs make the world a better place and wanted to create a new, fun way for dog lovers to discover the very best chews, toys, and dog wedding outfit ideas at the very best prices!