Want a tropical way to make sure your wedding guests follow your seating arrangement? Read this list of adorable destination wedding table card ideas!
Your destination wedding is coming together more and more by the day — hooray! Once all of your guests have RSVP'd, the next step it to organize their seating arrangements. While that doesn't sound like the most fun part of wedding planning… crafting your own unique destination wedding table card does!
From to tropical fruit and maps inspired decor to mini suitcases and we compiled 13 destination wedding table card ideas sure to make your guests feel right at home!
Destination Wedding Table Cards | Map Table Card Inspiration
Incorporate maps into your destination wedding table cards — after all, maps and destinations go hand in hand! Have the maps be of your specific wedding destination, and your guests will have fun looking at the locale they came to celebrate with you at!
Destination Wedding Table Cards | Choose Your Own Adventure Inspiration
You can also opt for a "choose your own adventure" route and use the overall theme of travel for your destination wedding table cards! Guests will have fun finding out what country or major city they are sitting at for the event. For an extra bit of fun, include little mock luggage tags thanking your guests for traveling to be with you!
Destination Wedding Table Cards | Wine Inspired Table Cards
Ciao bella! Use bottles or corks from your favorite wines to hold your wedding table cards! Functional, chic, and rustic! This is perfect for a small, romantic getaway destination wedding – especially a California vineyard ceremony, getaway wedding in France, and of course a gorgeous Italian wedding!
Destination Wedding Table Cards | Simple Table Card Ideas
Simple can be beautiful! Include random facts on your table cards so your guests can learn more about your choice wedding locale! Or perhaps even share some fun memories your significant other and you shared on your journey to the aisle!
Destination Wedding Table Cards | Tropical Fruit
Don't be afraid to get fruity! If your destination wedding is known for a specific fruit — use it! Pineapples look great on the table as centerpieces for a Mexico or Florida destination wedding. In addition, oranges are the perfect tropical table card holders. Using postcards or images to list your guest's names and their table is a great way to show off why you chose a destination wedding in the first place!
Destination Wedding Table Cards | Beach Wedding Ideas
If your destination wedding is on the beach, these table cards are perfect for you! Place starfish with your guest's name and their assigned table for something fun and unique. For something smaller, put all those umbrella picks to use and make a cute little beach to assign seats.
Real destination weddings are the best source of inspiration! Adorable couple Alyssa and Bob wed in Jamaica and put their own spin on the starfish destination wedding table cards: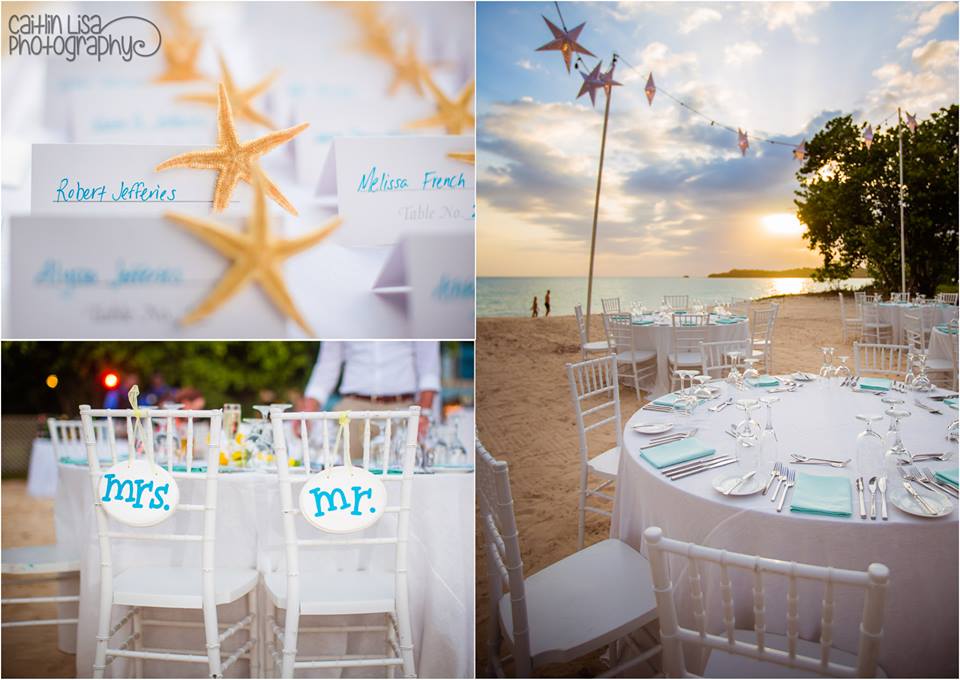 The Jefferies' destination wedding in Jamaica was definitely one for the books! The cute couple and their guests captured multiple days of fun beach excursions and the beautiful wedding details with the WeddingMix app and cameras.
Then, editors transformed the couple's favorite moments into their creative destination wedding video – through their loved ones' perspective!
Check out their fun wedding video highlight to see the best moments of their Jamaican celebration:
See what other WeddingMix brides had to say on
The Knot
:
WeddingMix was the perfect option for our destination wedding! We rented 2 HD cameras and one GoPro. We put a few friends and family members in charge of a camera so we got different views and footage from the ceremony and reception. It was so fun to review all of the footage and put it together on storyboard. I didn't want to hire another vendor and wasn't a fan of the formal "interview" style videos I had seen as examples, so WeddingMix was the perfect option for us to get the video content we wanted, in a more natural and casual way that fit with our wedding vibe." – Erin
Destination Wedding Table Cards | Souvenir Shot Glasses
Liven up the party with these fun destination wedding table cards! Your guests are sure to thank you later for supplying shot glasses to get the night started! Include a little picture of your wedding location to tie in your destination wedding theme.
Destination Wedding Table Cards | Pack Your Bags!
Oh the places you'll go….these mini suitcases are perfect as destination table card holders. Feel free to get creative by including your own stamps and stickers!
Fun decorations and table cards can make your wedding! Though small, they are mighty and are the perfect wedding details to make your destination wedding more YOU!
This post was written by Erin, social media guru for the WeddingMix, the Knot's #1 Rated Wedding Video App.
Discover how to save everyone's photos & videos in your amazing wedding video – through your loved ones' perspective