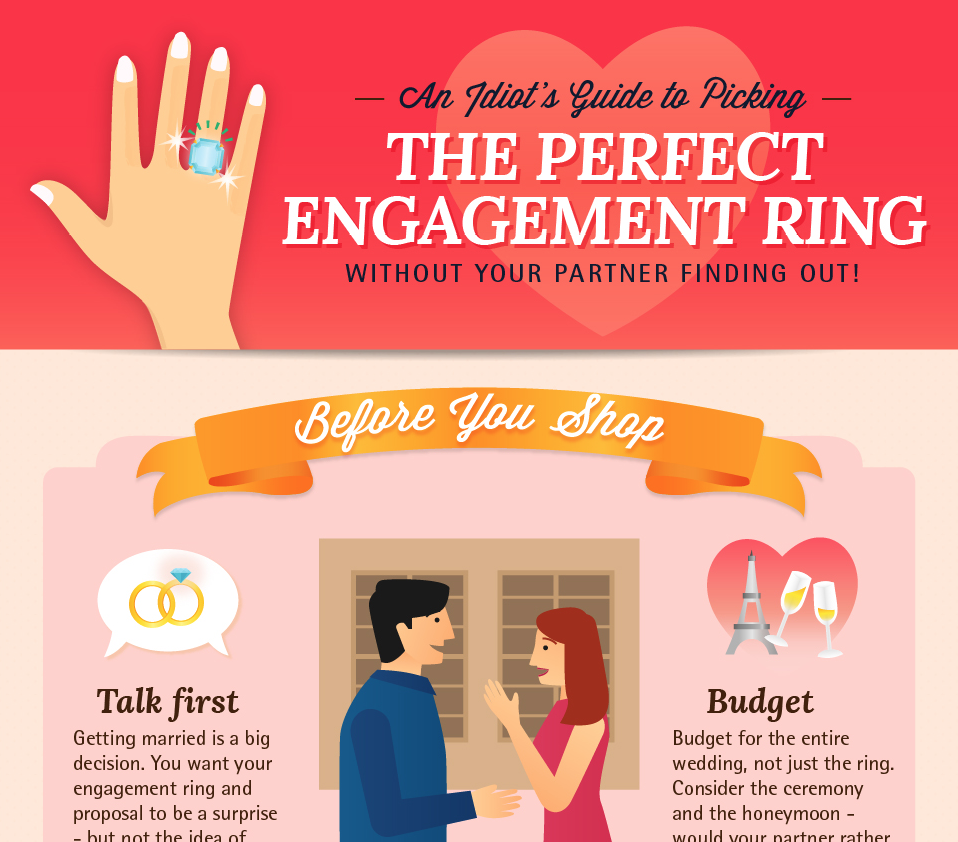 For grooms, the most nerve wracking part of the wedding planning process might not be the big day itself, or even the months leading up to it. In fact, the nerves can build up before the question has even been popped. Why, you ask? It's simple: finding the perfect engagement ring. Few things are more daunting than picking out an engagement ring your partner will wear forever. Where do you start? Read on for some important tips to make the best choice.
Here is a beautiful example of one WeddingMix couple's engagement:
Kiana's best friend filmed her proposal with the
WeddingMix
app to include in her wedding video.!
Do Some Digging!
Do your homework before rushing out and buying the most sparkly diamond ring. You should look through your partner's jewelry collection to see what style of jewelry they like to wear, as well as what metals they prefer (yellow gold or platinum, for instance).
This task will also help you figure out the right size for the engagement ring. Take a ring that she usually wears on her ring finger with you to the jeweller so that he or she will have an accurate size with which to work. If your partner doesn't own a ring she wears on her fourth finger, any other ring will work but just be clear on what finger she wears it so the jeweller will know to make the engagement ring a little smaller or bigger in comparison.
Get a Ring Wingman
It helps to have someone who can give you advice regarding what ring would suit your partner. This could be her best friend or sister, for instance. This person will be able to tell you what jewelry and fashion style your partner likes, such as vintage or contemporary, and they can also help by finding out anything you're unsure of from your bride-to-be. These questions are more natural coming from your partner's loved one rather than from you as you don't want to spoil the surprise!
Know Your Diamonds!
The diamond is the most important part of an engagement ring. This doesn't mean it has to be astronomically priced but it should be good quality. Follow the 4Cs: carat, cut, color, and clarity. Once you've chosen the carat (or size), spare some thought for the other three.
Cut influences how much the diamond shines so you want to look for a grading that is "Very Good" or "Excellent" for diamonds that are round, while "Good" or "Better" is fine for fancy-shaped diamonds
Colour. Diamonds should be as colourless as possible as this increases their value! Choose G, H, I or J diamonds for good measure.
Clarity. This refers to how flawless the diamond is. Ideally, you should choose between VS1 and VS2 diamonds.
Consider Their Lifestyle
You've got your eye on a ring you like and will match your partner's style, but don't forget to take their lifestyle into account! If your partner uses her hands a lot, a ring with a raised diamond will be impractical because it will catch on things and get damaged easily. Consider what your partner does as a career and for hobbies so that the ring will fit into her life beautifully.
Buying an engagement ring doesn't have to be stressful. With the above tips you can pick out the most gorgeous piece for the love of your life and be sure she'll treasure it forever.