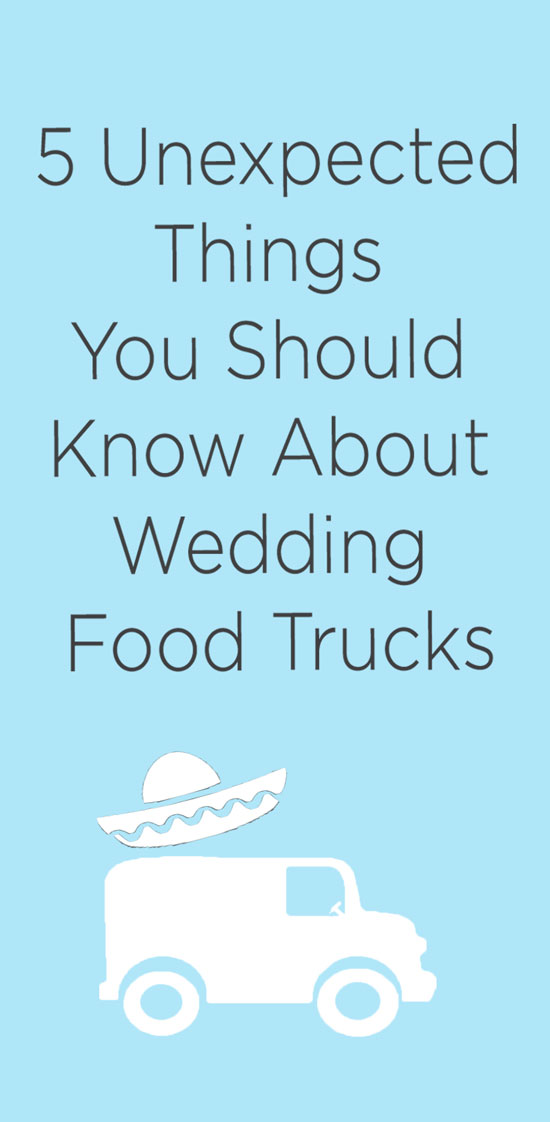 From fancy restaurants to old fashioned home cooking, there are many ways to cater a wedding! One of the hottest trends in Wedding catering right now is Food Trucks. From tacos to an ice cream truck we are totally obsessed with the delicious options!
But do not get distracted by the tasty smells and the fun trucks! Before you book your meals on wheels there are many details to consider to make sure your day runs smoothly as possible!
Check out this stellar advice from a pro before you book your fantastic food truck!
5 Things You Need to Know About Wedding Food Trucks
Who has not seen those food trucks on the streets spreading delicious-smell at peak lunchtimes, in fact the whole day long? Surely everyone has. What's surprising is that these food trucks are now taking over wedding caterers. If you have already planned everything for your wedding and the only thing left to do is the catering, how about keeping it unique on your big day with wedding caterers as food trucks? Here are 5 important things to keep in mind about using food trucks at your wedding.
1. Consider the Season
If you're having a winter wedding, the food trucks wouldn't make your guests especially happy. The spring days and mild fall are great for outdoor weddings and catering food trucks. Summer wedding? Then why not keep the food truck serving slushies and ice pops?

2. Cocktail Hour Alternative
Apart from catering, the food trucks at your wedding will provide the guests a chance to socialize when the food is served rather than just waiting between the ceremony and reception.
3. Food trucks can keep guests occupied during some wedding down times
For seating, you can arrange the tables according to the wedding theme so that your guests don't have to stand in lines waiting for food. Keeping your truck's specialties is a good option as your guests might grab those utensils and napkins you've kept till their turn comes.
An adjustable roof will be an additional option and provide convenience to your guests during if it starts to rain.
Check out this awesome couple who had a Mexican food truck cater their wedding! They used the WeddingMix app and cameras to capture all the moments from the cocktail hour to their reception for their personalized wedding video. Watch their highlight video to get some awesome catering inspiration!
4. Spice up the Menu
One food truck is usually capable of serving 75 people, so with a bigger guest list, you can have a variety of food options to keep everyone happy.
Have a menu of different options if food trucks are catering; don't keep it to just one. Today, some restaurants have even started catering through food trucks so if you want your favorites to be served on your big day, ask them if they do so. Be it a main meal, appetizers or desserts, food trucks are a good option for any wedding or formal event.
5. Keep to your wedding theme
As they come in different shapes and sizes, you can ask the food truck owners to customize according to your big-day theme, or if you see one on the street that goes with your theme don't hesitate to ask them for rental. Like an ice cream truck for a garden wedding.
Many companies even have food carts that can be used for an internal venue.
BENEFITS FOR THE FOOD TRUCKS
Apart from providing a unique feature to the bride and groom's wedding, it will also attract new customers and provide you
a better way
to enhance your business. This big wedding catering can not only be a unique one for your wedding but will benefit the food truckers too.
About the Blog:
Your special wedding video should not leave any moment out- from your uncle doing "the sprinkler" on the dance floor to you eagerly waiting to leave for your honeymoon! With the free WeddingMix app, your guests create and capture these amazing moments. Our professional editing teams takes these moments and turn them into your affordable, amazing wedding video!