Whether you're into Marvel, DC, or something else entirely – there's something undeniably exciting about a superhero! Check out these ways in which couples have showcased their favorite comic book characters into their wedding celebrations!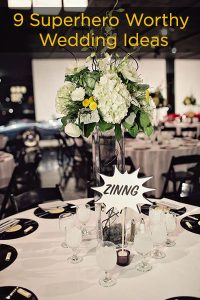 Batman Garter

Looking for a subtle way to incorporate your favorite superhero into your wedding day? This garter is such a fun way to tie in something personal!

Comic Book Cocktails

These drinks are both hilarious and oh so eye-catching! This is your opportunity to get creative – choose your favorite heroes (or villains) and customize your signature drink list accordingly!

Dramatic Entrance

All eyes are on the bride and groom as they enter the reception space – it's the perfect opportunity to stage a wild entrance! This cityscape backdrop adds to the fun of the reception, and provides a lot of great photo opportunities for guests later on!

Pack Some Punch with Your Table Decor

Centerpieces can be both elegant and fun, like this couple's creative comic book accent!

This WeddingMix couple prepared for their wedding in a SUPER way! Don't miss their heroic highlight video!

Steal Spidey's Kiss

Any Mary Jane's out there? Spiderman's kiss is iconic, and we love the way this couple executed the famed moment!

Creative Cakes

A little goes a long way with this clever integration of Spiderman in this couple's superhero wedding cake!

This WeddingMix bride rocked a pair of comic book themed high heels on her big day! Watch her highlight below, and check out her awesome shoes here.

Fantastic Photo Shoot

This bride is keeping watch over her city – and her big day! This Gotham City inspired shoot would look awesome displayed in the couple's house – what a cool idea!

Darling Decor

There's something very sweet about this subtle superhero touch – the batman signs flow effortlessly with the rest of the arrangement and are sure to be a neat topic of discussion for your guests!

Super Shoes

Converse as a traditional wedding shoe alternative is nothing new, but these heroic sneakers are the first we've seen with an awesome comic book flair!