Wedding guests come in all ages, but not all reception activities are fun for kids. Read this list for cute ideas to keep kids happy at your wedding!
Let's not forget; happy kids mean happy parents!

1. Let them feel like kids.
Expecting perfect behavior from children all day may not be entirely realistic – but let's be honest, nobody's perfect! Kids want to have fun – it's no secret. Embracing their spirit of adventure allows for a more exciting day for your young guests!
2. Know that kids want to hang out with each other.
Having a table set aside for your younger guests will guarantee they have a more pleasant experience. Think about it this way – when you go to an event, isn't it so much more fun to sit with your friends?
3. Do not underestimate a child's sweet tooth.
While we all love our daily dose of sugar, nothing comes close to a child's passion for candy! These candy bar will make your young guests feel like they've entered the land of Willy Wonka!
4. Don't be afraid to be theatric
Kids love a good show! There's something really undeniably special about seeing a child's face light up. The best part? It's not too hard to impress these guests! Shoot for the stars and you're sure to make an impression – like this couple's choice to bring in an ice cream truck!
5. Get them involved
Your young guests may not grasp the magnitude of your service, but they know something big is going on!  Let them take part in the big day by providing interactive experiences at your reception – like this cute face painting station!
6. Keep them entertained
This might seem like a no-brainer, but with the all the other things you're planning for you big day, it can be easily overlooked. The key to keeping the children happy is keeping them occupied – and what kid doesn't like to color? These wedding theme coloring pages are sure to be a hit! Can you imagine how cute it would be to capture their coloring party on film with the WeddingMix app and cameras?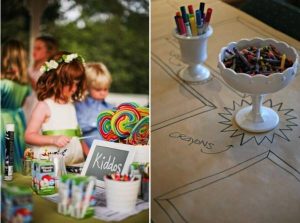 7. Have fun!
At the end of the day, you're celebrating something wonderful! Don't be afraid to let loose and be a little silly just like the kids!
WeddingMix couple Vanessa and Endre had a petting Zoo at their wedding! Check it out in their WeddingMix highlight below!
From our vows, to our friends posing with a boa constrictor, to guests randomly dancing in a fountain, the night was amazing. We're actually really glad we found out about Storymix when we did. We hadn't seriously considered a videographer during the planning because it was just too pricey and we figured photography would suffice. My husband and I were cracking up at the funny moments we missed when our family and friends were walking around with the cameras.  It turned out to be another great way to remember our wedding day." – Vanessa
Do you have any advice of your own on entertaining young wedding guests? Let us know in the comments below!