When the weather is nice – you may want to take advantage of the natural beauty on your wedding day! With nature as your canvas, there are so many gorgeous ways to decorate your ceremony and reception – we've put together a list of outdoor wedding inspiration to get you started!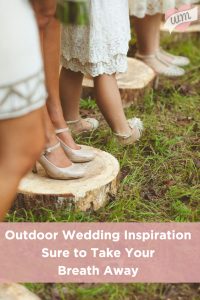 Romantic Runway

Shoe Stands

Every woman in attendance will thank you for this one – no one likes the sensation of their nice high heels sinking into the grass. Make sure the guest attention is on the bride and groom – not their shoe situation.

Garden Games
Check out Tony and Stephanie's stunning October wedding for real fall wedding inspiration. Their love for each other was truly captured in their video from her smile walking down the aisle to their first steps together as man and wife.
Watch at their highlight video to see how their intimate fall wedding unfolded.
Highlight video crafted by WeddingMix using footage shot by loved ones using the WeddingMix app & HD cams.
4. Cocktail Stands
Not only are these beautiful and practical – they give guests a great setting to mingle with one another!
5. Brilliant Buffets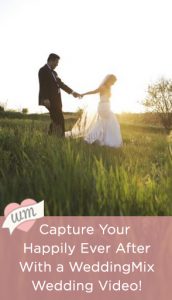 6. Delightful Decorations
7. Aisle Ambiance
Speaking of outdoor weddings – this couple's gorgeous celebration utilized a natural venue and the results were stunning! You won't want to miss their first dance – check it out in their highlight video below – great for outdoor wedding inspiration!
This video was filmed by guests of the bride and groom using the WeddingMix app and cameras. Loved the highlight video? Read what other brides had to say on The Knot:
When we first decided to go with Weddingmix, it was because we wanted to save the cost on a videographer. In the end, what we got was something so much more personal. Guests can grab cameras and say what they want rather than answering some cheesy question. Thank you Weddingmix!" – Sandra V
8. Trendy Tables for Outdoor Wedding Inspiration
9.  S'mores Bar
Capture all the fun of roasting marshmallows with loved ones using the WeddingMix App and cameras – you'll be sure to catch some great candid moments of guests having a blast at your reception!
"After being able to hire a family friend for an extremely reasonable price to do our photography, we began to look into a more "do it yourself" route for video. Long story short, WeddingMix was everything that we were looking for! Affordable, practical, easy!" –Natalie
"Once we'd distributed the cameras and told our friends how to use the app, we told them to go nuts and they didn't disappoint. They gave us a ton of great footage to work with to create a really unique and memorable wedding video that we wouldn't have been able to have otherwise." – Sylvia
10. Sparkler Send Off
11. Booze Boat
12. Dancing Shoes!
13. Blankets
It will likely get breezy as the evening festivities stretch on – keep guests cozy with a selection of blankets to guard against the chill!
Outdoor weddings are BEAUTIFUL! What's your favorite trend for these celebrations? Share with us below – we'd love to hear from you!
If you do plan on adventuring to the outdoors for your wedding, make sure you remember all of your amazing moments with your personalized DIY wedding video. Your loved ones capture the moments and WeddingMix turns it into a beautiful video you will cherish forever.