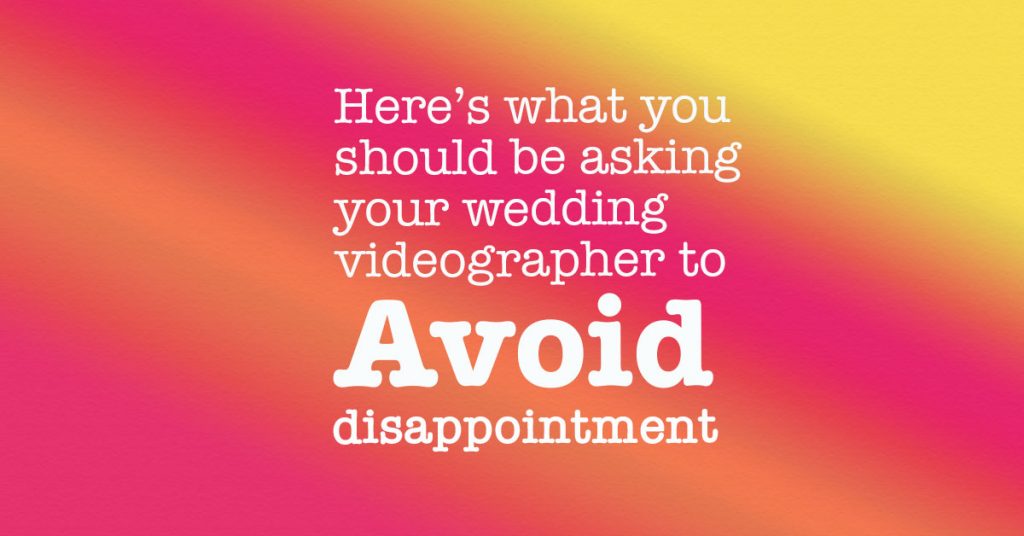 Whether you're looking for a videographer or using WeddingMix to capture your wedding day, there are several questions to keep in mind that you probably haven't considered. We break it down by answering any questions you have or may not have thought about while comparing WeddingMix to traditional wedding videography.
This week, I want to help you compare apples to apples when looking at WeddingMix versus a videographer.
Should I ask about equipment?
Unless you understand the uses behind the equipment then there's really no need to ask. If you choose a videographer that you trust to get the job done, then you can trust that they have it all under control.
Is raw footage included?
Let's face it, no one wants to watch an 8 hour wedding video. With most videographers, if your footage doesn't make it into the video, you won't get to see it. So, if you purchase a package with a 5 minute highlight – that is what you will receive – 5 minutes to forever remember your wedding.
Check out this hilarious moment from WeddingMix couple Julie and Chris' wedding:
If you do go with a videographer, make sure to ask them how much it will cost to purchase the raw footage so you can factor that into the pricing. Most charge $500 or more for the raw footage, so while you may be able to afford an awesome videographer if you get just a highlight, you'll still miss out on the rest. Think of all of the silly moments that didn't make it into the five minute version that you may want to show your kids later on.
Remember that time you partied with your bridesmaids and toasted at a bar together? These are the moments you may not think about including in your video, but would love to see later on. If you have your heart set on including something special in the final cut, make sure you check with your videographer about including it!
I wasn't concerned about getting a fancy wedding video that had superb angles and quality. I wanted to save the memories in video form, it's much better memory than a picture" – Jackie
How many hours of coverage?
Many couples save money on their videographer by cutting some of the hours of coverage like the snippets of you getting ready or the last few dances of the evening. Sure, it may save you money, but wouldn't you still love to watch those moments if you could?
Another important note is that most videographers include moments of the bridal party getting ready in their sample videos, but what if you decide to not hire them until later on in the day? In that case It's difficult to tell what your wedding video will look like if you're not planning on including those moments anyway.
Are video recuts allowed?
Most videographers are talented artists whom you trust to create the best video possible.This also means that most will not make changes to the wedding video; certainly not for free if at all.
With WeddingMix, you get to pick your favorite scenes (and up to 50 photos) to include in your feature video* using our online storyboard. Our talented editors will then create your wedding video. If anything looks different than you expected, just let us know, and we'll make the changes you need.
Lindsay and Greg had beautiful footage from their destination wedding and got to add in a few pictures from their photographer. See for yourself!
Read what this bride had to say from Wedding Wire:
If you are looking for a cheaper alternative for video for your wedding, then this service is for you! All of my friends said that their biggest regret from their wedding day was not having a videographer. I knew that I wanted one, but after everything else was paid for it just wasn't in the budget. Then after a quick google search I found WeddingMix! It was cheap and easy to do! I just had a cousin film everything and had cards on the table that guests could use to upload videos! It was great! I highly recommend them!" – Sarah
This couple's WeddingMix highlight was full of fun candid moments and warm wishes for the bride and groom.
This is THE. BEST. way to do a wedding video! It was so much fun, and I was able to capture moments with some of out guests that we really did not get a chance to talk to. That made it much more intimate and personal. We get to keep that forever. I loved it." – Emily
When will it be delivered?
Some lower-priced videographers are doing this part time, and take a bit longer to edit. You'd like an idea ahead of time when to expect the video to relive all of the warm moments. At WeddingMix, we deliver highlight videos within 4-8 weeks after the wedding, so you'll never be left wondering.
How to have it all
With WeddingMix, you can still get that professionally edited video of your whole wedding weekend, and meet your budget. If you like that high end look of a videographer, with lots of close detail shots, we have the option to rent a simple-to-use professional video camera. If you like the home movie feel, we have the Panorama package where you can rent cameras for each side of the family and friends. If you have your own cameras, we've got you covered with our Snap Happy package.
Last, we also have lots of people who both hire a high quality full service videographer and use WeddingMix. That way they still get an amazing video of the entire wedding experience. We do have videographers who even offer our services, so their clients can have a more comprehensive story in their video.
See this WeddingMix couple's touching wedding highlight with moments from getting their marriage license to the special day:
Any other questions about videography that I didn't cover here? Let me know if you'd like to know the difference between WeddingMix and other DIY services. Hint: we're app-solutely unique (we're the only ones who can include photos and videos from events beyond the wedding weekend).  🙂
* most packages include a feature video