This Cape Coral, FL wedding video was filled with laughter and love. The happy couple had their guests use the WeddingMix app + HD cameras to help them create their personalized and affordable wedding video. Check out their highlight video to relive all of their wedding day fun!
It is easy to see how excited the wedding party was for the bride and groom! The guests did an incredible job documenting this very special day. During the wedding ceremony, they were able to capture the bride walking down the aisle as well as the couple exchanging their vows. The newlywed couple had an adorable first dance and there was also a special mother-son dance and father-daughter dance. One lucky young woman was successful in catching the bride's bouquet, while the room filled with laughter because the men had a difficult time catching the garter. This night was filled with tons of dancing and fun! The bride and groom had an amazing night celebrating with their closest family and friends.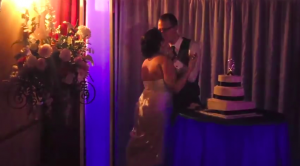 With the help of their guests and the WeddingMix app, this happy couple can go back and watch their personalized wedding video and relive their exciting wedding. We wish this happy couple many years of happiness!