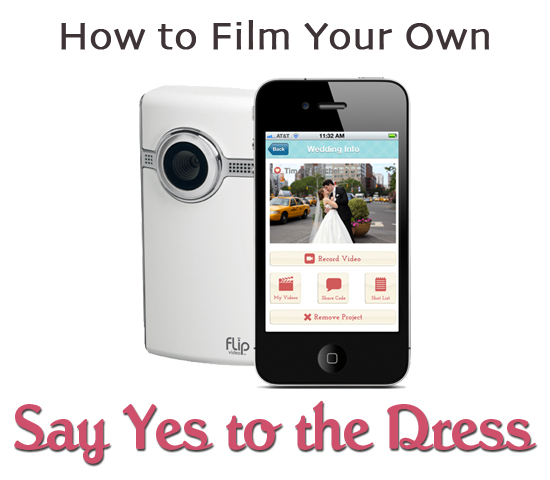 Let's admit it. Say Yes to the Dress is rather addicting. Here are 4 simple steps to help you create your own version when you visit the bridal salon for that first trip to find your perfect wedding dress. Don't forget to take along our infographic to design your own wedding dress.
Have everyone who is coming with you download the free WeddingMix app, so you can include all the camera angles in your project.

Include a shotlist in the app with scenes that are most important to include (I've included suggestions below).
Have everyone upload their photos and video clips to your WeddingMix project directly from their phones.
Let Storymix edit it for you to include with your wedding video.
You know that your mom and besties are going to be taking photos and video at that first dress fitting. If they film through the WeddingMix app using your project code, you'll get all the full resolution photo and video files in one spot. No need to text or email. They can get the free app for iPhone and Android.
Personalize your shotlist in the app with the scenes most important for your video. Here are some recommendations:
The backstory of how you met your fiancé

Your mom's face when she sees you come out of the fitting room in that first gown

Your friends' reactions to all the dresses
You twirling around on the pedestal with the veil on your head
The after-shopping drinks to celebrate saying Yes to the Dress!
You don't need wifi, or even a cell phone connection to take video. Simply make sure that everyone uploads their clips and photos when they get to a wifi connection. They can even share them to Facebook right from the app. If you have an upload link in your project, they can also upload from any camera via computer. You make want to look through some of our previous tutorials about how to take good wedding video on a phone. Hint: hold the phone the wide way, with the both hands so the video doesn't look sideways.
After the wedding, direct your video by including scenes from your own Say Yes to the Dress in your storyboard. We'll do all the heavy lifting and edit the video for you to share in your online gallery, Facebook, and DVD.