Welcome to the new and improved WeddingMix Blog! Each week, we will feature new wedding videos, tutorials on how to capture your wedding day by using Storymix Media, and our Wedding "Finds" of the week. Be sure to check back here often for great new ideas and inspiration for your own wedding!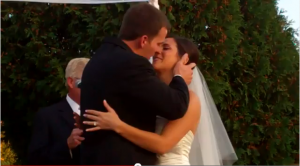 Today's real wedding features Melissa and Nick. Their wedding was held at the beautiful Marriott Lincolnshire Resort in Lincolnshire, IL. In her feature length video, Melissa set the scene for a classic he said/she said movie. She showed the details of her getting ready the morning of the wedding – interspersed with clips of Nick playing golf at the very same time! As you'll see below in the trailer video, the result is hilarious.
Melissa had some great advice for future Weddingmix Brides: "I would suggest telling your camera people a few highlights of what you want captured: ceremony, cutting the wedding cake, first dance etc." We couldn't agree more with this piece of advice, and it's also why we've created a free download of suggested video and pictures which you can find on the top right of this page! Be sure to print these off and give them to your guests who will be filming.
On to the trailer for Melissa and Nick