The story of Lori and Jared started in the 6th grade, went on hiatus for 20 years, and then took off thanks to Facebook! After traveling to see each other from totally different sides of the country, their whirlwind romance made these two realize that they were made for each other.
Check out this couple's gorgeous fall wedding in North Carolina and their custom-made WeddingMix wedding trailer video.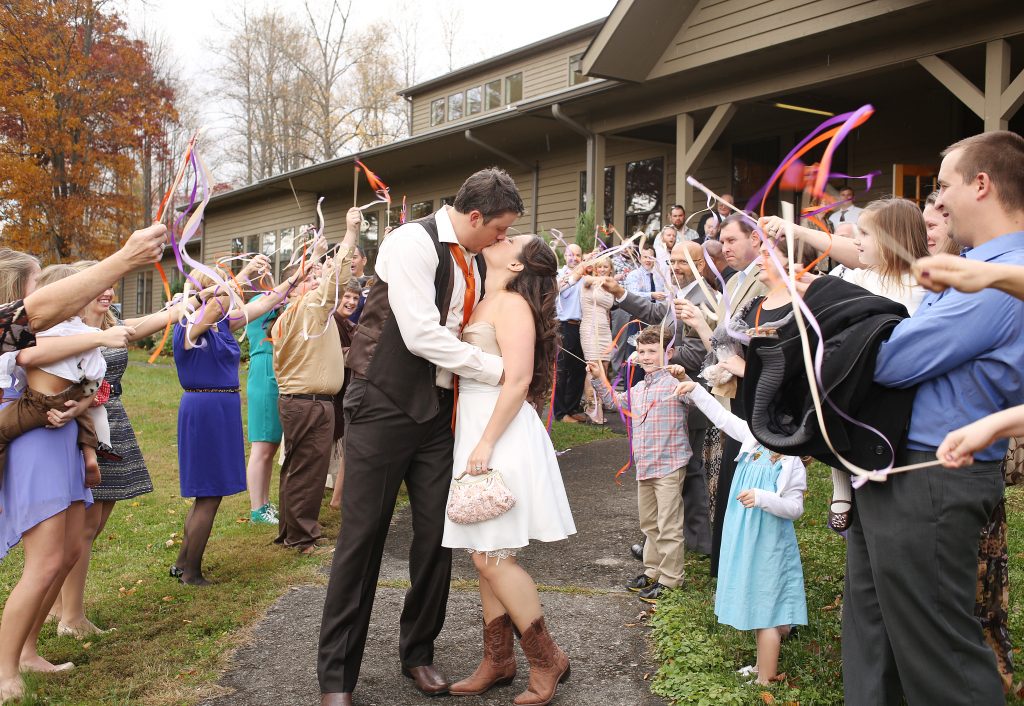 I had pretty much given up on finding love. Until, one day while sitting on the couch scrolling through Facebook a familiar face popped up on my "People you may know" section.
Jared Wiggins, could this be my 6th grade boyfriend from Marshville, NC? Luckily for me, his profile wasn't private so let the stalking begin and believe me….did I stalk.
He was single, lived in Tahoe City, CA and was a snowboarder. The cute 11 year old, long haired, flannel-wearing, Nirvana-loving teen had turned into this extremely handsome 6'6" talk drink of water. What did I have to lose? Absolutely nothing — so the friend request was sent.
Within minutes I received acceptance and a message from him asking how I was. I quickly typed out a response that was much more in-depth (he now jokes that he sent me a short message and I sent him a novel).  After all, we had 20 years of catching up to do. You see, Jared and his family moved to the North Carolina mountains in 7th grade and I never saw or spoke with him again.
After our first conversation I thought "This is insane…we literally live on opposite coasts how will this ever work?"   But then I remembered my grandparents love story.
After only seeing my grandmother one time, my grandfather said he would marry her. He went overseas to fight in WWII and was gone 2 years, she was engaged to another solider at the time. He survived, came back and married her; they were married 55 years before he passed. So you see, true love is possible, no matter how crazy it sounds. After corresponding over Face Time for 2 months, I flew out to Tahoe to see if my prince charming really did exist and the rest was history!
I flew to California and I knew that this was the one for me.  He relocated to Wilmington NC in May 2013, and we were married November 2, 2013 at Fontana Village Resort in Fontana Dam, NC.
Many people didn't understand why we were getting married 8 hours away in the mountains of NC. After all, we live at the beach, so why not have a beach wedding? After visiting his parents in Robbinsville and visiting Fontana Village Resort in the Great Smoky Mountains we knew that this was the right place to get married. The fall landscape was the perfect background for our rustic country themed wedding. Almost all of the decorations were handmade by my mother, from the burlap and lace wedding bouquets to all the floral arrangements. Everything was made with love.
I decided to go with WeddingMix after investigating videographer prices and found this to be an affordable option to capture the moments of our wedding. The entire process was extremely easy and the editing staff did a wonderful job of compiling massive amounts of footage into a polished arrangement of memories that will last a lifetime. Thank you WeddingMix for allowing us to relive our wedding over and over and over….