Want to have your dream wedding while sticking to a budget? These 15 wedding hacks will help you achieve your dream wedding without breaking the bank!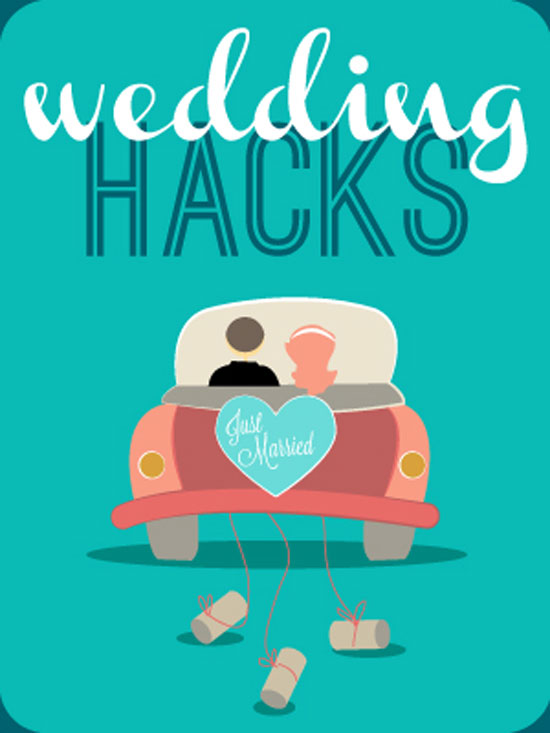 When it comes to weddings, it doesn't have to be that difficult. Spending a ton of time and money isn't necessary to have the wedding of your dreams. With a little creativity and 'hacking' it is possible to cut out a lot of time and money in the planning stages. If you are planning a wedding or know someone that is in the process, share this graphic with them. Chances are it will save them a lot of stress.
Feel free to share our infographic. Just copy/paste the code below for your blog, or use the share button at the top of this post for Pinterest, Facebook or Twitter.


You're going to have to get crafty to avoid sneaky wedding costs!
It's no secret that a huge amount of wedding stress is caused by worrying over your budget. Every bride wants to make her dream big day a reality – but is it possible to have a gorgeous, memorable day while staying financially afloat? YES!
The WeddingMix team interviewed some of our most budget-saavy real brides (featured in their spectacular,budget-friendly wedding videos)  and asked them about their best budget tricks they used for their big day. Skim their 11 best real wedding budget tips here.
If you've been thinking about getting video of your big, beautiful day – you can skip the pricey videographer and get an awesome DIY wedding video from your guests' perspective!
We knew the day would be hectic so it was nice to see little video clips from moments we might have missed during the big day. We also really liked the customization and freedom you have with Wedding Mix. It's like a really well done home video, in the sense that it feels personal but professional." – Morgan
Tyler and Morgan's loved ones helped capture every moment from their gorgeous rustic wedding. Check out their WeddingMix highlight below to see this couple's witty banter and first look. You can truly see the love between these two!