Your beautiful fall wedding ideas should reflect your personality just as much as your vows, your first dance, or your DIY wedding video!
Since fall is the most popular season to tie the knot, I've created an awesome wedding infographic to help autumn brides mix and match their perfect fall wedding diy projects, flowers, and venue.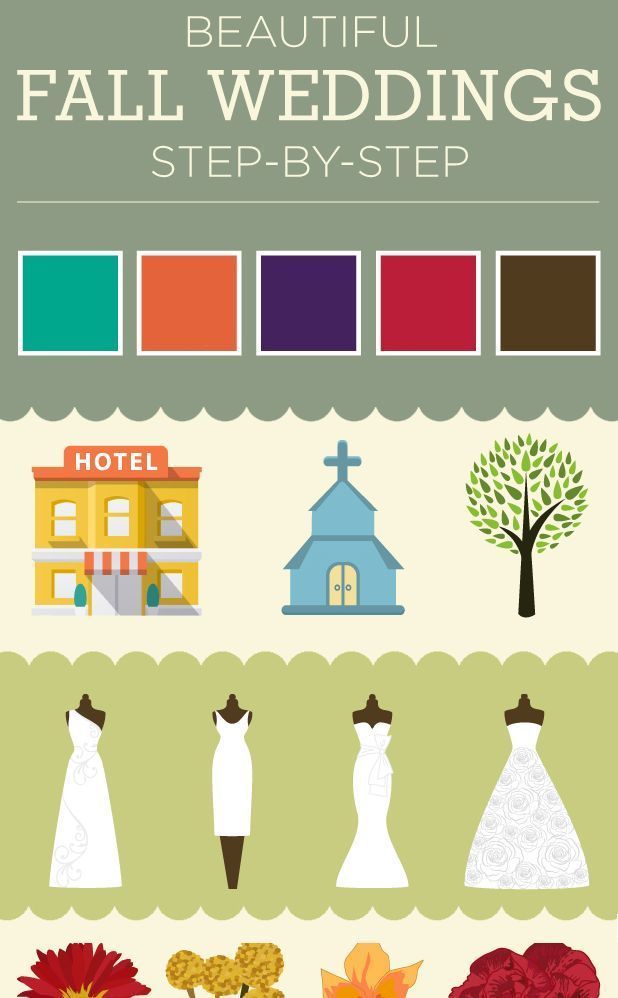 Just because you're getting married in the autumn months doesn't mean that you have to use pumpkins as table numbers or put orange foliage in your bouquet! On the contrary, your fall wedding decorations should be a fun representation of your personal style.  All the natural beauty of autumn should be used to fit the vision you had for your wedding — not the other way around!
I caught up with some of 7 brilliant fall wedding experts to get advice on how to add classy and subtle fall wedding decorations. From bridal beauty experts to professional wedding caterers, these wedding pro's all gave their diverse and astute opinions on how to use the autumn season to your advantage when choosing your fall wedding colors, menu, makeup, and DIY decorations.  Check out the infographic below to see the effortless 5-step process to creating your own beautiful fall wedding!
Fall Wedding Decoration Color Tip: Mix Bold Hues and Natural Textures 
 "Perfect autumn-themed colors are Sangria, Cobalt Blue or Royal Blue, Mauve Mist and Aluminum," said expert multicultural wedding planner, Nahid Farhound. "Another color hot for fall are Aurora Red, which could be mixed with Cypress and Radiant Orchard. I love the idea of vintage wedding dress and using a colored sash to add a pop of color."
In addition to using rich hues to offset the fall foliage, Nahid recommends using a wood slice as a wedding guest book as a unique option to the traditional guest book: "You can have it carved with the bride and groom's names and guests can sign it using a specific pen. The wood adds to the autumn look for a wedding of that season." 
According to California wedding planner, Courtney Lutkus of Simply Radiant Events, "You can just use colors to give the feeling of fall and autumn without having to incorporate any leaves or pumpkins by having the bridesmaids in long chocolate brown dresses and the groom and groomsmen in light brown suits with a chocolate brown vest and tie. Another way is to use hemp and twine within your decorations. You can wrap wine bottles with it, the silverware, the centerpieces and even the favors." 
Since vintage is very in for 2014, Courtney also recommends incorporating delicate branches into your centerpieces to give your wedding a touch of fall. For an extra DIY touch, dip your place cards and invitations in tea or coffee to have a vintage and fall. 
Hospitality guru, Alex Kelsey of Jewel Hospitality, "Local vintage and thrift stores tend to have a good selection of necklaces, brooches, earrings, and other jewelry that incorporate leaves, branches, flowers, etc. Incorporating vintage "nature" jewelry into centerpieces and décor is a stunning and unique way to create the same autumn feel without being too blatant. You could also have family members donate pieces of jewelry for this cause, which would add a sentimental touch to it as well." 
 Choose Fall Wedding Makeup that Subtly Highlights Traditional Autumn Colors 
"Switch your wedding makeup to have a bronze crease color instead of a boring, traditional brown, said Haley Kulow of HK Beauty Consulting. "The color change is seasonal but bronze is a great substitute since it will have the same effect but give you a pop of fall color flair. Add a pop of bronze into your wedding eye shadow. Bronze is a wonderful color which will highlight any hair color and gives a slight twist to the normal brown color used for traditional wedding makeup."

Embrace the Night Sky and Add Warm with Light, Food, and 
"You'll find some of the clearest blue skies and darkest nights at this time of year, so bring the outside in by choosing a venue with big windows and far reaching views," advised elegant wedding caterer, Julia Braime of Dine.  "In the evening, use soft fairy lights and an abundance of candles to create a romantic, twinkling atmosphere. If your venue has an open fire, pile it high with logs, herbs and fir cones to scent the rooms and create cosy corners. A classy colour palette of ivory and gold works well with seasonal shades and adds warmth. Twisted willow branches and mosses combined with blousy blooms in subtle corals will bring prettiness and depth to your bouquet or table, and consider the use of ripe fruit in your arrangements for an opulent touch. Keep compositions a little wild and woodland inspired to add drama and interest." 


Speaking of adding cosy comforts, Kristin Alexander of Esoteric Events suggests serving rich, seasonal food such as butternut squash soup, truffle risotto, and fig cheesecake to incoporate autumn flavors into your wedding menu. In addition to warm food, she suggests using warm colors and even warmer gifts: "Use touches of gold. I particularly love gold accents on paper products like escort cards, programs and menus. Even consider flatware and floral vessels in gold! Enhance the color palette and create a romance in the environment by bringing in warm lighting in shades of amber and chocolate. Gift pashminas or blankets to guests so as the temperature drops, guests will use them to stay warm (and it entices couples to cuddle throughout the night)." 
When in Doubt, Bring in the Bounty of the Fall Harvest 
"If you think pumpkins are strictly for carving on Halloween then guess again!" said Angelica, ultra-glam editor and founder of
The Bridal Detective
. " They also make for a fantastic option for chilling your wines and other beverages."
"If you are a foodie and love delectable treats then try passing around hot apple cider, hot cocoa or gourmet coffee at the end of the night. Not only is it a great way to keep your guests warm but you can add a little "thank you for celebrating with us" pennant flag to the straws that is guaranteed to warm your guests' heart as well!"
Jennifer Taylor of Taylor'd Events has four awesome suggestions for bring the comfort (and yummiest) gifts of fall into your wedding day:
1. Serving cider – it can be served both cold or hot and then having a hard cider on tap for your guests as well. 

2. Wheat bundles as centerpieces & the wheat grain as the toss – it also has great wedding symbolism because of it's traditional symbolism of  fruitfulness and was among the earliest grains (predating rice) to be ceremoniously showered on the bride and groom. In its earliest origins, the unmarried young women attending the wedding were expected to scramble for the grains to ensure their own betrothals, much as they do today for the bridal bouquet.

3.  Caramel apples as a favor – This old fashion treat has now back and can be rolled in nuts, chocolate pieces, or whatever else you can think of. 
4. Using apples as a place card holder, you can now get apples engraved with your monogram and wedding date, then put a thin slice on top for the place card.