Overwhelmed with honeymoon planning? Check out this infographic with honeymoon tips to help you plan your dream trip!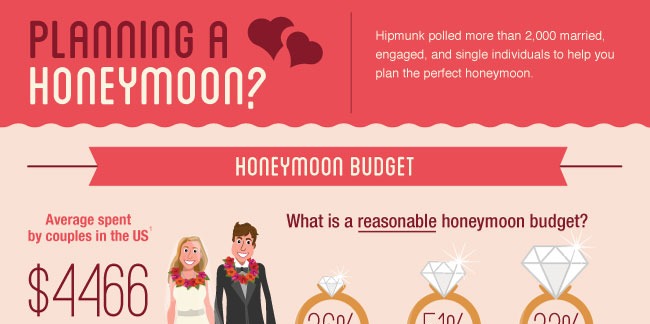 Organizing details for a glorious wedding day is stressful enough — but planning a vacation immediately after you tie the knot? Pure madness. Then again, after months of calling vendors and re-making guest lists, every couple should go on a much deserved getaway!
That's why I am loving this great Hipmunk  infographic full of perfect honeymoon ideas for some serious post-wedding R&R. So if you're asking yourself: "Where should I go on my honeymoon? What's the average honeymoon budget? Can I afford to take than Mexican resort vacation?" than rest easy and see how you stack up against these honeymoon stats and facts.
Looking for more affordably perfect honeymoon ideas? Consider capturing your own honeymoon wedding video like WeddingMix couple Mr. and Mrs. Caldwell did in Hawaii: 

See how we can help you capture and enjoy your big day for a lifetime. Learn more about DIY affordable wedding video at our website or feel free to give us a call at 800-831-1649.
Ariane