Check out this Plymouth, MA wedding video featuring Sarah and Pat's gorgeous big day at Camp Bournedale! Their lakeside vows are sure to make you smile 🙂
The stunning couple had their all their guests use the WeddingMix app + HD cameras to capture all of the priceless moments throughout their ceremony and reception. Sara and Pat's loved ones captured so many amazing clips from the morning of the wedding! From super sweet wedding day advice from family members to the groomsmen and bridesmaids getting excited for the festivities – everyone was getting psyched to celebrate Sarah and Pat's big day!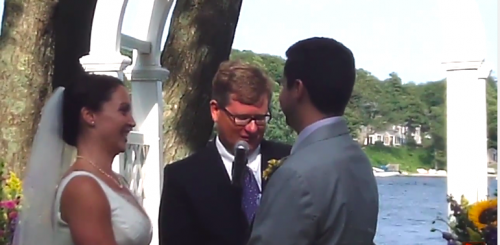 And as for their ceremony? Seriously gorgeous, to say the least! From sunflower wedding inspiration to lovely purple wedding details, every aspect of this lakeside ceremony was perfect and joyful.
If there's one thing for sure – this bride and groom have many years of happiness ahead of them. With their WeddingMix video, they can now relive their wedding day for years to come – through the perspective of all their family and friends!