Do you dream of hiring a famous band for your big day? It might be out of budget, but check out these affordable alternatives!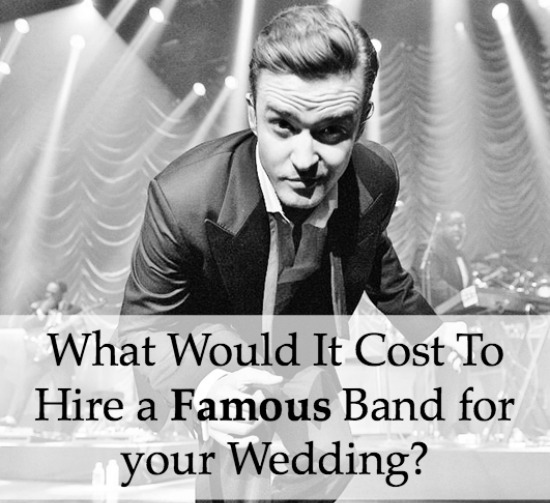 When asked what they remember most about a wedding, 81% of guests said the entertainment! So how's a bride supposed to get the wedding music of her dreams? Let's start by dreaming BIG!
That's right! I'm looking at YOU, you Maroon 5, Dave Matthews, and Feist fans. Ever wonder what it would cost to hire a famous band for your wedding reception? Check out this nifty infographic from Wedding Paper Divas:
Thinking about Andrew Bird crooning "Masterfade" as the first dance begins, Tim McGraw singing "My Little Girl" for a Father Daughter dance or a bridal party entrance as JT sings"Suit & Tie"? Yep, me too.
Alas, the average cost of a wedding band was about $3,084 last year. So hiring a famous band might just be a Pinterest-inspired pipe dream for most couples. However, this infographic can still help you consider the tunes for your perfect wedding playlist!
Ask yourself: Which of these artists strike your fancy? What does your favorite wedding band say about you and your fiance's personal wedding style?
For example, if you'd love for Bo Bice, Lady Antebellum or Keith Urban to be your wedding band, sounds like you're a real country kinda gal. Tap into your inner-southern belle with the music in the Southern video style:
More into chill tunes and alternative urban living like Matt Nathanson, Andrew Bird or Matt and Kim?  Then you'll fall head-over-heels for the Indie Wedding Style.
Will Justin Timberlake and the Black Eyed Peas be making an appearance at your wedding reception? Then check out the Cinematic wedding video style:
And if Beirut, The Lumineers and The Allman Brothers fall in line with your down-to-earth wedding vibes, you're definitely going to enjoy having rustic inspired music for your big day.
The cost to hire a famous band for your wedding may beyond most couples' budget, but choosing awesome wedding music can be inspired by your favorite artists!
Not seeing your preferred music choice? Check out more unique wedding video styles to find your perfect fit!