Your wedding is coming up and you're using WeddingMix to capture every moment! Now it's time to tell your guests how to upload their photos and video to your WeddingMix wedding video app. That way, you'll collect all their priceless footage and include it in your free wedding highlight video!
Check out these three easy, effective ways that brides asked their loved ones to help contribute to their WeddingMix video.
Email This Pre-Wedding Message to your Guests
WeddingWire blogger Taryn had a
gorgeous seaside wedding in Maryland
. She knew her friends would use their smartphones to take video and pictures, but she didn't want to hunt down all the clips after the wedding.
Her goal was to have as many friends as possible upload all the cool, silly, behind the scenes moments.
She emailed all her wedding guests with a link to download the app, her app code, and her shotlist. Here is the email template to send to your wedding guests! Your personalized app code is in your WeddingMix Lite order confirmation email.
Text your WeddingMix Code to Friends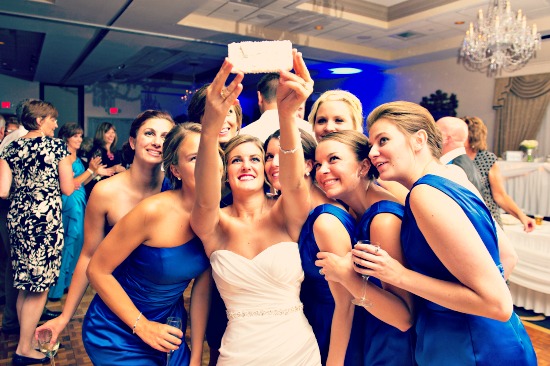 Did you know you can send an automated text with your app code to friends? Here's how:
1. Login to your WeddingMix app
2. Click "More" on the bottom right of the app
3. Click "Send Wedding Code"
4. Send a text to your tech-savvy friends to download the app, gave them the app code. It's that easy!
Provide These Downloadable Table Cards
The WeddingMix team just created two beautiful NEW table card designs for our customers! They're super helpful for letting guests know about your WeddingMix wedding video.
Download your free "Bouquet" table card template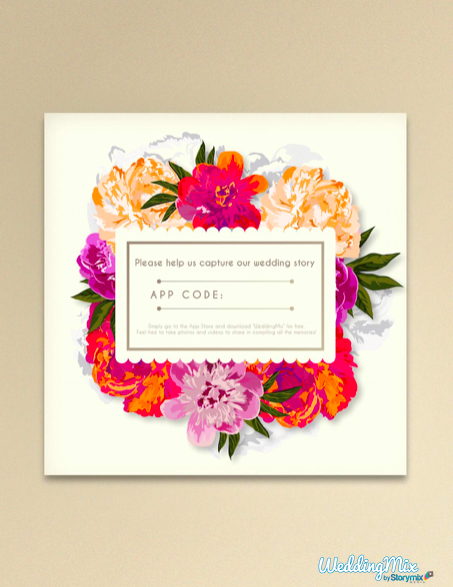 Download your free "Chalkboard" table card template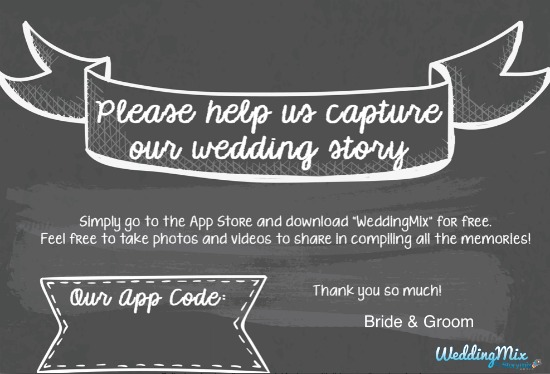 WeddingMix Printable App Instructions
WeddingMix App Do's and Don'ts
Do: Let everyone know to download the app before the wedding itself. Text them as soon as you order, so that fun pre-wedding moments can be captured on camera!
Don't: Worry about wifi at the wedding itself. Cell service is only needed to download the app. 🙂
Do: Include a link to download the WeddingMix app right on your wedding website (and include your app code). If you ordered a custom app code, include it on your website as well.
Do: Ask your most outgoing friends to ask cute questions (i.e. Advice for a happy marriage) and you'll see some of your best clips as they interview other guests!