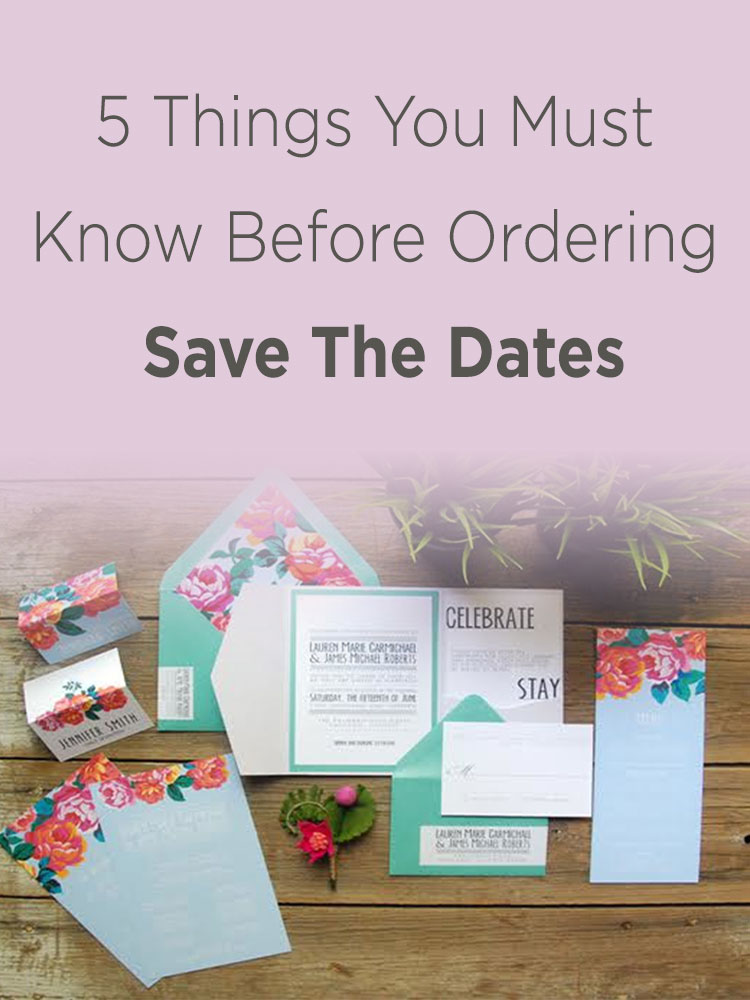 Today's guest post is from Carrie Merkle Khoury – owner of Birdhouse Stationery.
There's a ton of work that goes into planning a wedding, so it's important you have all of your bases covered. You've set the date and booked your venue, now it's time to invite the guests!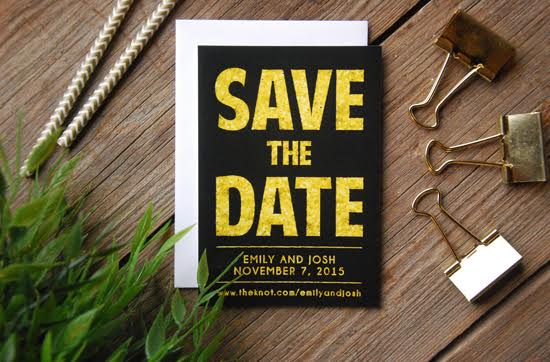 Set the Mood
Your invitation is your guests' first real taste of your wedding style. It includes all the information your guests will need to know (date, time, and location), and also gives some important clues as to the formality of your wedding. Will your big day be elegant or casual? Edgy or romantic? Keep this in mind when selecting the details of your wedding– just as a formal ball gown would be out of place at a beach wedding, a very casual invitation isn't appropriate for an elegant evening affair. Having a hard time narrowing down your vision? Bring us some photos of your venue, or inspirational images from other weddings you love– we can help you set the tone for the wedding of your dreams.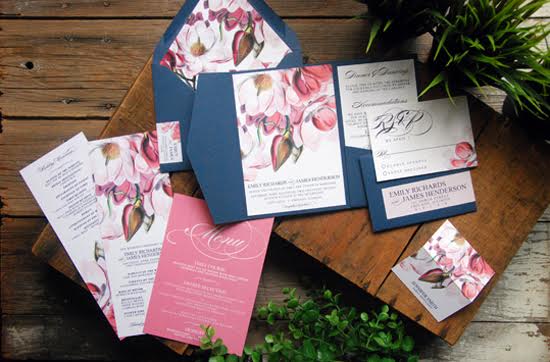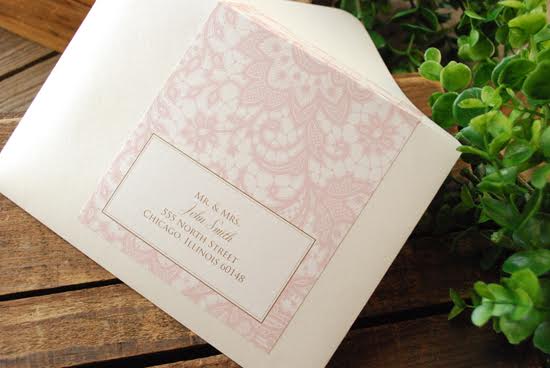 Coordination is Key
Your wedding invitation is a great place to show off your wedding colors– but keep in mind that coordinating is more important than matching. We feel that the most interesting invitations use a variety of coordinating colors; consider including several shades of a single color to add depth to the design, or incorporate a contrasting color for a pop of interest. We recommend 2-4 colors for most invitations, but of course every invitation is different. Try to limit yourself to no more than 5 colors though; narrowing your color palette is best to create a cohesive design.
When ordering your wedding stationery and invitations, keep in mind the items you'll need for the big day itself. While some brides prefer to add a bit of DIY with programs and place cards, keep in mind you will be juggling many details as the wedding nears; ordering coordinating items from your stationer can take a huge load off, and ensures that every printed piece of your wedding will tie together beautifully.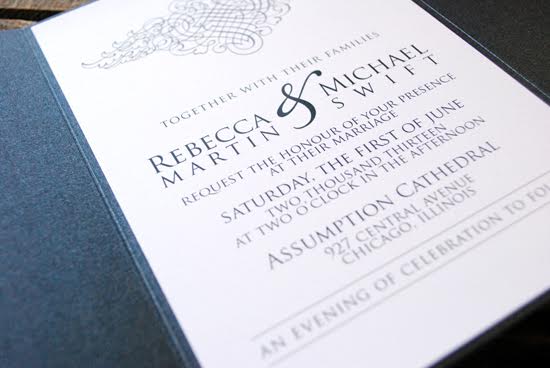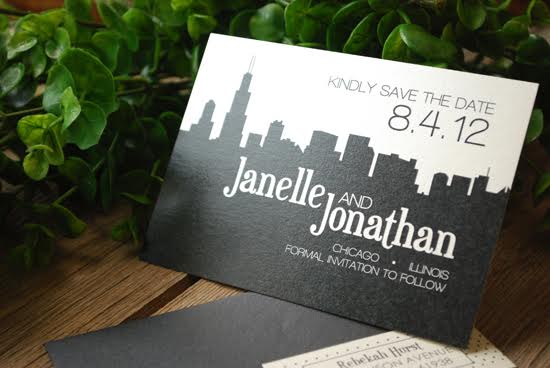 Tie in Texture
Whether you opt for a bold, colorful suite, or prefer a more subdued, monochromatic effect, texture can play a huge role in your invitations. Most suites are available in matte or metallic finishes, but we love to mix those two options together. Pairing the subtle sheen of a metallic with a soft matte finish adds an extra layer of interest to any wedding invitation. Also consider more unique combinations – we have real cork or bamboo papers, linen textures, and mirrored metallic options. Blind embossing or letterpress is especially luxurious on soft cotton board, and raised thermography printing adds an extra tactile experience. Adding an unexpected twist will ensure your guests will be talking about your wedding for years to come.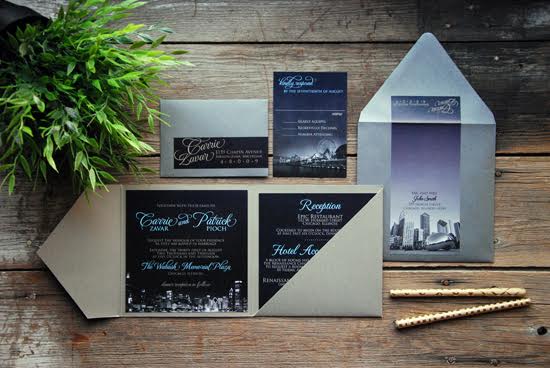 Budgeting Basics
The price per invitation is based on several factors – printing method, paper selection, suite design, and quantity. Upgraded printing options like letterpress or thermography will add to your total, as will extra layers of card stock, inserts, and pocket folders. Whatever your budget, we can help you make a great impression. We also offer digital calligraphy printing or decorative mailing labels. This is a great way to add a pop of color or graphic to your mailing envelopes – your guests will know they're in for something special before they even open the invitation! Plus, this option will save tons of time – envelopes arrive pre-printed or with decorative labels already assembled, meaning one less task for you to tackle.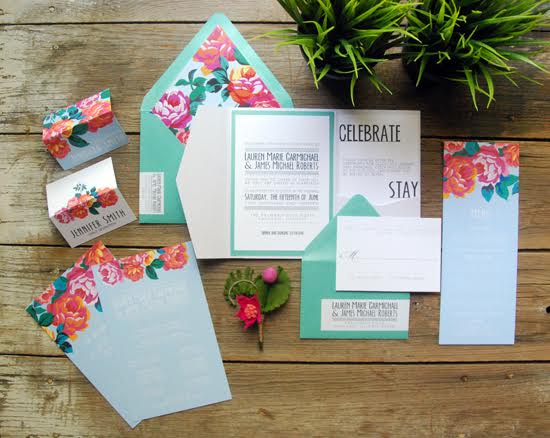 It's all in the Details
Even the most beautiful invitation can make a bad impression without careful attention to detail.
– Be sure to proofread your invitation extra carefully. We suggest reading the invitation right to left starting at the bottom, so that your eye is sure to read each word individually and is less likely to slip over a small error.
– Don't forget to add a return address and postage to your response envelopes! Your guests will thank you.
– If you choose not to include calligraphy or envelope addressing in your invitation package, please be sure to carefully hand write your guest names and addresses. Sloppy handwriting can prevent your invitations from being delivered, and basic office-type mailing labels are not appropriate for such a special event.
– Weigh one completed invitation before purchasing your postage; this simple step can prevent lots of headaches. No one wants their invitations returned due to insufficient postage!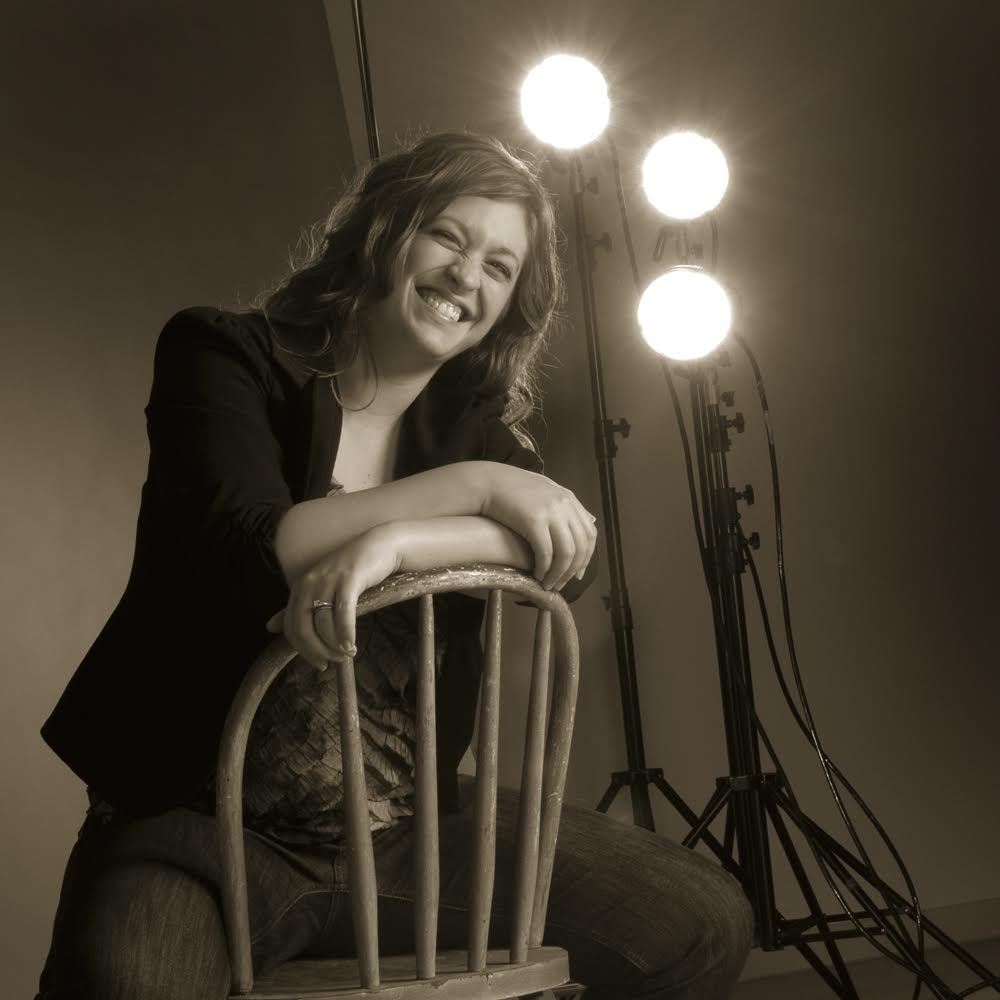 Carrie is the founder and principal designer at Birdhouse Stationery. Offering fully custom or customizable stationery, Carrie loves to work with brides to create a suite that reflects their style and stays on budget. When she's not working on real weddings or dreaming up new designs, Carrie is usually chasing after her two young kiddos or digging in the garden. And probably drinking coffee.