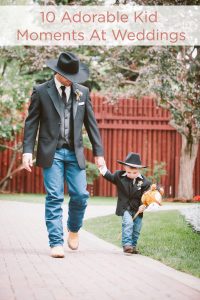 You love your wedding guests – they're your friends, your family, your support system. Some of the most memorable guests are the youngest ones – you can feel their excitement! We've put together a list of 10 adorable kid moments at weddings to start your day off right!
Funny Ceremony Signs

This boy sure knows how to make an entrance!

This little kid is cute as can be! What a fun bit of wedding humor as well!

Ring Bearer Security

You know your rings are safe with this adorable duo on duty! They look cool as can we with their sunglasses and suits!  Anyone else thinking James Bond?

Like father, like son!

A Twist on the Classic Flower Girl

We love the balloon idea – a great way to incorporate your wedding color!

Wedding Humor

It's sure to guarantee some laughs from your guests! Not to mention, it will make for some great pictures!

This WeddingMix couple had the cutest flower girl and boy! We love the use of bubbles instead of flower petals – so creative and fun for the kids!

The Unlikely Bouquet Catch

This little girl is thrilled to have caught the bouquet – guaranteeing the reception to be an exciting night she never forgets!

Trendsetters

These young wedding guests are so stylish! We love the bowties and who could resist that adorable hat?

Sweet Moments

We're willing to bet this is one of the cutest things you'll see today! This duo is precious!

Along For the Wagon Ride

These ring bearers really know how to arrive in style! We love this unique wedding twist!

Sleeping It Off

Weddings can have us dancing the night away – it's clear these two young guests tired themselves out!

Are you expecting any kids at your wedding? There are so many fun ways to get them involved in the experience. If you're looking for more #fridayfinds – check out more articles on our blog!