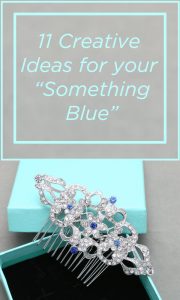 "Something old, something new, something borrowed, something…" We all know the rhyme, and finding the perfect accessory for each section of the rhyme is all part of the fun! We've put together a list of some of our favorite Etsy finds for something blue to help you on your search!
Garter

Keep the 'something blue' tradition close to you with these incredible blue garters!
2. Wedding Charm
This small charm offers a touch of color to your wedding look! It is highly versatile – feel free to add your favorite lucky charm!
3. Message In A Bottle
This idea is too cute! A small, personalized message in a bottle – what a great gift from a loved one to carry with you on your big day!
4. Bridal Sash
Tie the knot in more than one way! This bridal sash is a great pop of color against the white of a wedding gown!
5. Hair Comb
This accessory will keep your hair firmly in place while adding a little bit of sparkle to your look!
6.  Ocean Necklace
A great way to incorporate the theme for a tropical destination wedding!
7.  Blue Shoe Clips
These are fun, because you can choose where on the shoe you want to showcase your bows! Regardless of whether you're rocking flats or heels on your big day, this find can be customized to fit your style! An added bonus – you can use them after the wedding!
8. Lapis Lazuli bracelet
The dark blue of this stone is unforgettable! It is pure elegance in this simple gold setting!
9. Stud Earrings
These stud earrings are simple and elegant! The gold flakes would tie in nicely with other accessories!
This WeddingMix bride used blue in a big way in her wedding! Check out her stunning bridesmaid dresses and incredibly beautiful ceremony!
Loved this WeddingMix highlight? Read what brides have to say on The Knot:
We really wanted a videographer but didnt want the cost, this was a great affordable way to get video of our wedding! I am so happy we did this and they were really fast with processing our video! They also did an awesome job getting all of our clips to flow together seamlessly Definitely recommend!" – Melissa
10. 'I Do' shoe stickers.
For a subtle pop of color, try these stickers! They'd make for some cute wedding pictures!
11. Shell Hair Clips
Having a tropical destination wedding? These clips have a great beach vibe!
Did any of our 'something blue' finds catch your eye today? Tell us, which one is your favorite? We'd love to hear from you!