Plan the wedding of your dreams but stay under budget with these incredible tips from real brides!
The WeddingMix team went on the hunt to make that seemingly unattainable dream come true! The fabulous result? A compiled a list of the best advice from our most budget-savvy brides!
Showcased in their affordable DIY wedding video, these brides had the smartest ideas to make their wedding incredible while maintain financial sanity.
Check out these 17 amazingly real affordable wedding ideas from seriously smart brides!
Family (DIY Ideas) Matters
"Mike's dad spent months making every centerpiece by hand while his mom helped with sanding a pair of shutters used to hold our escort cards. Lauren's mom, cousin, and grandma helped make the favors and other centerpiece items."- Lauren
"I'm most proud of how many personal details we were able to include in our wedding, especially in our ceremony. We wrote our own vows, had our friends sing an a cappella song, and used readings and music that really meant a lot to us." –Eileen
Find Pretty Flowers at a Prettier Cost!
"I loved every bit of our wedding, but my favorite planning piece was the flowers! I knew I wanted A LOT of flowers, but I didn't want to pay a lot. So I ordered fresh flowers from a wholesale distributor and picked them up the week of the wedding. We supplemented with additional wildflowers from a local Amish farm." –Rider-Baker Couple
"We ordered dried bouquets and boutonnieres from Etsy for our bridal party. I have always had a hard time swallowing the cost of real flowers and not getting to enjoy them but for one day. I found a lady on Etsy who made exactly what we wanted for our flowers and now I get to enjoy my bouquet every time I walk into my closet!" –Jessica
Taking TIME to Plan Really Pays Off!  to Add Personality! 
"I'm an event planner for as my full-time job, so I'm very organized and used to dealing with budgets. I was most proud that I was able to plan the day myself and craft a lot of items to save my budget from going over. I realized that the more I personally put in, the prouder I was that all of the decor and details really represented us. It truly made the day a celebration of our life together and the future ahead of us."-Kelly
"Very early on, we knew the style of wedding we wanted, and had decided on a budget. We had a pretty long engagement, and spent almost two years crafting, bargaining, and thinking of inventive ways to get the same high-end looking at less the cost." –Lauren
"I did a ton of planning and work before the wedding, but honestly I could not have done it without help. My mom sewed the pew cones that held lavender, my matron of honor helped me make the twine ball decorations, and a whole army helped us haul everything to and from the reception site." –Jennifer
"Our budget was maxed out, but due to last minute decisions about wanting a videographer had us trying to decide what else we could possibly cut. I came upon WeddingMix DIY wedding videos on Pinterest and checked it out. It was going to be more affordable than going with a videographer that we would not meet beforehand, yet we would be using a big chunk of our budget for this stranger. Having friends and family, people we knew, film our wedding seemed like a better idea! Plus, WeddingMix saved us a lot of money so we did not need to cut back on anything!" – Amanda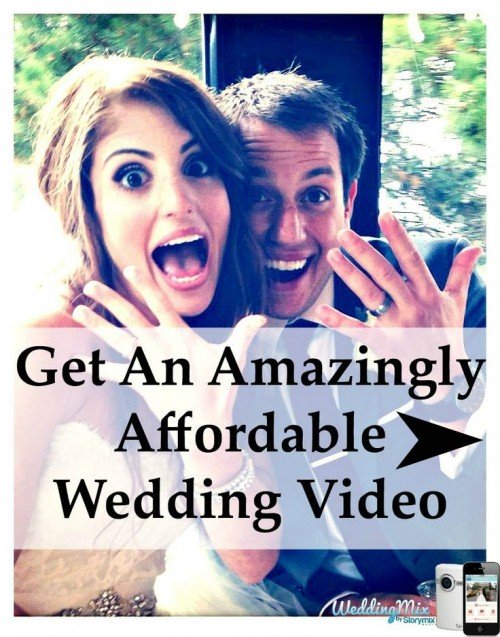 DIY your heart out!
"Our wedding had a lot of DIY projects like shotgun shell boutonnieres and individual silverware bundles for guests, not to mention doing all our own flowers and baking cookies for the favors!"- Jennifer
"We didn't plan to homemake very much for our wedding, but in the end we made centerpieces, the seating chart, table numbers, chalkboard program, card-box, favor labels and so many other things. We had a lot of great helpers– my dad put together all the favors! It was painful (sometimes literally, yikes hot glue!) but totally worth it. I saw little pieces of us in everything"-  Amy
"From the corn-hole boards made by our friends Doug (best man) and Kerry (bridesmaid) and then hand spray-painted by myself, my mom, and Matthew; to the incredible jelly and jam favor display that my mom created; and the other countless other little design elements that kept us busy right up until the final week."-Taylor
"I penned out our entire ceremony, I made all the centerpieces, the Candy Bar, the invitations, the escort cards, the wedding website, I even made my neck-shoulder piece and birdcage fascinator. Anything that could be crafted, I did. In the end, I was practically sweating glitter. (I even made a kids coloring book!)"- Alexandrea
Mix up the Reception!
"Coming up with the idea to do a brunch wedding– not only did using breakfast food cut our bill in half, it was a sentimental choice too. Our first date was breakfast at a diner because we both worked overnights at the time. Plus, who doesn't love breakfast? People loved the originality of the idea and the delicious food!" –Amy
"Our dinner was very casual – BBQ but served on antique mismatched plates that I collected during our engagement. We really wanted our reception to be a ton of fun." – Jessica
Find a Unique Wedding Venue!
"Pinstripes Georgetown – Bowling, Bocce & Bistro" in Washington DC. Yes, we got married at a bowling alley! The restaurant is two stories – the second floor is a large event space where we had the ceremony and reception. After the reception, everyone was invited downstairs for bowling & late night snacks.
We are not big dancers (clearly, from the WeddingMix videos we recorded!) so it was nice to have a few hours of dancing & then relax and bowl with our guests. Plus, we'll be able to tell our (future) children that "Dad & Mom got married at the bowling alley".- Diane
"We got married at a state park about an hour outside of Charleston, SC. Charleston is the wedding capital of the country, so finding a pretty outdoor place to get married on a budget was difficult. We went just a little outside of Charleston proper and found this gorgeous venue with a plantation house overlooking the river."- Mr. & Mrs. Roudsari
"The wedding and reception were both at The Millwick, a brand-new venue in the heart of LA's Art's District.
When we picked it back in January it was still under construction being converted from an old car repair shop. But, we liked everyone in the team behind the venue and we just trusted in their talents which really paid off. It came out so modern and well-decorated that we hardly had to add any of our own touches and it was still beautiful."- Libby
How great were these affordable wedding ideas? There is some awesome inspiration to pull from to get started planning your own wedding! Which idea inspired you the most to save some serious cash? Leave a comment below!
Make sure to check out these 11 Crazy Smart Wedding Budget Ideas for more affordable options!