Need a great way to guarantee your wedding reception is a good time? Explore this list of exciting games to play on your big day!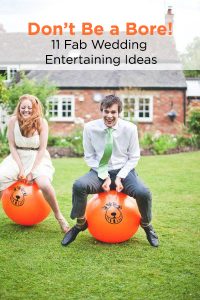 Bride Jennie and her Groom Ian brought out their inner kid by taking their pictures with DINOSAURS! Yes, you read that right! Check out their wedding highlight to see how they did this. What a fun way to kick off being married and surrounded by their wedding party! Their guests were able to catch these awesome moments with WeddingMix using their own cameras!
1. Life Size Checkers
Take a game that all your guests are familiar with and add a little bit of drama! Enlarging this beloved board game creates a whimsical touch sure to keep guests entertained throughout the reception – and provides great photo opportunities!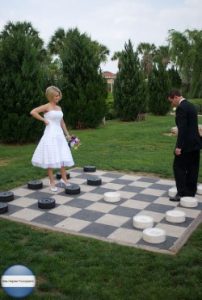 Photo Credit: Pinterest
2. Roll the Dice!
These adorable dice not only provide entertainment, but they are a great pop of color in your reception venue – match them to your own wedding color, or add an accent tone for visual interest!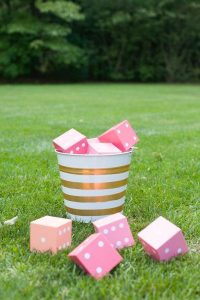 Photo Credit: Style Me Pretty
3. Dance Dance Revolution
Dancing is expected at a wedding reception – however, guests will be surprised to find you offering DDR as an option! This fun idea will certainly get your guests moving!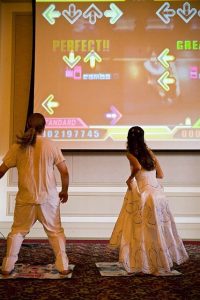 Photo Credit: Offbeat Bride
Another way to bring a fun atmosphere into a wedding is by dancing it in! Bride Cassie and her father made a dance to remember, and it was all captured by their guests with WeddingMix!
With the WeddingMix cameras, our guests were able to take footage from many angles. We were also able to include iPhone footage that guests had taken." -Cassie
4. Sack Race
A little friendly competition can really add to the excitement of an event!
Photo Credit: Style Me Pretty
5. Dart Board Duel
Test your aim with this unique wedding reception idea!
Photo Credit: Pinterest
6. Create a Pop of Color
This WeddingMix couple captured this stunning shot by releasing colored smoke at their wedding reception. Capture this and other unique wedding reception ideas in a personal wedding video using WeddingMix!
WeddingMix Couple
7. Hula Hoop Game
This nostalgic game will attract guests of all ages, and get people up and moving to the music!
Photo Credit: Tulle and Chantilly
8. Date Night Directions
Never run out of inspiration for date night with your spouse – let guests offer their best ideas!
Photo Credit: Pinterest
9. All's Fair in Love and War
Test your skills – and your balance – with this hilarious party game! Guests will get a good laugh as they try to be the last one standing!
Photo Credit: Pinterest
10. Piece of the Puzzle
Turn your guestbook into art with this fun idea – later you can frame the puzzle and display it in your own!
Photo Credit: One Fab Day
11. Embrace Your Inner Kid
Photo Credit: Pinterest
Feeling inspired? Let us know in the comments which idea caught your eye! If you've got a great entertaining idea you want to share, we'd love to hear from you!