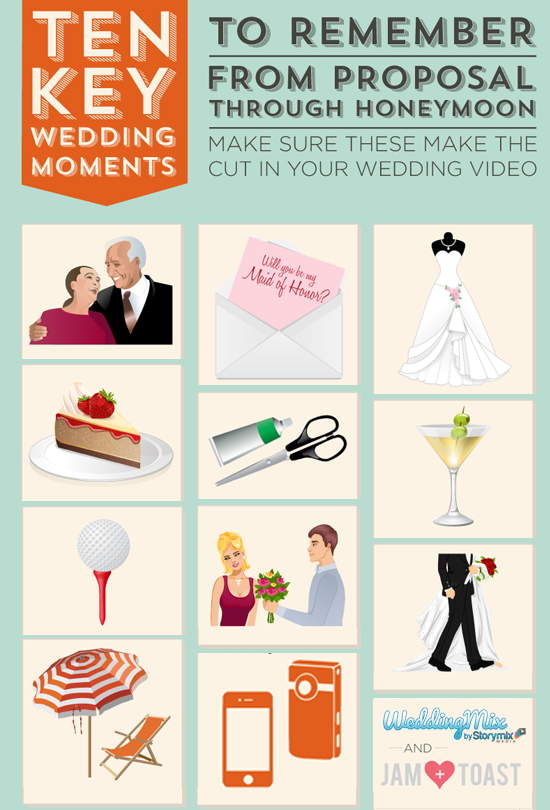 When thinking about wedding video and photo moments, most people just remember to record obvious moments like the vows, first kiss, and wedding toast…but how are you going to remember all the other irreplaceable moments of your wedding journey? Luckily, awesomely affordable DIY wedding video apps and cameras make it easy for every one to capture every important moment – from the dress fitting and the DIYing, to partying it up at the reception and relaxing during the honeymoon!
Remember – it's YOUR wedding, so don't be afraid to think outside the box and capture the subtle wedding details that will come to be your most prized personal memories that can be enjoyed every year! Before you check out our wedding infographic about the 10 key wedding moments, take a peek at some of the smart blogger insights we've collected to help you record the most important moments of your wedding journey!
Professionally Shot Wedding Photos Are Great, But Not Everything
Meg, the ultra-stylish editor of  A Practical Wed, remembers the vividness of the sensory details and her emotions on her wedding day: "I think the things we remember from our wedding day are the sweeping feelings of the thing. I remember how hot my wedding day was, and how happy I felt, the way my dress swooshed around my ankles, and cutting our cake with my grandfathers marine corps saber. I remember a dance my husband and I had towards the end of the party. That song became the song we play every anniversary, not the first dance song (which is what everyone else remembers).
Concerning capturing moments for your wedding video, Meg said: "I think documenting your wedding is important. While I love a stylishly shot wedding picture, I think it's more important that you document, than that you document professionally. I love the polaroids our friends took as much as our professional photos. We got married before iPhones were big, so we don't have much video, since we didn't want big bulky cameras around. I'd give anything for a recording of our toasts. They were so thoughtful and important, and there is no record of them."
Capture the "First Look" — with a twist! 
"The first look is such a romantic thing for couples to do on their wedding day," notes Kate from 2Life Wedding Planning . "The focus is on the couple seeing each other in their wedding-day best and sharing a private, intimate moment before the ceremony. They can hug, kiss, laugh and tear up as a photographer or cinematographer captures the anticipation and joy of this once-in-a-lifetime moment. Seeing each other for the first time is still special if a couple waits until the altar, of course, but then the focus is on the ceremony, and not on the reveal. It's really special to look at the photos or video of that moment and to relive it after the wedding. The first look also helps ease wedding-day jitters, since the couple gets to see each other before joining hands at the altar."
ps. Have you checked out the awesome 2Life Wedding Planning App? It lets you get organized and inspired with your fiance in a super simple way!
Plan ahead now, Relax on your wedding day 
A wedding day can go by pretty fast, so when asked how couples can keep their calm and STILL remember the details of their big day, Sacha, Founder and Chief-Editor of Be U Weddings said:  "I would advise brides on their wedding day to get a "day of" coordinator. Then she (and her mother) will be able to enjoy the amazing day without worry. If something goes array, the coordinator will take care of it without having to notify the bride or her family, therefore keeping the mood happy and care free." 


Feel free to share our infographic. Just copy/paste the code below for your blog, or use the share button at the top of this post for Pinterest, Facebook or Twitter.