Looking for a little bit of color inspiration for your wedding day? Mint has been gaining popularity – and we can see why! The color is so fresh, vibrant, and perfect for a nice summer day! We've compiled a list of some of our favorite mint wedding ideas below!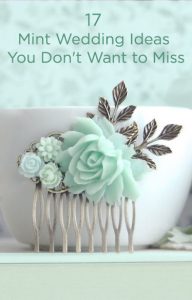 Bridesmaid Dresses

2. Here Comes the Bride Sign

3. Mint-To-Be Favors

4. Stunning Cakes

5. Classy Card Box

6. Colorful Confetti

This WeddingMix couple rocked their mint tone in a big way at their stunning destination wedding in sunny Aruba!

This video was filmed by friends and family of the couple using the WeddingMix app and cameras.

Loved this WeddingMix highlight? Read what other brides had to say on The Knot:

Wedding Mix was the perfect thing for our wedding! We didn't want to pay a ton for a video but knew we wanted our special day to be captured! Wedding Mix did just that for us and we didn't even have to pay a lot for it!! I am so thankful for Wedding Mix and all they captured!" – Cassie

7. Chevron Table Runner

8. Table Numbers

 9. Candy Bar

10. Succulent Bouquet

11. Mr. and Mrs. Chair Signs

12. Drink Coozies

Your wedding is a celebration you will remember forever. Remember to capture every incredible moment of your special celebration – it's super easy with the WeddingMix App and cameras. 

13. Shoes, Shoes, Shoes.

14. Centerpieces

15. Mint Ties

16. Accessories

17. Venue Decor

These photos are incredible, but they're just the tip of the iceberg – there are endless possibilities to tie in this trendy shade. Planning your own mint celebration? We'd love to hear how you're incorporating the tone on your big day! Let us know in the comments – you could inspire another bride.