Not only did the Spoto ceremony take place in super cute country-inspired wedding venue in Fairport,  the couple's unique WeddingMix video is the first to showcase our new rustic video editing style!  Check out how this stunning couple captured every candid, priceless moment through their guests' perspective in their wedding highlights video:
This rustic Fairport wedding was so beautiful! Seriously, the sky could not have been more breathtaking. Anytime a couple chooses to have an outdoor ceremony, they're taking a risk…but when the weather cooperates, they can have the most epic scenery. This Fairport, NY wedding sure had it good. They had the sun shining and rustic chic vibes all around.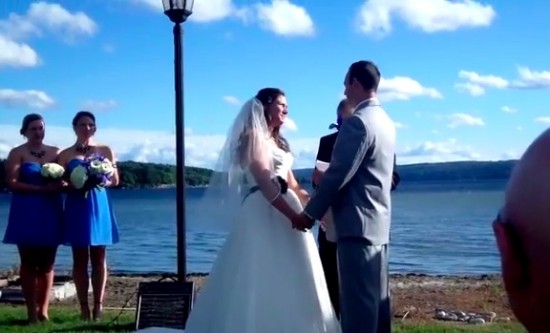 You can totally feel the excitement in this Fairport, NY wedding video. The wedding guests were able to capture all of the fun and dance floor action. Thanks to the couple's friends and family using the free WeddingMix app, these happy newlyweds will be able to relieve all of their heartfelt moments for years to come.