Lots of joyful smiles and fun dancing occurs at this bride and groom's memorable wedding at the Mill & Mine. Take a look at the unique industrial venue and each meaningful moment take place in this exciting wedding video!
This fun WeddingMix video was filmed by the bride and groom's wedding party. The guests had a blast and and captured it all using their own cameras along with the WeddingMix app and rental cameras.
 Photographers are fantastic (and our vendor who we love!) but struggle to catch all the emotions in still photos that actual video footage can."-Rachael 
Like their style? Here's how you can do it!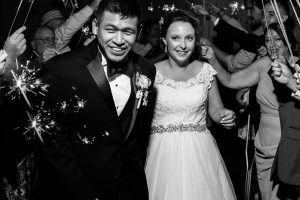 How To Hack Your Dream Wedding On A DIY Budget – Advice from Real Brides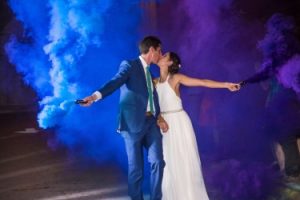 Don't Be a Bore – 11 Fab Wedding Entertaining Ideas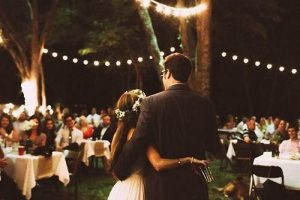 13 Insanely Affordable Wedding Ideas

Real Advice from the Bride & Groom!
1. What part of your wedding planning are you most proud of?
Ryan and I worked extremely hard for all of 11 months to get every detail of our day just right! I am generally a DIY and Pinterest kind of person, and enjoy getting to craft/make things from tutorials seen online and on Pinterest. I remember scrolling for hours looking for an exact decoration, or idea, or picture of what I wanted our wedding day to look like– and I always seemed to be the most impressed with the DIY decorations!
There were BIG decor pieces that Ryan and I made from lumber and pallets– it took months to build it all, but we had so many compliments on it! Things like the photo booth, the pallet bar, the giant Jenga and table we made, the giant Yahtzee, the antique door partition (that spanned an entire room of 60 feet!) and our entry way welcome pallet wall! I was so proud of our work, and was so excited to show it off. We can't wait to see all the pictures of our hard work!
2. Where did you get married?
We got married in Knoxville, Tennessee on October 20th, 2017! Our venue was a very urban industrial building that had just enough space to accommodate all the guests, while making it a fantastic day!
3. Why was using WeddingMix appealing for your big day?
4. What were the most important moments that WeddingMix was able to capture on your special day?
I really wanted to capture parts of the ceremony, the "party" after the ceremony during the cocktail hour, and all the celebrating during the reception. To see the smiles and laughter come from so many people genuinely shows the excitement and happiness from all our guests and wedding party!
5. What is your top wedding budget tip(s)?
Before you and your fiance plan even one single bit of your wedding day, have a serious financial conversation. What side of the family can contribute? What can they give? How much do we have available to spend? How much cash can we spend on our wedding day? How will helping to pay for our wedding day change our daily living costs?? Think about all these answers, and THEN plan your dream wedding based on what is in your budget range. I am so grateful that we had this discussion, because it allowed us to live comfortable afterwards.
6. What was your budget?
Spent between $30,000-$40,000, had 200 guests in attendance for both ceremony and reception.
-largest expenditures were: catering and venue, followed by photographer, florist, and DJ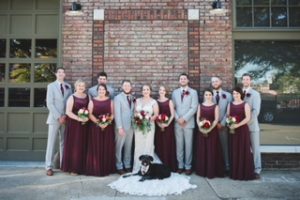 Vendors:
MakeUp- Beauty and The Brows by Allison Huebner #beautyandthebrowsbyallison
[68706]