Have you ever wondered how you will get your dream wedding when you're stuck on a DIY budget? Spending a ton of money isn't necessary. With a little creativity and 'hacking' it is possible to cut out a lot of time and money in the planning stages. There are lots of tricks and hacks for you to use when planning your wedding.  From food to decorations, there are endless ways to save money and still have a trendy wedding.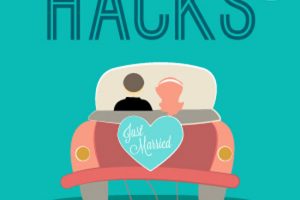 Hack 1- The Food
Pick a laid back location and bring in the food trucks. No only will you save so much money, but it's easy. Plus, food trucks don't have to be the cheap ones, there are upscale restaurants now taking on this new trend.
Bride Angela and Groom Andy had food trucks for their wedding, and not only did they save money but they had the freedom to serve food they knew their guests would love! Watch how they did it and start planning your food trucks!
Our bride had this to say about her wedding day, "I'm glad we didn't let anyone talk us out of it. I also managed to stick pretty close to our total budget, which was more challenging than I expected – weddings are crazy expensive!"-Angela 
Hack 2- The Venue
Backyard wedding. Backyard wedding. Backyard wedding. We love this venue choice. Not only do you have all control of what happens on site, but you can save so much money. Now, we don't literally mean your backyard. This new trend in 2017 revolves around a smaller, intimate location that gives you and your partner the freedom to do has you please!
Bride Erica and Groom Ben did a trendy backyard wedding in Martha's Vineyard. They saved so much stress and were able to have every little detail has they wanted. Saving money on their venue meant they could spend a little more else where! Watch how they turned this backyard into  stunning wedding venue!
Our bride had this to say about her wedding day, "I think it was smart to hold our ceremony and reception at a friend's house, where we didn't have to pack everything up that same night. That saved us a lot of money. We had friends help set up and bring props, decorations, we borrowed chairs from a nearby venue.. it really was all about gathering everyone we knew and having everyone contribute a bit. "
Hack 3- Decorating
We love decorating. It can be a real money saver when you DIY it all or shop within Bride to Bride groups! We always here, "saving money but spending time", but there's nothing wrong with that. Your wedding can mean so much more knowing that you did it all yourselves.
Bride Erica and her groom loved making their wedding details by hand! The time they spent crafting together and with loved ones made for priceless memories and a unique wedding all for their own! Watch how they put it all together for the wedding of their dreams!
Our Bride had this to say about her wedding day, " A lot of love (and sometimes a few tears) went into creating almost every aspect of my wedding.  My centerpieces were created using glass vases gathered over months from local thrift stores, flowers that my mother and I cut from a local cut-your-own flower field, and wire numbers handcrafted by my mother.  My mother created a program board for the wedding, the Mr. & Mrs. signs for the sweetheart table, along with all of the chalkboard signs used for the favor table, memorial table, and photo booth.  I made the favors (his & her favorite snack bags) by hand while binge watching 'Friends from College' on Netflix.  This wedding was truly a labor of love."
Hack 4- The Media/Video
There are so many ways to capture your wedding day! It also is a big part of your budget, so it only makes sense to continue the DIY trend into this part as well! With WeddingMix, your wedding video can be all DIY and unique to your big day! Designate a couple of people to capture those special moments like the vows, speeches, and first dance. Then, let the rest of your guests capture the moments you may have missed! 98% of brides regret not getting a wedding video after their wedding. Luckily, there's WeddingMix to help solve that problem.
Bride Naedene and her groom LOVED using WeddingMix at their wedding! Their guests were able to capture those moments that usually go unseen and now they have a priceless video forever. The couple new that the number one regret in brides is not having a wedding video, and they were determined to not be apart of that 98%. Watch how they used the WeddingMix App and Cameras throughout their whole day.
Our bride had this to say about her wedding day, "My sisters one regret from her wedding was that she didn't have a videographer.  I really didn't want to miss out on our vows and everything. I am already happy about getting it because I feel that there is so much that I don't remember, because there was so much going on that day."
Hack 5- The Cake
Everyone loves a good wedding cake! The sampling different kinds and seeing the stunning final project can be great, until you need to settle the bill. Follow the new money saving trend; get a small, ceremonial cake to cut and then provide other options for your guests. There are hidden costs with venues and wedding cakes, such as a cake cutting fee if the baker isn't on the approved venue list. Imagine paying hundreds for a cake to then have to pay when it's time to cut.
Bride Erika and her husband knew that spending hundreds on dessert wasn't a necessary expense for them. They dined on the venues options while cutting a small and stunning cake for themselves. Oh, and their cake was $22!
Our bride had this to say about her day, "Details that were not as important, we spent the least amount of money on. For example: our guests dined on Salvatore's signature Tiramisu dessert, and we ceremonially cut a small, beautifully decorated cake from Mariano's bakery that cost us $22. "
Hack 6- The Date
Did you know you are spending more money getting married during "wedding season" vs not? Most venues offer a lower costs for weddings booked between October and March, then they hike the prices back up for the rest of the year! Depending on where you live, an October wedding could be too cold, but if you are doing everything indoors will that really matter? Setting the date is a BIG deal, and it can set the tone for most of your budget. Booking during busy season means all your vendors prices will go up.
Bride Mandy and her husband married during the off season and were able to find venue that was naturally decorated and perfect!
Our bride had this to say about her day, "Pick a venue that is naturally beautiful and well-decorated, so you don't have to invest as much in making it look pretty. Having a daytime wedding is also a good strategy for saving on lighting!"