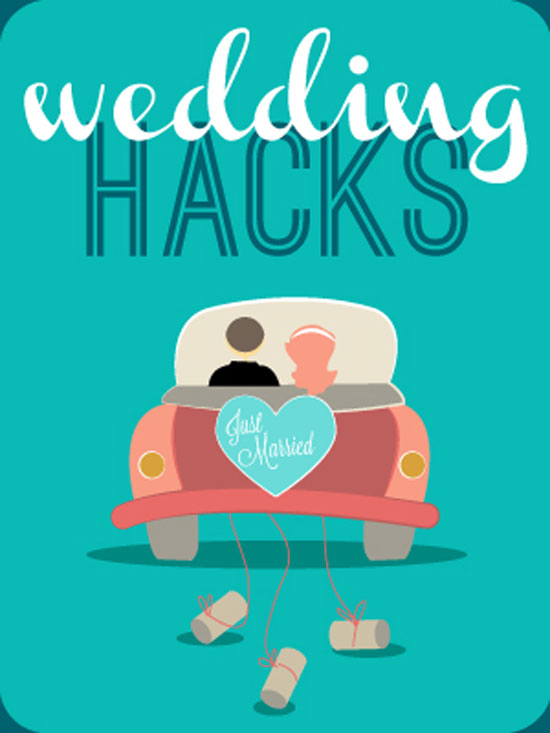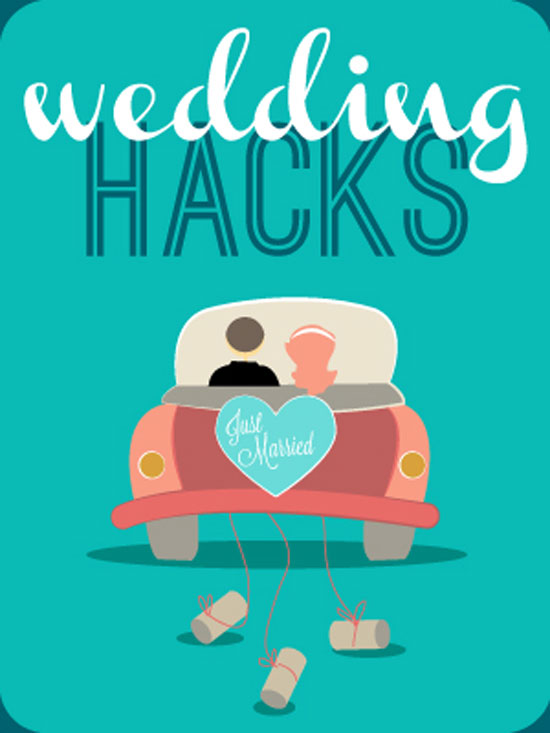 Getting married on a budget doesn't mean you can't have your dream wedding. Check out these DIY tips for making your big day perfect!
Did you know that 2014 couples spent an average of $25,600 on their wedding? That's not even including honeymoon expenses!
While this figure is enough to make any engaged couples feel pressured to shell out major cash,the trick is to find your favorite wedding budget tricks amidst the clutter of DIY wedding advice. To help you tie the knot in style instead of debt, WeddingMix wants to connect you with some of our most loved online best budget advice and resources.
To show you how to leverage money-saving shortcuts from a practical bride's perspective, I decided to create an infographic that breaks down everything you need to know about DIY wedding hacks. Even better? I caught up with 5 of our most budget-savvy bridal bloggers to get their most helpful, creative, and EASY wedding cost hacks!
Go preowned and make friends along the way 
"There are some amazing deals to be had when buying wedding dresses online whether you buy used, preowned or a sample gown directly from a retailer," says Andrea of SmartBride Boutique. "Preowned wedding dresses from the previous seasons tend to sell for about 50% off retail, but the best deals are often found when buying high-end designer gowns in classic styles! If you can find a gown worn by a bride taller than you, the hem (which is usually the dirtiest part) will be cut off anyway. Keep in mind that small things like zippers, buttons and small flaws can be fixed very easily by your seamstress."
No matter your budget – you deserve a special "Say Yes to the Dress" moment like this bride!

"When planning my own wedding, I bartered away half the cost of my custom wedding gown by cutting fabric and doing invoicing for the designer, but the same kind of trade could be done with any service or talent… from cleaning their office, to graphic design, to administrative assistance," Dana from Broke-Ass Bride. "I also connected with a bride who was getting married at the same venue, and we went in on lots of decor items together, cutting the cost and the waste in half! We shared the paper lanterns that decorated the ceiling, lots of votive holders and candles, manzanita branches, and bulk ordered paper together!"
Express yourself with memorable non-traditional elements
"I may be biased seeing as I recently got married, but winter is a great time of year to get hitched," suggests Lauren from Live Laugh Love Marriage. "Not only is it cosy and romantic but you can get some fab deals from venues & suppliers because it is out of their 'peak season' and they're more inclined to offer you discounts on their services. Also, by having a week-day wedding (particularly Tuesday, Wednesday or Thursday) at ANY time during the year, you're more likely to save more because these days aren't as popular as Saturdays."
Having your heart set on having a summer wedding? That's perfectly fine! There are other non-traditional wedding hacks that will allow you to keep your vision for your big day.
For example, Rashmi and Andrew combined their love for Marvel comics, Mexican and Hindu background, and one-of-a-kind DIY designs into their totally unique wedding day. Their guests are going to remember this wedding for years! 
Steph from Steph's Spot observed: "With prices in some locations exceeding 100 dollars a head, food trucks are a clever way to save some major money. They allow you to personalize your big day in a special way by sharing your favorite foods and providing guests an eclectic variety of dinner options. Incorporating food trucks at your wedding is a sure way to keep guests talking about how unique and creative you are.  Saving money and personalizing your day at the same time is a win-win in my book."
Take your time and try your luck! 
"The best way to save money on your wedding is to think outside the box: Craigslist, eBay, local thrift stores, garage sales, coupons and wedding related giveaways are your best friend," advised Amanda from Vintage Lace and Pearls. Always shop around prior to buying anything. My centerpieces consist of mason jars purchased from our grocery store (on sale) wrapped in lace purchased in bulk from eBay, with candles purchased with a 40% off coupon placed inside them. They sit on vintage silver platters purchased from local thrift stores and they look gorgeous. I've won my garter, bouquet, wedding invitations and veil from online giveaways. There are almost always deals to be found if you're a patient bride-to-be and are willing to do the research necessary to find the best price."
Looking for more hack-able inspiration? Check out our DIY wedding hacks infographic even more way to save you from over-spending and over-stressing 🙂
Click on the image below to see a larger, clearer image: 


Feel free to share our infographic. Just copy/paste the code below for your blog, or use the share button at the top of this post for Pinterest, Facebook or Twitter.
Do you have any other wedding hack from your own wedding planning? Leave a comment! You can even get started on capturing all your DIY adventures and swingin' pre-wedding parties with the FREE WeddingMix wedding video app!