Emily and her husband celebrated their special day with an intimate outdoor wedding in Tyler, Texas. They decorated the venue themselves adding a personal touch you just can't beat. Check it out in their wedding video below!
Guest's photos and videos were filmed using the
WeddingMix
app and cameras to create the fun keepsake video.
I wanted to remember it like it was that day. In those moments. I didn't want a "rendition" of it."  – Emily
Like their look? Here is how you can do it!
Weekly Wedding Inspiration: Top 10 Rustic Wedding Ideas You Can Actually Do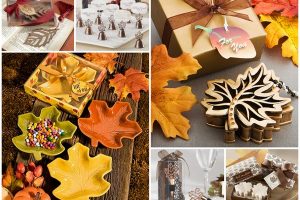 3 Flawless Fall Wedding Favor Ideas For Every Autumn Bride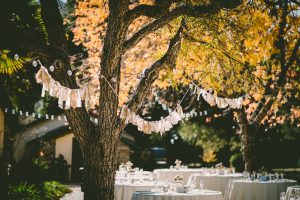 How You Can Have A Backyard Wedding on a Budget without Looking Cheap
Well, I asked my new husband, and he said "Well, I guess the end result! Is that stupid? It was so perfect!" That's funny coming from him, because he didn't really plan anything! He was my rock though, and that is probably what got me through. To be honest, I don't know if I have a favorite part.
All of it was stressful, exhausting, and exhilarating all at once. I mean, I was getting MARRIED. I did my best to do as much as I could by myself. That way most of my decorations were more personal and with a little more "love" placed  in them. I was a nice treat to be able to surprise my soon to be husband as well.
I will say though, on the big day, most of our grandparents, who were all from out of town came to the venue and helped me put everything together. My grandmother helped, wrap the tulle around the gazebo. Ryan's grandmother, and mother helped put up pictures of us around our picture tree.
My mother was my own personal cheerleader and made sure the caterer, cake, and flowers were arriving on time and in their correct locations. It was a family effort. If I had to pick one thing that was my "favorite," I would say that.

2. Where did you get married?
It was the place that started it all, my favorite place ever. It is the house of my Godparents, Dr. David and Lana Simmons. They own a gorgeous lake house in Jacksonville Texas. I have always loved it out there and consider it to be my own little slice of "Heaven."
I had told him about this place when we were dating and I was able to get him to go with me one weekend. On that weekend, under the gazebo, he asked me to be his girlfriend. Three years later on September 5th, 2016 he got down on one knee in the night, with nothing around except for the stars, and asked me to be his wife.
One year later, through all the stress, and arguments, he still showed up to the alter, or gazebo in this case, and became my husband on November 4th 2017. We got married at a place that felt like a second home to us. It was a home to make everyone feel loved and invited. That was all we wanted.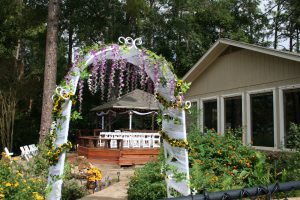 3. Why was using WeddingMix appealing for your big day?
Everyone always says they have a good time, regardless of what they are doing. I personally wanted to see it for myself. I wanted to remember it like it was that day. In those moments. I didn't want a "rendition" of it. Everything about our wedding was very personal and intimate. We did our best to make sure everyone was involved at some point.
We wanted to hear and see everyone's point of view no matter how brief their presence at the wedding may have been. 90% of our guests were our family. We wanted to do our best to capture as many angles, dances, hugs, and love as we could. To be honest, you can't beat the price either. Everywhere else wants an arm and a leg! With
WeddingMix
it's only a hand and you still get two cameras!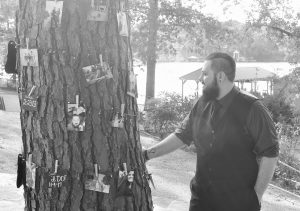 4. What were the most important moments that WeddingMix was able to capture on your special day?
Truthfully, we were fortunate enough to get everything. My "videographers" did an amazing job making sure that decorations were filmed, the walk, all the dances, interviews, interactions, and well, just everything.
If we had to choose the most important things, they would probably be the walk and the first dance. We were able to get great photos and videos from all kinds of perspectives for each of those. It was really wonderful to see!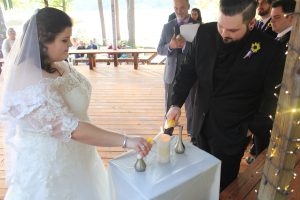 5. What is your top wedding budget tip(s)?
That is a tough one because we did not really have to pay for very much of anything. The best thing I got is this: remember that everything you are planing for is only ONE DAY. It will be a very important day, yes, but it will not be the BEST day like everyone says it will be.
It will be but one of THOUSANDS of best days. So, that dress that you will wear once? Make sure it isn't $3,000+. Save that money for future things. Such as a house, car, child, or college for your child. You will be thankful that you did. Those flowers that you think everyone will admire sitting in the middle of their table, that are $4,000+ collectively, will be left there and will die in a week, yeah…don't. Just try to be savvy. Everyone there should be there to celebrate with the two of you. Not you two and your decorations.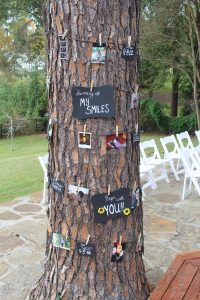 6. What was your budget?
Our wedding budget was $7,500. After everything we probably spent closer to $8,000. We had roughly 80 guests, including the ones we did not count on.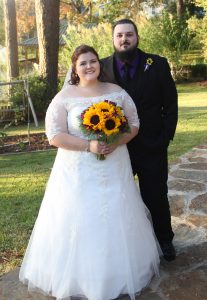 Vendors
Catering- The Diner
Cake- Nothing Bundt Cakes
Tables and chairs- All American Party and Tent Rentals
Florist- Flowers by Janae
Officiant- Dr. David Simmons
[65969]