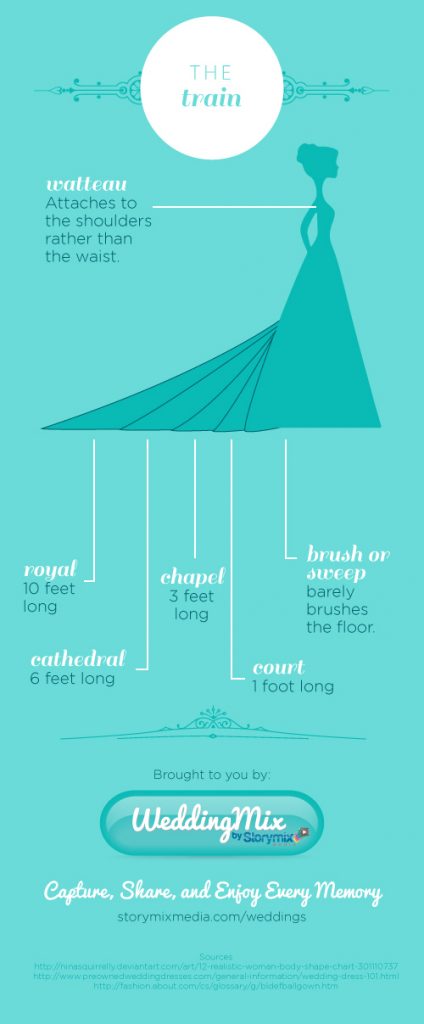 You've waited for this day your whole life. Not the wedding. Not the proposal. No, no. You've dreamed for years about the very first time you try on wedding dresses.
You've invited all your besties, maybe even Mom and Dad. The fine folks at Kleinfeld's or any other bridal salon will steer you in the right direction, but it certainly helps to go in with a little knowledge about wedding dress design. That's why today's infographic will help you DIY the wedding dress design of your dreams!
What the Watteau???
What's the difference between a bateau and watteau in wedding dresses? Before your first visit to the bridal salon, it's helpful to know some of the terminology. Ever wonder what style of dress looks best for your body type? Knowing the style of dress most flattering to your figure can save hours and tears in the salon.
Say Yes to the Dress…
And how are you planning to remember this day? Sipping mimosas with your friends while twirling in front of a mirror is fabulous and a few photos of this are great. But what about that first tear in your mom's eye when she sees her little girl put on a veil for the first time? Or, the head snap of your two bridesmaids as they lightheartedly get into an argument over the bridesmaid gown.
Capture all the moments of your own Say Yes to the Dress with the WeddingMix mobile app. All the photos and video shot by the gals on their phones will go right into your DIY wedding video project, for Storymix to edit later into a personalized wedding video!
"When selecting your gown, keep the entourage at home and just being your mom and maybe your maid of honor," advises Bruce from the Wedding Guys. "Mom's dream for this day, make it special for you and her. Like we always say– do you ask your friends advice on what you wear any other day of the week? So why for what is to be one of the biggest day of your life. Let it be a surprise."
As for finding a flattering dress shape, Bruce suggests: "Try on different silhouettes, strapless, off the shoulder, sleeves. Keep in mind not everyone looks great in a strapless gown. Long trains and cathedral veils bring breathtaking drama to the ceremony."
In terms of 2014 wedding dress styles, Renee Strauss, an internationally renowned bridal stylist said: "I see the trend going towards soft fabrics (silk chiffon, organza, tulle) and lots of lace.  Lace is the most traditional of bridal fabrics and coming out of this topsy turvy period of instability I believe designers will utilize lace to set a tone of confidence and send a message that luxury may be had by all."
Click the graphic to view the larger, clearer image.

Click to print the DIY Wedding Dress infographic