Remember our "What's Your Wedding Style?" quiz and $500 WeddingMix video giveaway? Today's motivational Monday post comes from Ferrah, our enthusiastic videography package winner! It wasn't until we chatted about her wedding proposal in California that Ferrah explained that she basically had one of the most HILARIOUS proposal stories ever. Even cooler? She got a puppy a week after getting engaged. Yep, this girl's life is rockin' right now.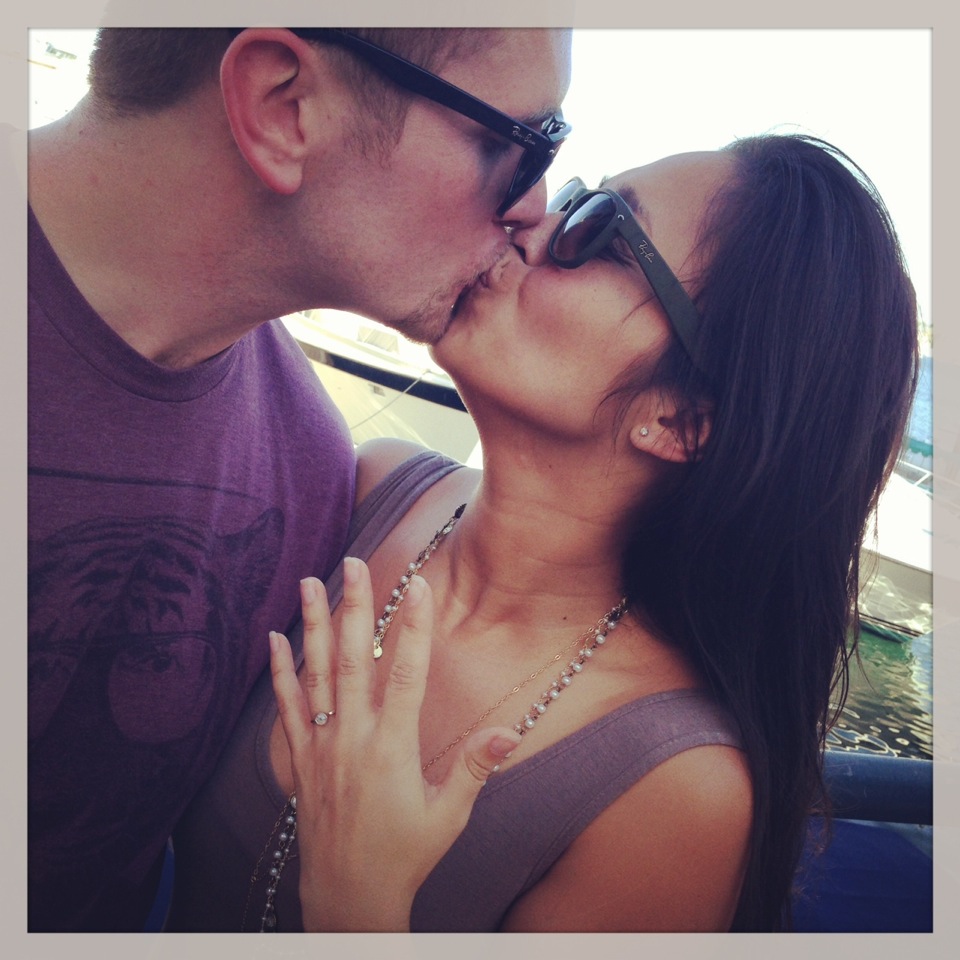 I am officially engaged to the love of my life and long-term boyfriend, Kyle Ray! That's not all; we also got a puppy the same week!! Can you believe it? Engaged with a puppy in one week, what more could a girl ask for?
Kyle and I had been talking about getting engaged for a while — we had dated for over 4 years and have known each other since middle school. We weren't very close in high school, even though we had a ton of mutual friends, but once college hit, we started hanging out on a regular basis…I always had a little crush on him too. About 6 months after we graduated college, we started dating and have been together ever since. He is my best friend, my other half and the sexiest man alive!
"The minute I heard my first love story,
I started looking for you, not knowing
how blind that was.
Lovers don't finally meet somewhere,
they're in each other all along."
-Rumi
How did he propose? Well, he was going to go down to California for work and I decided to tag along. My two best friends and sisters live down there, so I was planning on having my own mini-vacation with my ladies.
We were headed to a boat ride with my two  friends around Balboa Island in Newport. Kyle couldn't figure out the parking meter, so asked if I would help. Team work… well, in the process of helping I grabbed his butt because I had already had a mimosa that morning (it happens). What I didn't know is that I grabbed the ring! He was so freaked out that at the last minute I had figured it out, he did it right then and there on the street! He told me how much he loved me, how wonderful our lives were going to be together, that I was his best friend and that we were made from the same stardust. My clueless response was, "I know, babe… I love you too!" He went down on one knee and I started to ball, like uncontrollable crying. He started to worry, "is that a yes…?". I finally got out "Of course, put the ring on my finger!" between sobs. His proposal was absolutely perfect, along with the ring of my dreams!
We picked up Ms. Prema, our puppy, the weekend after our trip down to California. My sister's dog had puppies around Thanksgiving and I was bound and determined to get one. Kyle secretly wanted one as well, but needed a little convincing. Right before we left for our trip, he started doubting our puppy plans… I was so upset, I told him there was no way we weren't getting one and he couldn't take it back now. Little did I know, he was planning on proposing to me the week after. Now a month later, everything has been a little hectic, but filled with love and laughter. Next step… planning our wedding!