Do you know any couple that has gotten engaged after connecting through Facebook or online dating? Well if the internet brought two awesome people together, such as today's Motivational Monday couple Kevin and Jen, then this is one tech trend that I hope sticks around! Check out Jen and Kevin's fun-filled love story, their engagement photos in California, and the reason they chose WeddingMix below!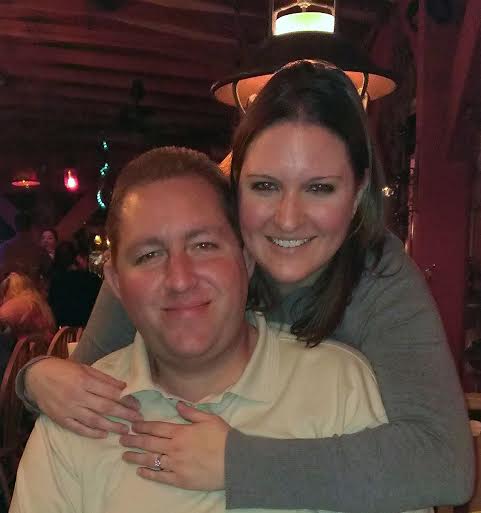 Aug 14, 2011 – 7:26pm Hey what's up? How's your weekend going?
Aug 14, 2011 – 9:40pm Pretty fantastic…you?
And that's how it all started! I never thought I would try out online dating but thanks to an awesomely fun week with my cousin, I had a shiny new profile set up the night before we were to head out to our Hollywood adventure and we started viewing some profiles.
That is where we discovered Kevin, a guy who was "looking for a woman who knows what she wants and is not hung-up on past relationships" and enjoys "sports, karaoke, movies, concerts and pretty much anything fun" and according to the site, was a 99% match to me. I was much more long-winded: a NY born gal who was "looking for a man who can take care of himself, has his life together, can pay his own bills, is not an ex-con, believes that there is a higher power than himself, is not looking for a "hook-up", can send a message without writing/typing like a caveman, upholds good morals, is kind and caring, values family & friends, and doesn't have any crazy ex-wife/girlfriend baggage" and enjoys "hanging out and laughing with friends, reading, traveling, singing, and music in general".
I was wondering if I would find a guy with even half of these qualities (and also, not murder me…it was the Internet after all!) but little did I know I had started talking to a man with ALL of them!
After viewing his profile, I received a message the following night. Kevin and I talked for just about two weeks before going on our first date. We went to the Yard House and talked for almost four hours over a beer sampler and nachos. Our second date was dinner and karaoke. Any guy who can get up and sing in front of a crowd was okay in my book (and he had a great voice too)! Dates kept getting scheduled and we had more and more fun and before we knew it, we became an "official" couple in December 2011. Our relationship has been an amazing, wonderful, extremely fun-filled time in our lives complete with laughter, love and joy coupled with mutual respect, loyalty, trust and honesty that neither of us expected to find but did thanks to (who woulda thought?) online dating!
This past July, we went to San Diego for our birthdays and Kevin popped the question which brings us to planning this important day and we couldn't be more excited to be getting to spend the rest of our lives together!!! I truly believe we were meant to find each other at this point of our lives and not a day goes by that I am not grateful we did! There is always a bigger plan and trusting that is vital to finding happiness!
When I asked Kevin, "Did you ever imagine you'd marry a girl from the Internet?" He replied with, "It was science Babe! 99% match!"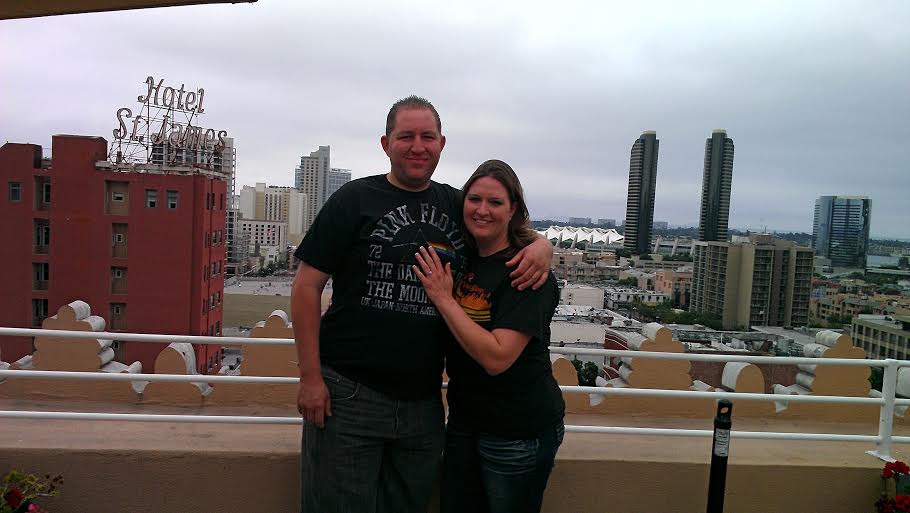 I wish I could say I am one of those "DIY brides" but we selected a venue that is very inclusive because we both work full time and then some and don't have a lot of extra time for all the searching for each vendor, etc. We chose WeddingMix because we are both so low key and easy going it seems like a really fun and non-invasive way to capture the day and events leading up to it from a more personal perspective of family and friends without a camera stuck in your face by someone you don't know.
I have a lot of family traveling in from New York so I am hoping to capture their journey to California leading up to our wedding too! When we checked out WeddingMix and saw how incredibly reasonably priced it is compared to a videographer, we jumped on it and put our order in! It will also be a great option and something fun for our technologically savvy family and friends as well. We can't wait to see the final video!!