I think it's safe to say that busy wedding blogger, 50peach, is a bridal organization champ! Dig her four fab tips on easy wedding organization to make sure your wedding guests, your vendors, and most importantly YOU beat the stress and enjoy your big day. It's all smooth sailing to wedded bliss from here!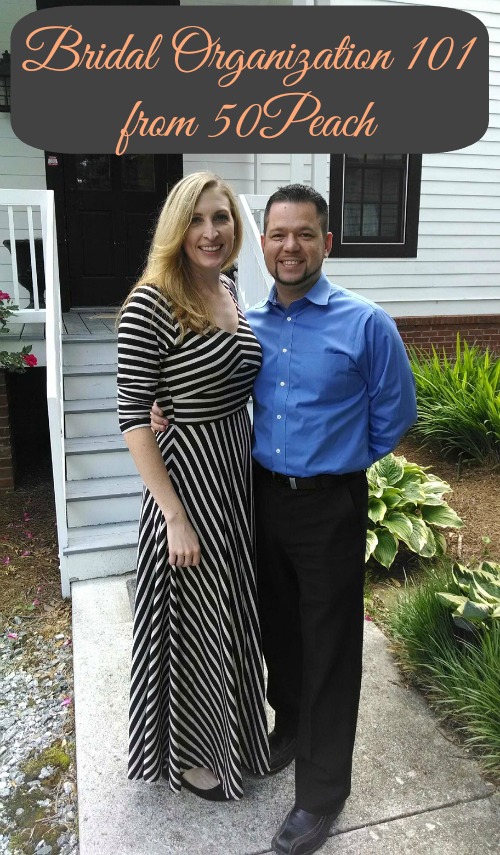 "You sound so…. CALM, for being a bride."
I chuckled to myself before replying. I was in a supermarket at 8:30pm on a Wednesday, and I was doing a phone interview with a potential DJ for our wedding. He had no idea that since I became engaged in September I've done the following: tackled a professional certification exam, was the Maid of Honor for my California BFF, I was moving to a new city in two weeks, plus holding down my full-time job while planning my wedding. NBD.
So what's my secret? I won't profess it to have been easy and I for sure have had my moments of crazy and sadness and FORGET ALL THIS, LET'S ELOPE. But for me, personally? Knowledge is power. Planning is calming. And organization is key. Here are a few "How to Stay Sane" tips that have helped me tremendously.
ORGANIZATION – This one thing is more important than I can possibly stress. It's vital to find an organizational method that works for you to track everything and (here's the key) keep it ruthlessly up-to-date. First, there are an overwhelming amount of resources out there in internet land. USE THEM. I started with an Excel spreadsheet for my budget (this one from The Little Canopy is great!!). Then I gradually expanded that one page into a document with multiple tabs. Some tabs were my creations- like my own personal to-do/timeline that I adapted from the BRIDES magazine's 12 month wedding checklist. Others I stole (with permission!) from the California BFF because they worked well for her – like a listing of all gifts received for shower/wedding/bachelorette and whether a thank you note has been sent yet. Genius!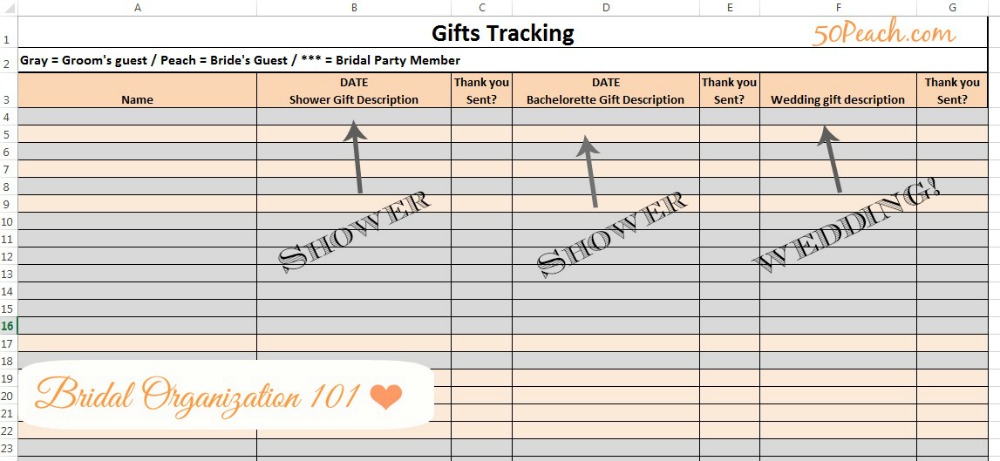 My Guest List tab may be my dorkiest thing ever, but I love that it shows a ton of information in one place: full names, addresses and whether they are out-of-state. Then I color-coded the guests by bride vs groom colors and added some yes/no columns: Bridal party, Boutonniere, Corsage, Rehearsal Dinner attendees and table assignments. Other useful tabs are: hotel arrangements, a list of all vendors/contacts, registry websites and passwords, a draft music playlist and the wedding weekend timeline. I consider this spreadsheet to be my holy grail and I'd be lost without it! BONUS: vendors will kiss your feet for being an organized Bride!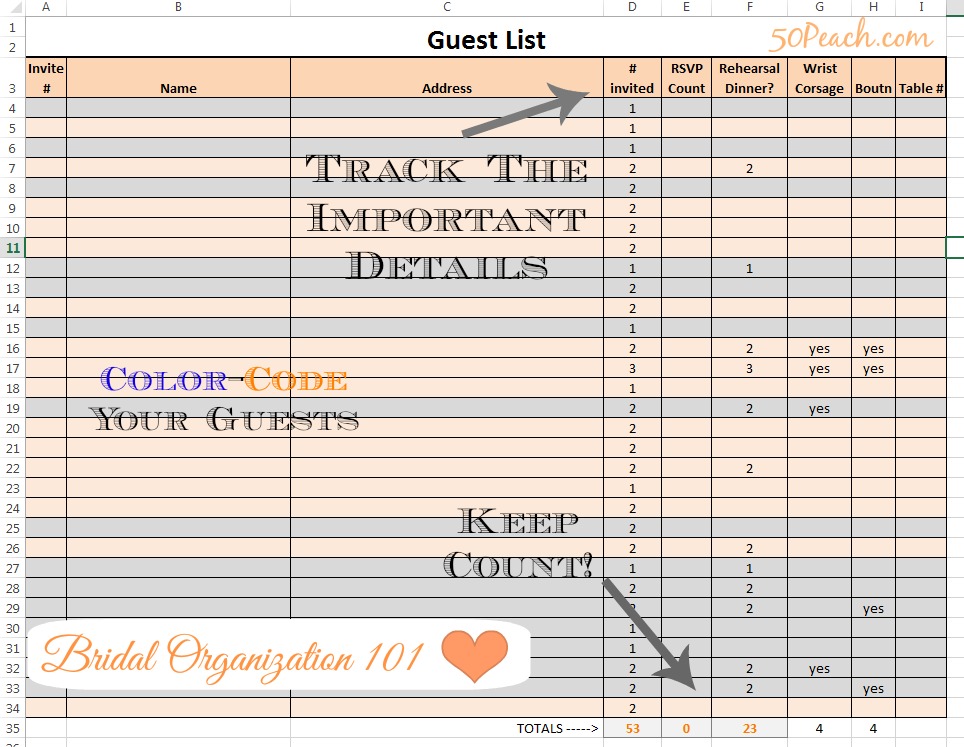 My point? Instead of trying to remember this overwhelming amount of stuff in your little noggin', write it down in one place and make that your go-to. If you hate Excel, don't be alarmed. You can always print out the checklists and templates available to you online and put them into a fun notebook. And for those times where you're out and stumble across something that is JUST PERFECT for x y and z? A moleskine notebook or small journal that fits in your purse is perfect. Or hello, technology… take a picture with your camera phone and/or use your Notes section in my iPhone. Download an app. Whatever you choose, make it work for you and you'll be set.
Create a separate email account! Because holy. spam. emails. I unfortunately did not wise up to this until it was too late. In hindsight, it would have been so helpful to have all things wedding go into one specific email account. So BEFORE you sign up at The Knot or David's Bridal or WeddingWire, make a new email address to use for your online wedding persona! Alternate solution: If you don't want to juggle different accounts, familiarize yourself with your email service's filter options so you can send everything to one folder.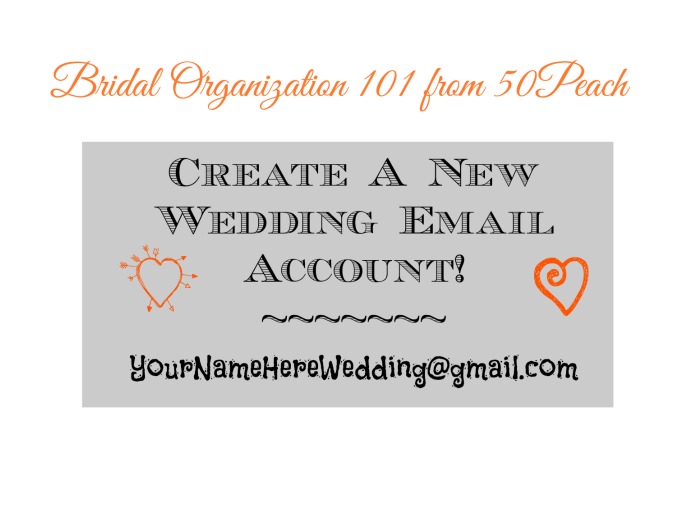 Accept help. Your friends and family love you. They want to help you. Let them. No matter how much relinquishing control may make your OCD senses tingly and twitchy, you'll find that there is a happy balance of accepting help while still providing guidance toward the final product. When it's all said and done, you'll have plenty more to do (like hauling away all your decor). For more on this, there is a whole post of mine dedicated to this topic over at The Broke-Ass Bride.
Lastly, know when to step away. Planning a wedding is huge. And if you get so wrapped up in the logistics, planning, details, drama (you know I'm right) and madness without ever taking a break, you will go off the deep end. That's why my fiancé and I have already booked a getaway weekend about three months before the wedding! I'm sure by that point we will both be in need of an 'unplug' from wedding talk and it will be so nice to remember why we're doing all this in the first place. Hello? Love!
I hope these tricks help my fellow WeddingMix peeps out there! Feel free to share your suggestions in the comments, too. I can use all the help I can get.
Take care,
~Peach
BIO: Peach is an Atlanta blogger, runner, yogi, dork-o-rama and clean-eating foodie with a mean sweet tooth. She is marrying her Jersey Boy in October 2014 and can be found egregiously overusing hashtags as 50Peach on Twitter, Instagram and Pinterest. She blogs at 50Peach.com and promises not to say "Bless your heart." … unless you really deserve it.