Okay. I watch a lot of video here at WeddingMix. Yet watching Kiana's COMPLETE surprise when Kwaku proposed totally made my day! Read all about their adorable love story and watch their surprise proposal video on the gorgeous California shore!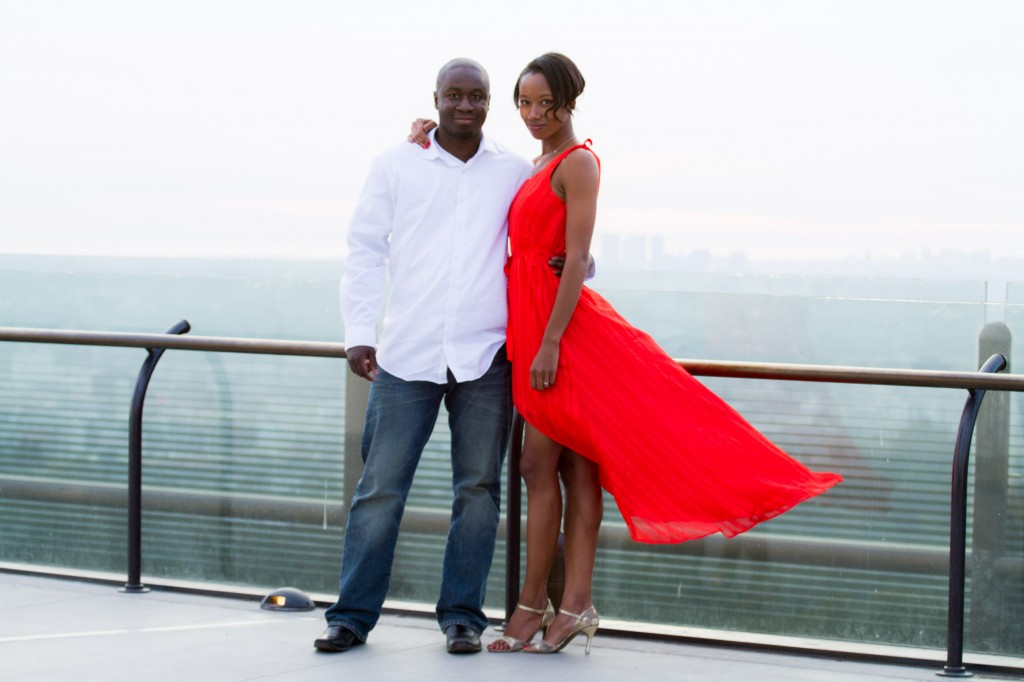 Written by the bride:
We met towards the end of freshman year in college at the University of Michigan. In fact, I knew quite a few people in his circle of friends but we had never met. Back in college, I used to wear really small micro braids in my hair, and one night my roommate was helping me take them out in our dorm room and our door was open. Then, this strange guy pops by, knocks…says hello and offers to help take out my braids. My roommate knew who he was, but I'd never met him so I thought it was pretty strange, although he was pretty cute 🙂
But I said it was ok for him to help…he mentioned that he had a younger sister that also wore braids in her hair so it wasn't the first time he'd done this. So he took out the braid, and it just so happened that we were both taking summer classes the next semester. We got to know each other during that time period, and I guess the rest is history…..
The Surprise Engagement Video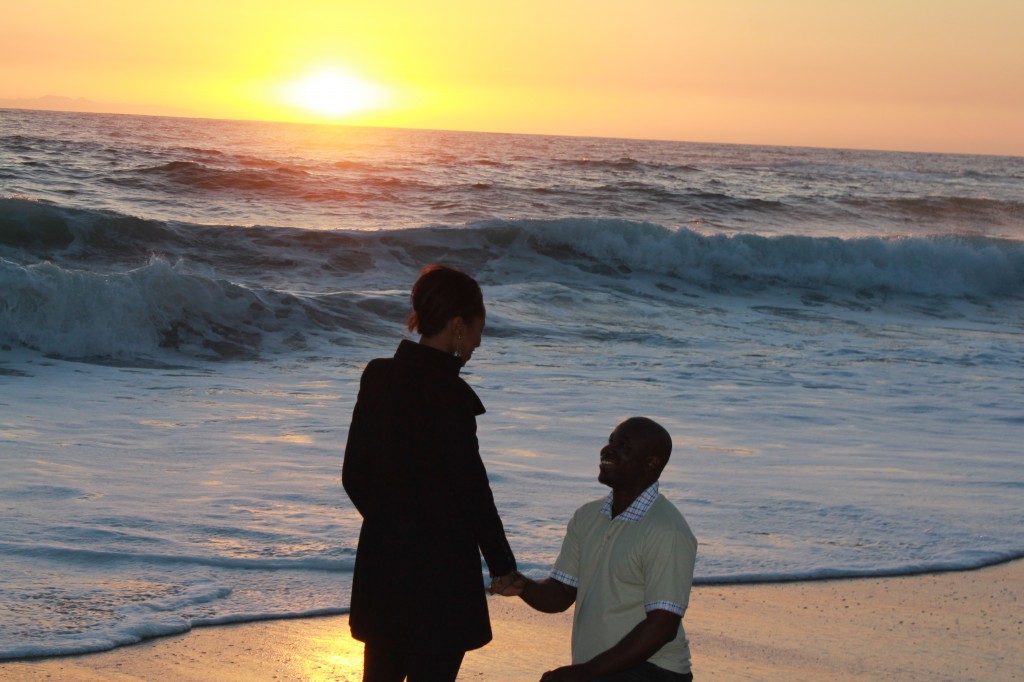 We live together in California, and during the time, I was just getting into photography. I had just ordered my first DSLR camera and was expecting it to get there by the end of the week. Knowing this, Kwuku mentioned that his best friend Rashid had set up some sort of Groupon photography shoot that weekend at Laguna Beach and it would probably be a great opportunity for us to go take some nice pictures together and maybe even learn a few things from the photographer. With that in mind, I hurried and expedited the shipping on my camera to make sure that it would be there in time for the Groupon thing and was extremely excited for the weekend.
That weekend – me, Kwaku, his best friend, his best friend's wife, and one of my co-workers all hopped in the car and headed down to Laguna Beach. When we got there, I was told that something had happened with the Groupon and the photo shoot wasn't going to happen. It was my first day with the camera and outside was beautiful close to sunset, so I took a bunch of pictures anyway. At some point, Kwaku's best friend grabbed the camera from me and said he wanted to take some pictures of me and Kwaku. A few seconds later, Kwaku was kneeling on one knee in the water proposing! This completely took me by surprise because after knowing him for 9 years, I thought sure he would never be able to surprise me 🙂
**Rewind about 4 weeks before this day, and I actually found a Kay Jewelers receipt in the car. It was just before Valentines Day, so I thought I would be destroying the 'engagement surprise' if I said anything. He was also making odd trips alone to the mall, so I just knew something was going on.
Because I'm just so nosy, I asked his best friend if he knew anything about this. I somewhat wanted to give Kwaku fair warning that I discovered the receipt and was onto him. The price on the receipt also wasn't clear….his best friend mentioned that it was actually a gift for his Mom (just so happened her birthday was around that time) so I backed off. On Valentines day, there was no proposal and I forgot about the whole thing….and a few weeks later he popped the question and I didn't see it coming!

I want to remember the whole day, at the beautiful beach…the point where Kwaku put the ring on the wrong hand…the fact that I found out later he was going to do the proposal on a rock further out in the water but thought better at the last minute, especially since I'm not a strong swimmer….how my parents later told me that he'd asked for my hand in marriage long ago and said his dream proposal would be one on the beach…the ice cold water that hit us during the middle of the proposal, and my coworker being there coincidentally and being able to share the moment with us – she's now one of our closest friends, but had no idea about he proposal.
Also, how he enlisted help from one of my best friends on which ring to purchase for me. A couple months before the wedding, my friend Nicole sent me a picture with two watches: one silver, and one silver and rose gold. She asked me which one I would get for her husband if it were me, because his birthday was coming up. I thought the rose gold one was gorgeous, so I gave her that feedback. Little did I know it was a sneaky trick that she and Kwaku had cooked up to find out if I liked rose gold! My engagement ring was rose gold, and it was absolutely perfect!
Why she chose WeddingMix
It'd be great to have the whole story documented with video and any other snippets of photography we have from the day or leading up to the day so that we can make a story out of it to remember the details forever 🙂