All brides want to look and feel beautiful on their big day. Check out these gorgeous wedding gown styles and find inspiration for your wedding dress!
Today's post about elegant wedding dress styles comes from Liz Kores, of the Oak Street Council.
6 Most Elegant Wedding Dress Styles for 2016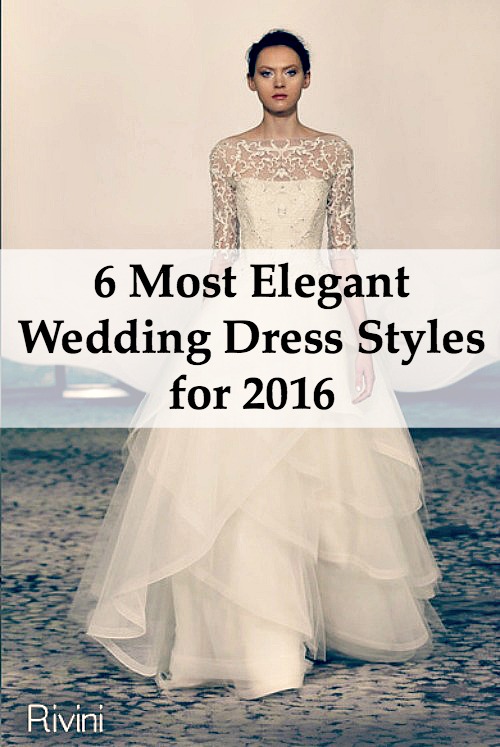 Seasons, trends and fads come and go, but there is one eternal constant about brides…
They have always and will always want to look and feel drop-dead gorgeous on their wedding day.
But as the times change, so do our sensibilities and our definition of what exactly gorgeous is. Though some brides will always march to the tune of their own organ music when it comes to saying yes to the dress, many look to the latest runways for style inspiration.
And that's just what we did when pulling together this list of the most elegant wedding dress styles for the upcoming year.
1. Tiers of Joy
There's just something about the classic voluminous ball gown that makes us feel like princesses, so it's no surprise that the poofy wedding dress continues to endure. Many of the latest designer styles achieve this volume by layering on beautifully engineered, light-as-air tiers as opposed to layers of crinoline underneath. But it's not just ball gowns that have gotten the tiered treatment – you can embrace this style in tulip and straighter silhouettes as well.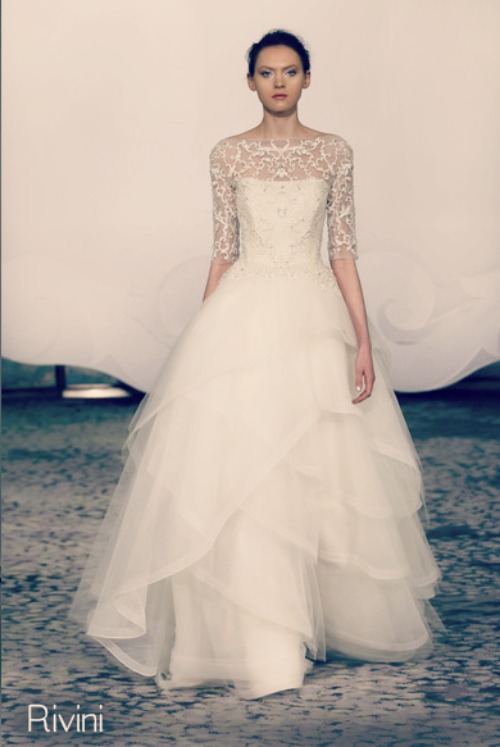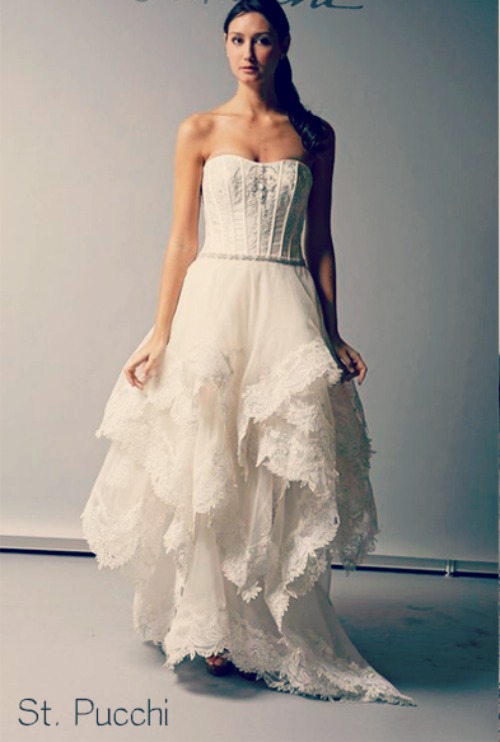 2. Your Hearts on Your Sleeve
For a while there it seemed like strapless gowns were going to be the favored style forever and ever. But thanks to the likes of Kate Middleton and a revival of Downton Abbey-esque style, recent bridal runways have seen many more gowns with sleeves of all lengths. Though it might sound like a move toward modesty, it certainly doesn't have to be, as designers are finding stunning ways to create sleeved dresses that are anything but short on sex appeal.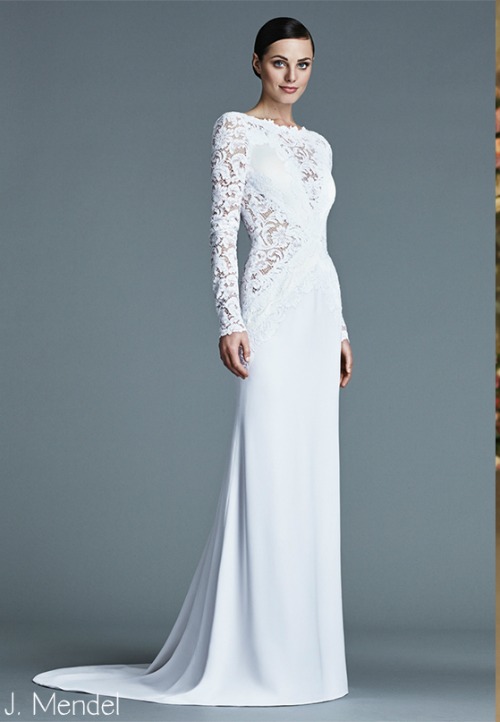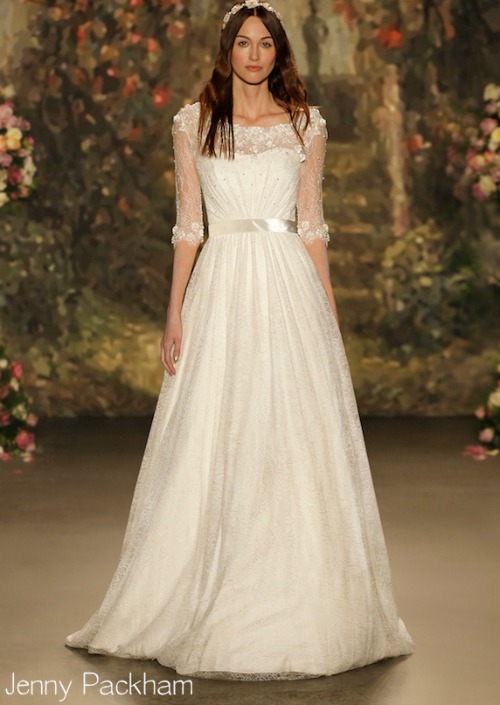 3. Taking the Plunge
One of the unique challenges of choosing the right wedding dress is finding a look that strikes a balance between sexy and classy. You don't want to show too much (your grandparents will be there after all), but you want to take your fiancé's breath away when he sees you for the first time. One hot new trend in bridal couture is the deep, plunging V neckline. Done right, it shows a generous amount of skin without being X-rated. If you do choose a gown with deep V neck, however, the rest of the dress ought to be slightly more modest.
For example, bride Ashley balanced her plunging v wedding gown with straps and a full skirt.The result? An elegant gown that showed off the bride's beauty! Check out her wedding video highlight to see for yourself:
WeddingMix was a cost effective way to get a wedding video and the app and cameras were easy to use. My friends and family are all tech savvy enough to upload their content for my wedding video." – Ashley
Moments captured by loved ones with the free WeddingMix app. Wedding video highlight by WeddingMix.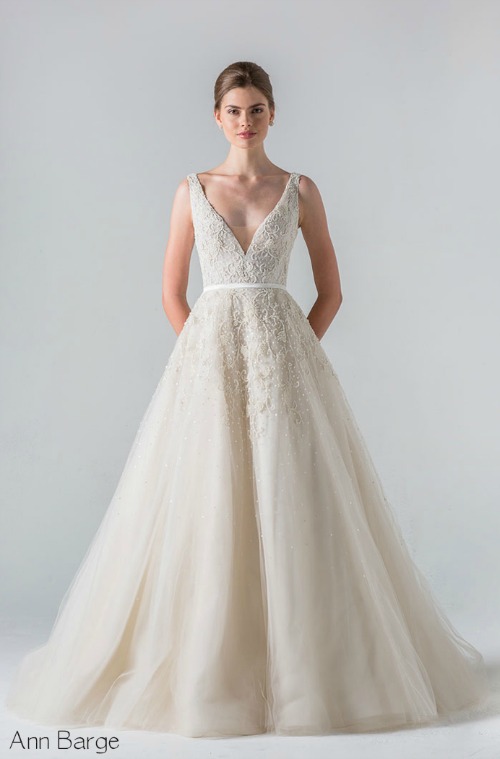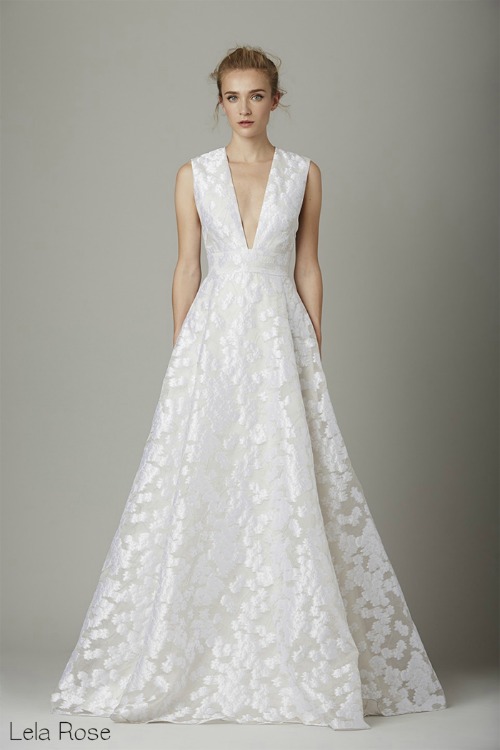 4. Light as a Feather
There is often a touch of the otherworldly and ethereal about bridal looks. On the big day, you may feel as if you're floating down the aisle on clouds, so it makes perfect sense that your dress should include some fanciful feathers. Some styles fully commit and feature feathers from top to bottom while others add just a touch of feathered whimsy. If you'd like to rock the look without going for a fully feathered dress, consider adding a feathery shrug, which is the perfect accessory winter or fall brides.
5. Super Bride
There's something a little heroic about walking down the aisle and promising to love another person for the rest of your life. Maybe that's what top designers had in mind when they sent bridal gowns featuring capes down their runways. These designs are all about elegant sophistication and bring to mind royal weddings in grand cathedrals. Those who love the idea of a cape can opt for a dress that includes one that's attached or simply add a separate one over a strapless gown.
6. Flora & Fauna Flowers
Flowers are an integral part of any wedding and in 2016, they're making their way onto more bridal gowns. From subtle and delicate tone-on-tone appliquéd flowers to bold designs that spread over the entire skirt or bodice, it's clear that there are many ways to include a touch of natural beauty in your wedding dress. Just make sure that the floral design on your gown does not clash with the flowers in your bouquet.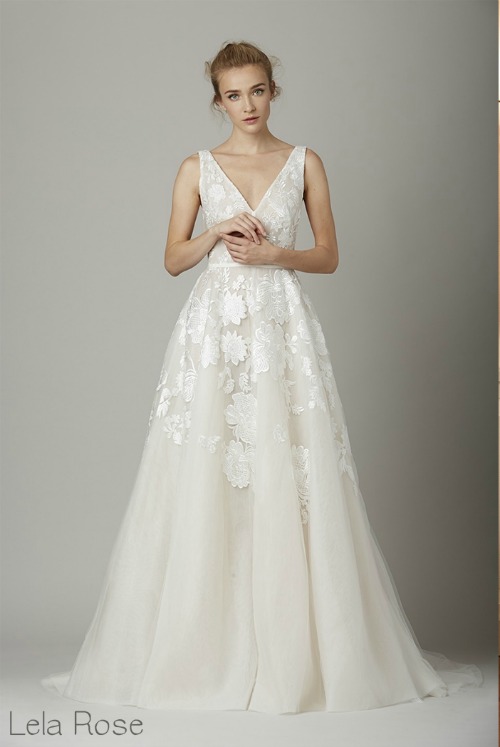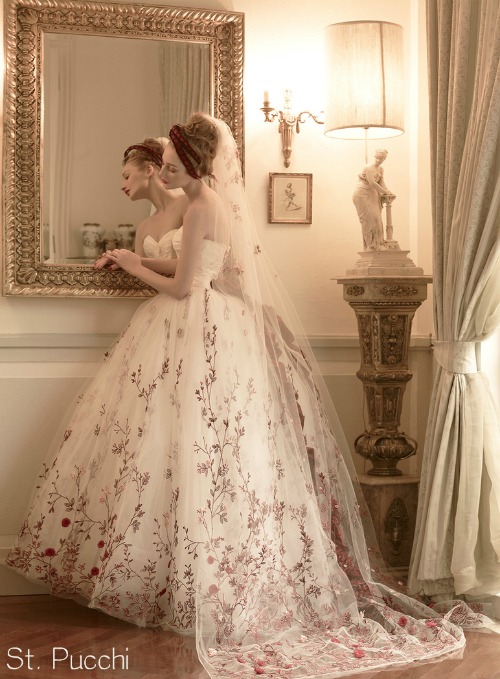 What you wear on your wedding day is an expression of your personality, your style and your feeling for your better half. Whether you're inspired by recent trends or go with the look you've had in your head since you were a little girl fantasizing about this day, the most important thing is that you feel like a breathtakingly beautiful bride.
About the Author:
Liz Kores is the managing director of the Oak Street Council, an association of luxury boutiques that offer the best in Chicago shopping downtown. She's also on the board of the Chicago Fashion Incubator and enjoys sharing her passion for fashion on a variety of style blogs. To see more, visit http://OakStreetChicago.com/#blog
About the blog:
The WeddingMix blog is a part of WeddingMix, the Knot's #1 Rated Wedding Video alternative. With the free WeddingMix app, you and your friends can create and capture all your best wedding moments – from engagement parties to honeymoon! After all the excitement, editors transform your favorite photos and videos into your amazingly fun, affordable wedding video through your loved ones' perspective!