Everyone could use some wedding advice from their best friends. Use this list so you know what to ask your girls when you're planning your wedding!
1. Who were your favorite vendors and WHY
On this first part of the cheat sheet, ask them to provide a list of vendors and why they loved them. The "why" part really does matter because your friend's priorities will be different than your own. If she loved photographer X because of their gorgeous "traditional" wedding photos, while you want a photojournalistic style, you immediately know to move on.
Whereas, if their favorite vendor was their DJ because of the personalized love story intro at the reception and you realllly want to share your love story, you have a match.
2. Top 3 budget tips
Most of the time you'll see the same tips, but sometimes you'll find some real surprises. Here's our list of smart budget saving tips from real brides to get you started.
Sending these questions to your local friends can save you some serious cash because they'll know crazy things like which day the library discards their old books in the alley and which local store has the best deals on centerpiece decor.
Groom Jeremy says, "bring your own alcohol if you can. We spent $2,000 for 140 people and had tons left over."
3. If I could do it again I would [blank]
Here's where you're best friend's wedding advice can really help you. It's like a do-over. You'll find out about their biggest regrets and pitfalls to avoid. It could be things like:
Guests not to invite
Logistics issues
Here's mine. I would pay someone to write out the table seating cards. One of my bridesmaids had offered to write them in calligraphy as a gift.
Fast forward to the wedding day. You know that part of the day when you're supposed to get your portraits taken? My bridesmaid took that opportunity to share that she "forgot" to do the cards. She handed me a blank stack of cards and walked away.
So, we sat in a hotel bar writing out seating cards. We had to skip taking photos in our historic venue.
Chicago bride, Erica cautions, "I would make sure my vendors had back up plans. Although everyone advised me to get a day-of planner, and I 100% see the value in it, mine did not, in fact, show up. She didn't tell me that she planned to fly in the day of my wedding. When her flight was delayed, she couldn't even get in touch with me."
Nicole adds, "I would go to Italy with our immediate families only and skip out on all the hoopla."
"I would have spent my time researching things a bit more. We fell in love with our venue so fast that we didn't take into account the size and seating plans. It ended up working out but we could have found something similar that was bigger and more accommodating. I would also really take a moment during the wedding to soak it all in. The day goes by so fast and it will help you appreciate all the stressful planning and seeing it all come together." says Jeremy.
Tabatha adds, "I would make sure more people knew details about the plan. Someone (we still do not know who) took the top tier of our cake to be saved, but that wasn't our plan. We planned to serve all of the cake and ran out before I got a slice! OR I would have made sure we practiced putting on the rings. We both put them on the wrong fingers."
4. I would have spent MORE money on [blank]
In planning a wedding, you have a set pot of money to play with, but it's totally up to you how the money is spent. Unless, your money tree is growing better than mine.
Personally, one of my biggest wedding regrets was not getting a wedding video. We've been married for years now and people still tell us that we had the best party they ever attended. Party, not just wedding. And I have no video to show for it. Live bar band playing til 1am. No video. Choreographed first dance. No video. Two week honeymoon, no video.
Another personal regret was not getting a DOC, or Day-Of-Coordinator. We DIY'd everything, even though we had a pretty decent budget. We chose to spend the majority of our budget on a big guest list and top shelf alcohol.
So we learned to DIY. My dress; I learned to sew. The cake; I had been a cake decorator. The invitations. I could glitter and emboss. All this was great until the day of the wedding and the cake AND centerpieces had to be assembled. AND my bridesmaid who was supposed to do the calligraphy on the tablecards "forgot".
A DOC would have foreseen these issues. She would have been the quarterback and coach at the wedding, so I didn't have to be.
Techweek CEO and recent bride Katy says, "I wish I had spent more money on flowers. I had a minimalist wedding, but the flowers by Dilly Lily came out so beautifully that I wish I had ordered so many more!"
"The absolute best money I spent on my wedding was for my videographer. In fact, I would have spent twice as much as I did – that's how valuable it was. We have the most beautiful edited video of our day that I watch over and over and on every anniversary we will watch the long, unedited version of our vows, our first dance, our families getting ready, everything." says Erica.
"Heaters…no seriously, it was an unexpected 50 and misting all day. Actually…besides that, we spent the money on the things we knew were going to be important to us and our guests. Food and booze to keep people fat and happy, the best entertainers to keep them dancing, and photo/video to make sure we remembered how awesome the experience was." says, Event Tech Consultant Damany Daniels.
"I would have spent more money on food. Getting a great price felt like a steal, and the food wasn't bad, but weddings are always known for food and I wish ours had been a bit better." says groom Jeremy.
Tabatha agrees, "Our food was awesome, but it would have been cool to have served a dessert bar."
Lauren adds, "I would have spent more money on extended time with the photographer."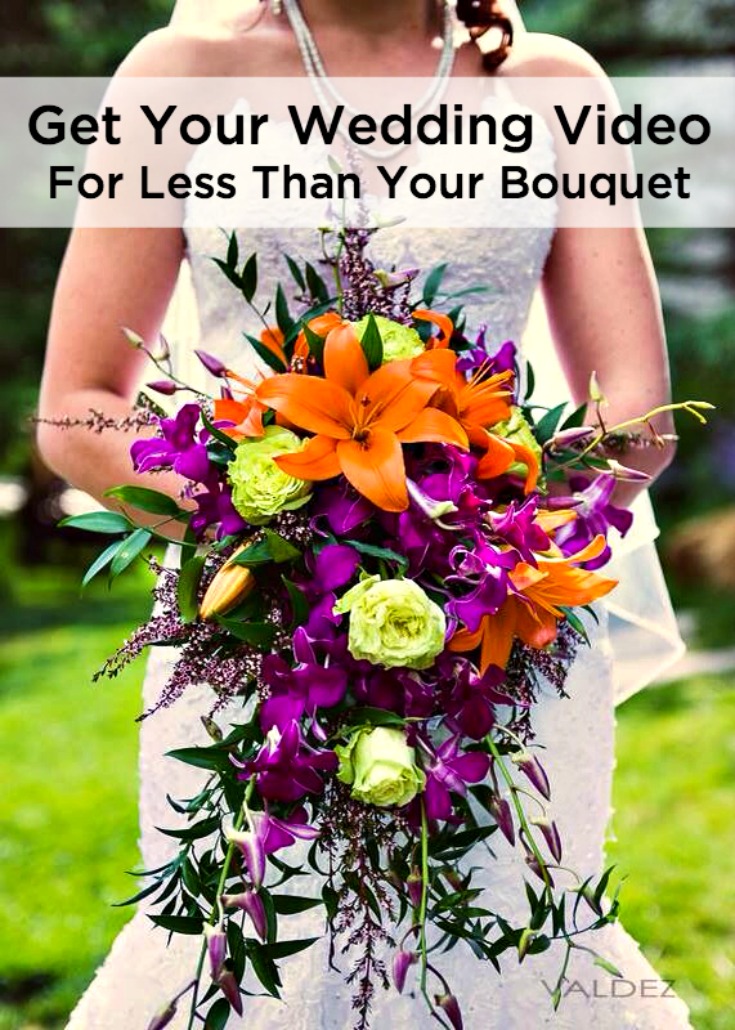 5. I would have spent LESS money on [blank]
While the $5,000 wedding shoes may seem super important right now, your best friend may say that she wishes she spent some of her shoe budget on better flower or food. After the wedding is really the best time to assess how well the money was spent.
Katy shares, "I wish I had spent less money on my dress. Don't get me wrong, it was gorgeous, but it was pricey for a one-day celebration."
"Again, this might make me boring, but…nothing. We prioritized what we wanted and incorporated it. We had just the right amount of technology (including a social media screen, digitized seating diagrams, and crowdsourced video) to keep people engaged with the wedding and each other, and more than enough experience to keep people there the entire night. When we left, over 3/4 of our guests were as well. As a former DJ, I always saw people trickle out of boring weddings (not because of me clearly) and this was NO boring wedding." adds Damany.
6. What is your most treasured wedding moment?
Nope. There are 6 things.
In the years after the wedding, all you'll have left are the memories. You'll have photos and wedding gifts, but it's the memories that matter most.
Thinking about what memory from your friend's wedding is most treasured on their anniversary, can help you put the fights over table cards while planning your wedding in perspective. It can also help them deal with the stress of sending out thank you cards.
On your fifth anniversary, when you watch your video, will the stressful details matter as much as your grandma's last words of advice? Or especially the look in his eye when he saw you for the first time in your dress? Or the special twirl your dad gave you on the dance floor?
"My most treasured wedding moment is when my older brother Johnny performed one of my favorite songs, "Do You Realize?" by The Flaming Lips, at my wedding ceremony." adds Katy.
"Seeing the joy on my 94 year old grandfather's face as he tore it up on the dance floor surrounded by his 3 kids, 10 grandkids, and their children." says Damany.
Tabatha adds, "My most treasured wedding moment was seeing my husband's face as I walked down the aisle."
For example, Maeve and Dan had a gorgeous wedding in Ireland and got a video to relive their most treasured moments: 
"The ceremony was really important for us to capture because we wrote it ourselves…we also wrote our own vows, which our 2yo niece delightfully interrupted with a quick "hello," so we want to remember those. After that, it just mattered to us to be able to watch our wedding video that shows how much fun people were having and how much happiness we felt on the day."
Katy adds, "My most treasured wedding moment is when my older brother Johnny performed one of my favorite songs, "Do You Realize?" by The Flaming Lips, at my wedding ceremony."
Here's are the questions in a handy list to copy/paste into an email or text:
Who were your favorite vendors and WHY?
What are your top 3 budget tips?
Fill in the blank: If I could do it again I would _______
I would have spent MORE money on [blank]
I would have spent LESS money on [blank]
What is your most treasured wedding moment?