From tacos to teriyaki, there are so many  yummy catering options for your wedding. However, have you ever considered America's favorite snack, hot dogs, as a main dish? Thats right, we are totally obsessed with hot dog cart wedding receptions! Thats why Marci from Hubby's Dog House is here to tell you all the tasty details of hot dog cart wedding receptions.
Why a Hot Dog Cart Wedding Reception is a Totally Awesome Idea
Let's get real. Most weddings we attend are the same standard fare: a ceremony, cocktail hour, dinner, a little dancing, and a wobble home.
Sure… the ceremony can be traditional and engaging (AKA long and religious), or contemporary (as in, 10 minutes long presided by your hippie friend who became a "minister" online. With a dove release. And a tree planting).
Yes – maybe you have a one-of-a-kind cocktail named after the place you had your first date. "The Barleycorn-tini" or "Sears Tower-rita." So cool.
For dinner – salmon, steak, or chicken? Or perhaps Salmon, steak, or chicken?
And unless you hired Van Halen, most people won't remember much about your band or DJ. But of course, they will remember you… How classy you handled yourself after 17 glasses of champagne or that amazing $8000 dress.
But what will make your day REALLY stand out?
Hot dogs. Yep, I said it. Roll in a hot dog cart to help sober up your friends and family as they are leaving the reception! Or skip the meatballs and egg rolls and serve the Chicago standby during your cocktail hour.
Or heck – seeing those yellow and red umbrellas flying during dinner hour is sure to keep your guests attention and memory. Nothing says "We are celebrating Chicago-style!" more than incorporating a traditional hot dog stand, and Hubby's Dog House surely provides. With indoor or outdoor carts, we are sure to make your guests' mouths start talking and watering.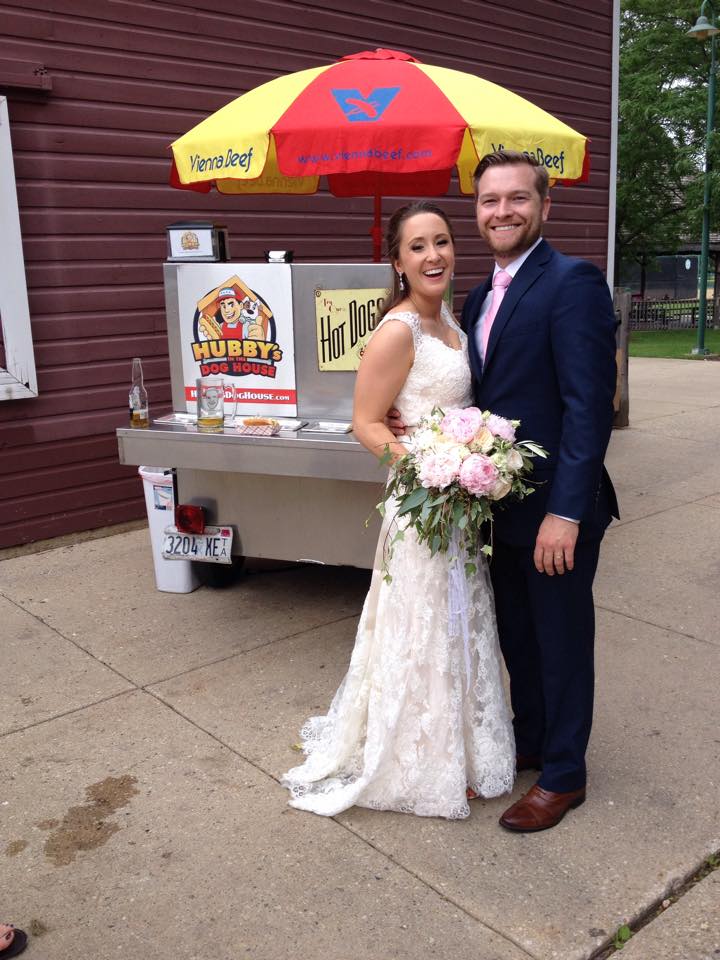 Speaking of getting guests mouth's watering, this couple had a hot dog bar at their wedding! It made their reception totally unique and fun, just like their personalized wedding video! Check out their highlight video to see the hot dog cart wedding in action!
Moments created and captured by wedding guests. Video crafted by
WeddingMix
.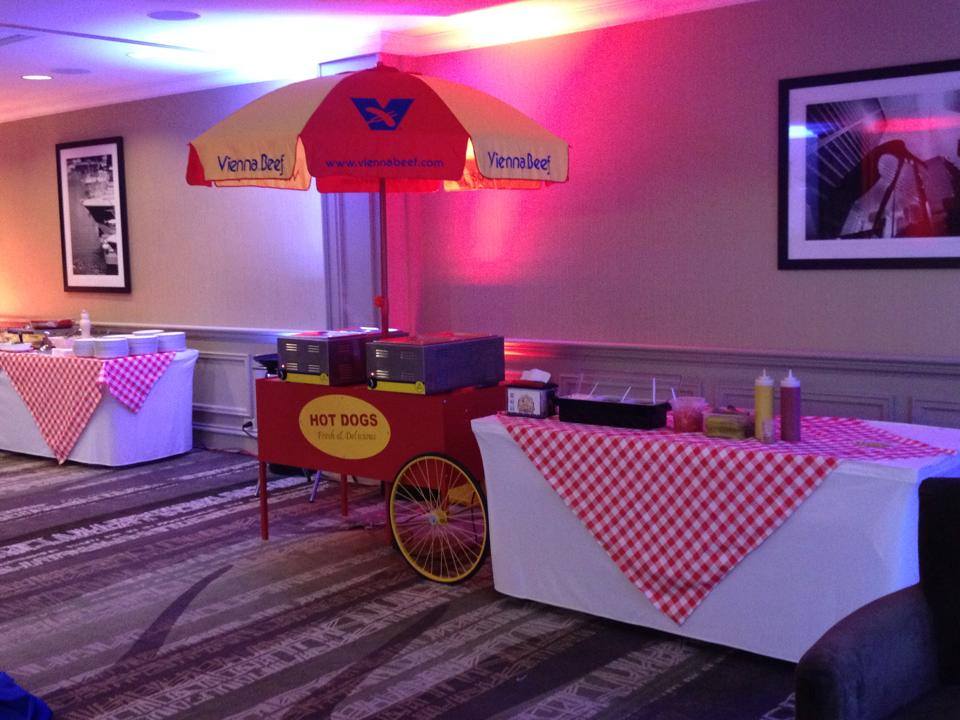 Doing it right with the finest street fare you'll find in all of Chicago, Hubby's is the perfect unique caterer for your most important event. While doing justice to the classic Chicago dog, we shake things up with a selection of fantastic Haute Dog toppings, Italian Beefs, Beer Bratwurst, and more. Break out of the ordinary, and make your wedding truly exceptional!
About Hubby's:
Husband & Wife owned and operated since 2009, Hubby's has brought our traditional hot dog carts around the Chicagoland area to vend at every sort of event. We are meals on wheels – our catering offers both indoor and outdoor carts, so we can bring the feeling of summertime to you year-round! Customize your special event with an appealing, one-of-a-kind impression unlike any other! Check them out here
About the Blog:
Your special wedding video should not leave any moment out – from your uncle doing "the sprinkler" on the dance floor to you eagerly waiting to leave for your honeymoon! With the free WeddingMix app, your guests create and capture these amazing moments. Our professional editing teams takes these moments and turn them into your affordable, amazing wedding video!