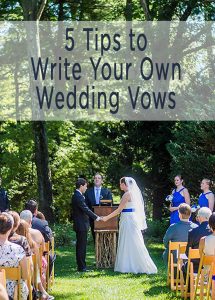 Who knows your person better than you? No one … unless they're CIA operatives, but that's another story. For most couples looking to write their own wedding vows, there may be no one better than each of you to do the job. You know the ins and outs of your person better than anyone, you know what you value as a couple and the details of your future plans.
You know each other's strengths, foibles and picadillos; in short, you've got the goods. So get on that! Unfortunately, writing doesn't come that easily to everyone. We've enlisted the help of Bonnie Cortez, an Evanston-based Life-Cycle Celebrant, who helps usher couples through this process.
Hint: if you're a Lord of the Rings fanboy, don't miss the vows in the video below!
1. Take a Breath
This moment will never happen again. Wedding days go by in an instant and your ceremony offers the opportunity to catch yourselves and your guests up in the moment. Add a pause or two, take a breath, wipe a tear, look at your soon-to-be-spouse. These moments will help everyone cling to the edge of your love story and make them remember why we're all here to begin with. It starts with love and everyone is here to celebrate you.
2. It's in Your Hands
Before beginning your vows, take your partner's hands in yours. Imagine the ways these hands will serve the other in your lifetime together. They will caress your face, rub your back, hold your children's hands, cook delicious meals, sand a deck, change a tire, reach out for you at the end of a hard day. Make mention of that in your vows. These hands are the hands you have chosen to take hold of from today forward. Cherish that and make it known.
3. Add Some Levity
Yes, this is one of the most important days of your life and you will be speaking your vows, for goodness sake. This is important stuff! But that doesn't mean that you can't add humor. What's a weird little promise that you know is super important to you or your partner that will inspire a giggle or two? One of Chosen with Bonnie's brides, Annie Passanisi Ruggles, added as a preface to her vows, "They say when you know, you know and I knew from our first date, standing in my doorway in my favorite footie pajamas, that I would love you." Who knew that footie pajamas would work their way into vows? Annie did, because doing so added flavor to her vows, and in so doing, her vows were like none other.
Video filmed by Annie and Ryan's wedding guests with the WeddingMix app and cameras.
4. Time Travel
Think about your future goals. Will you be traveling? Accomplishing professional goals? Building a family? Serving your community? How will you each support each other during planned and unplanned events in your lives?
Write that into your vows. Ryan Ruggles added this line to his vows to Annie, "I promise that you will never, not even for a fraction of a second, ever feel like you have to go through this world and its trials alone. NO task will be too daunting because I will always be at your side, making sure that you never feel an ounce of loneliness or sadness." It's good to know you will have a partner in crime, to support and draw support from in your lives ahead. Weave this through your vows as well.
5. Get Professional Help with Your Wedding Vows
If things get too daunting, a Life-Cycle Celebrant can help guide you through this process. A professional officiant will help take the pearls of your love story and personal goals, add your particular flavor and help write vows that you can speak, read, or say "I do" to. Bonnie Cortez, helps couples do this more times than not. Your vows are the heart of your ceremony. Make sure they beat true!
In short, whether you do this on your own or you choose to get professional help, you've got this. Your day will be your own and your vows will be swoon-worthy. I just know it.