I sure wish I had a wedding planning bible like How to Plan Your Own Destination Wedding by Sandy Malone when I was doing all the crazy DIY projects for my wedding. It's seriously like having a wedding planner in your back pocket for less than $20. Three reasons I love this book:
It made me laugh
It's real
It includes EVERY LITTLE DETAIL
While the book is written for destination brides, much of it could be applied to any wedding. I DIY'd my own wedding, right down to sewing the dress, making the cake and embossing the invitations. The planning of it, though, was left to my husband. I can't imagine him trying to plan for a destination wedding without a guide like this book.
Sandy talks you through all the details you never would have considered starting with the first planning step after the proposal. She does all this with incredible humor. Her TV show on TLC, Wedding Island, kept me laughing all summer. So I knew, her wedding planning book would be no different.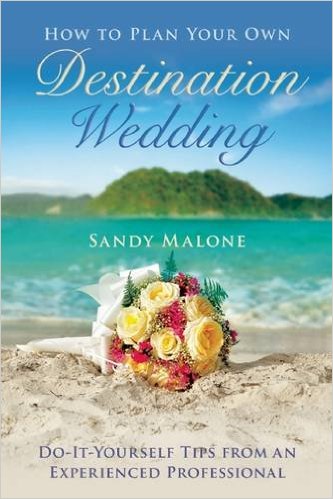 1. You have to laugh while planning a wedding
There are so many ridiculous details to consider while planning a wedding, if you don't laugh you're going to cry. A lot. Or drink. Often. Sandy helps by offering entertainment throughout the book.
Do not miss the section on communicating with vendors. I was laughing out loud about how to translate "manana manana". Communicating with vendors in a foreign country for a destination wedding is completely different.
Let's talk vendor clothes. Sandy points out that you should be a little critical of how a vendor dresses for your first meet-up. If they're a slob, you should care. Why? They could be in the background of one of your favorite wedding photos!
2. Keep it real
Sandy's sections on budget talks are for real. You have to be honest – with yourself, your spouse, your parents, everyone. You also have to keep those bridezilla tendencies in check.
Your friends are not your personal assistants. Her section about having friends help with wedding setup is truth. My friends and family helped incredibly with the setup of our wedding, but I had their buy-in ahead of time. If I was asking them to spend several thousand dollars on a vacation/wedding, I'd be hesitant to also ask them to do the setup/cleanup of my wedding.
Sandy points out that DIY dreams can often go wrong. I knew from when I was little that I would make my own wedding cake. I had decorated cakes from the age of 7. In my case, I developed severe carpal tunnel the week of the wedding and couldn't hold the decorating bag. I had to bribe a bridesmaid to get her to decorate the cake. I just had to talk her through decorating it while sipping margaritas.
Here's one part where I disagreed with her advice as well. She mentioned that Day of Coordination can often be handled by a trusted family member. Not having a DOC was one of my biggest regrets. While I did have trusted family and friends, they could never have managed all my DIY dreams. I would have preferred to have a DOC ask me for the tablecards a few days in advance, rather than finding out right before the reception that my bridesmaid had forgotten to do the calligraphy on the tablecards altogether. No tablecards meant having to skip our portrait session and write them out ourselves.
3. The cookbook of planning a wedding
Sandy leaves no detail out of this book. From the very first chapter, I was rethinking how to plan a wedding. Like her advice that your first question after the proposal should be "does anyone on my guest list have special needs?" If you know grandma is in a wheelchair, and you must have grandma at the wedding, then that changes your options for where you can have the ceremony and reception.
Some more advice I hadn't considered: the risks of DIY'ing your flowers. I was forced into DIY'ing my flowers because I drove by the florist a month before the wedding and noticed they were out of business. If you choose to DIY your flowers, you risk having dead flowers for the portrait session because you may not know how to transport and store them.
She gives some very specific advice regarding using friends as vendors – such as photographers. Make sure your vendors are licensed, insured and knowledgeable about needed permits. Last thing you want is to get kicked out of your portrait session by the police. I know this sounds hypocritical, considering we have an app so your friends can film your wedding video, but you do need to plan it out ahead of time. Having friends help with traditional wedding vendor roles can work beautifully if the guests are on board and want to help. In our case, we include tons of free templates and instructions for the guests.
Destination wedding specific advice
At its heart, this book is about how to plan a destination wedding. The tips Sandy includes about vendor visits, invitation etiquette, guest travel packets, and online communications are things only destination brides will encounter. These tips are gems you would likely only know as a destination wedding planner.
Like, you better make it sound easy to travel to your destination if you want people to show up. Make it easy for your guests by providing every detail in the invitation and send it a whole year in advance.
Sandy does a great job of laying out all the details. Literally ALL the details. So many details that again it made me wish I had hired a wedding planner. While I had an amazing experience planning my own wedding (ok, my hubs did the planning part), it's a lot of work. In my opinion, get the book so you know what is really involved in planning a wedding – then find the budget for a planner or at least a day of coordinator.
Want your own copy of the wedding planning bible?
I'm giving away an autographed copy on instagram. Just post a selfie of you and your fiance doing a fun wedding planning activity to instagram and tag @weddingmix with #weddinggiveaway and #weddingmixlove in your comments.
Make sure you post your selfie by June 7th. We will regram the winning selfie on our Instagram at 4pm on June 8th.