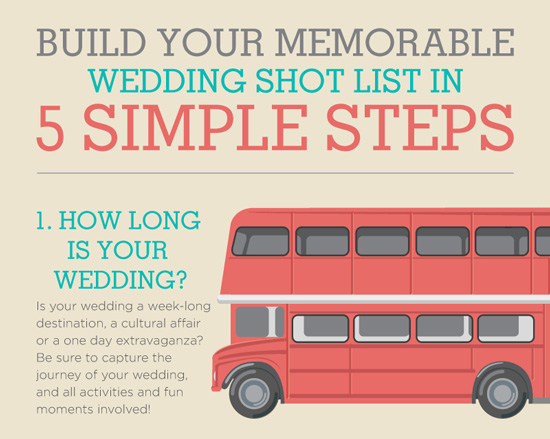 If you're on Pinterest as much as I am, then you've probably noticed how popular wedding photo checklists have become. These checklists tell you exactly who/what/where to photograph on your wedding day. However, that seems a little silly because it's YOUR special day! Your wedding photos and videos should represent how wonderful and one-of-a-kind your day was! So why take wedding pictures based on a generic list? Wouldn't you rather create your own, unique wedding shot list? It's much easier than you may think!!
We turned to REAL brides to get wedding photo checklist tips to inspire you to create your own shot list. 🙂
1. How long is your wedding?
Is your wedding a week-long destination, a cultural affair, or a one day extravaganza? Be sure to capture the journey of your wedding, and all activities and fun moments involved!
From pre-ceremony beach volleyball and party bus rides to post-ceremony dancing, the Nelson's destination wedding was filled with exciting moments! With the help of WeddingMix, this couple was able to record all of their unforgettable wedding activities!
2. What pre- and post-wedding events do you have scheduled?
If you have guests coming from out of town, you may have some pre-wedding events or a post-wedding brunch planned! These fun, impromptu events are where you'll be spending the most time with your guests and getting the most special and candid moments with them! You definitely want to get these special moments on camera.
WeddingMix couple Megan and Brian coordinated a pre-wedding bus tour of Philadelphia. How fun is that!
3. What wedding planning events do you have scheduled?
Bridal showers, DIY disasters, bachelorette parties- all of these events help you tell the story of your wedding. Make sure these moments (as well as post-wedding events, like your honeymoon) are captured!
WeddingMix bride Holly threw an AWESOME Paris themed bridal shower and Miami Beach bachelorette party! Thanks to WeddingMix she was able to get both of these super unique events captured on camera! Check out all of her pre-wedding adventures below!
And while we're on the subject of exciting bridal showers, make sure YOUR bridal shower is as memorable as Holly's and check out our tips on how to plan a torture-free bridal shower. Yours will be SO fun that you'll just have to get it all on camera!
4. What about your wedding is most unique?
If you had to describe your wedding in one word, what would it be? This is the key to your shot list.
If you describe your wedding as fun, then make sure to get lots of smiles and laughter on camera. If you describe your wedding as romantic, then make sure to get all of those lovey-dovey moments on camera.
Or, if you describe your wedding as stunning, like Sarah and Jason did, then you will want to record all of the WOW moments that happened! Sarah and Jason used WeddingMix to record their grand helicopter entrance and all of the other incredible moments that happened on their special day.
5. What about your wedding do you most want to remember on your fifth anniversary?
After your honeymoon and after the thank you cards have been sent out, there are three things that will help you remember your wedding: the gifts, the photos, and the videos. Fast forward to your 5th anniversary. You're sitting on the couch watching your wedding video, popcorn in hand and kids in lap. What is it about your wedding that you want to show your little kiddos most?
Bride Lori didn't get a wedding video on the day she married the man of her dreams. Fast-forward 10 years, and what a better way to celebrate a milestone than with a 80's themed wedding anniversary video!
This wedding shot list infographic is here to help brides think about their unique, priceless wedding moments that would look great in photos and custom wedding videos! Enjoy!

Still need help getting started on your photo ideas? No worries, just check this wedding day photo checklist – just promise us to keep it original. 🙂