Want to impress your guests before your fall wedding? Check out these cool, clever fall wedding invitation ideas!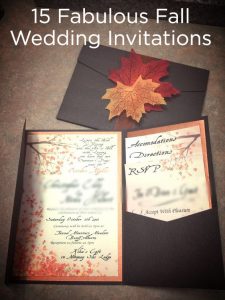 Fall weddings are BEAUTIFUL! There's something about that season's atmosphere that is completely magical – from the crisp, cool air to the vibrant colors of the changing leaves. It's a romantic time of year – perfect for a stroll with a loved one or a festive wedding celebration! Check out our favorite 15 fall wedding invitations.
Festive Florals

Fall may be known for the changing leaves – but there are many floral prints that are also seasonally appropriate!

Watercolor Wine Designs

No, not that kind of wine. This deep color is the perfect richness to set the tone for a fall wedding!

Signature Scroll Fall Wedding Invitations

How creative! Your guests will not be able to get over this clever invitation idea!

Plum Perfection

That color? Flawless.

Speaking of fall weddings – check out this WeddingMix couple's AMAZING highlight video – their celebration was absolutely spectacular!

This video was filmed by friends and family of the bride and groom using the WeddingMix app and cameras. Loved this highlight video? Read what other WeddingMix brides have to say on The Knot:
Would definitely recommend WeddingMix! Our budget did not allow us to include a videographer. We were excited when we found out about WeddingMix. The price was reasonable and customer service was great! They take the time to help you get the video just like you want it. We love the video!" – Judith
5. Seasonal Seal
Give guests a taste of what's to come with this festive envelope seal!
6. Fall Leaves Florish
This bright design is sure to make a statement!
7. A Little Bit of Lace
Nothing says romance quite like lace – and that woodgrain pattern is perfect for a rustic fall wedding!
8. Ode to the Outdoors
Celebrate iconic fall imagery while still focusing on what's most important – love!
9. Pretty Postcard
A postcard is a great alternative to a traditional wedding invite and leaves so much room for personalization!
Looking for inspiration for an outdoor wedding? Check out this WeddingMix highlight video?
This video was filmed by family and friends of the couple using the WeddingMix app and cameras.
10. Brilliant Border
This invitation is almost dream like! We love the sun kissed effect the designs pulls together!
11. Enticing Watercolor Edges
You don't have to fill the page with leaves if you're going for that classic fall look – all it takes is a little bit of detail around the edge and you are able to convey that same feel!
12. Signs of the Season
Fall weddings are a great opportunity for outdoor signs! If you're featuring these DIY signs at your celebration, why not tie in the same idea for your invite?
13. Sweet and Simple
This is a more abstract take on a classic – and has a great deal of simple elegance!
14. Creative Cut Outs
How neat is this design? Definitely one of the more creative options!
15. A Play on Words
This clever invite is as simple as it is sweet. We adore the clean, modern look and stunning calligraphy!
Have any fall invite trends you're gushing over? Let us know in the comments, we'd love to hear from you!
Capture every moment of your own fall wedding celebration with a WeddingMix package!